Fraternity and sorority life organizations overcome challenges amid hybrid-style recruitment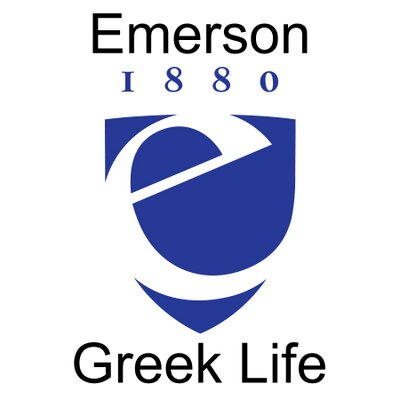 By Adri Pray, Editor-at-large
February 3, 2022
Emerson's Spring 2022 Fraternity and Sorority Life recruitment operated through a hybrid integration of events that began Jan. 24.
Junior visual and media arts major Tristen Pon, head of marketing and recruitment for Phi Alpha Tau, said COVID-19 heavily impacted the organization, as face-to-face interaction is a key component of making connections.
"It's made things a lot tougher to find people who want to come because recruitment is really about making connections and connecting with new potential new members," Pon said. "It's hard to connect over Zoom in a way to really get to know someone on a personal and deep level."
Tau took a step back from their social media, a tool often utilized by the organization to spread recruitment information, after receiving backlash about allegations against a brother in 2020, a move that Pon felt lost them respect among Emerson community members.
"I feel like a lot of our attention was lost because we took a big step back from our social media presence in our presence on campus," he said. "But I think coming back, especially the spring semester, we're ready to tackle everything on despite low attendance and engagement."
Pon said he believes the controversy is an important part of Tau's history, adding that current brothers spend time educating prospective members on the fraternity's past.
"We definitely talked about [the allegations] during our info session about our recent controversy and how we have no tolerance for any Title IX cases," Pon said. "[The controversies] definitely has pushed potential new members to be skeptical about joining our fraternity and I actually am all for that because it shows bravery when you question authority or an organization when you are considering joining."
Pon said Tau chose to use an unprecedented hybrid format to host its recruitment events upon updated COVID-19 protocols from the college. 
"We've been having a lot of online chapters within recruitment. This semester, we had two events go online just because of Emerson's COVID policies," he said. "For the rest of the events, we were able to make them in person, which was really helpful because that's when we really started to see a lot of potential new members come in, and we really got to know them on a deeper personal level."
Pon recognizes Tau's goal to "foster a brotherhood" and believes they will improve said brotherhood. However, he also recognizes the work Tau still needs to do.
"I'm very proud of how far we've come and I definitely do not think we're even close to our goal of being the best we can be," he said. "It takes time and patience and I am very happy that after my joining these controversies have brought light into what matters, especially within fraternity and sorority life culture."
Sigma Alpha Epsilon, like Tau, adjusted to a new culture of hybrid-model brotherhood. President Richard Lathrop, junior business of creative enterprises major, said the hybrid model presented several challenges.
"It's been a strange couple of semesters with COVID and everything and really like in fraternity sorority life, so much of our stuff is based around tradition," he said. "This was really the first semester where we could like actually do all of our events in person."
Lathrop reported low numbers at Sigma Alpha Epsilon's recruitment this semester, but said that was to be expected considering the state of the pandemic.
"I feel like some people are still kind of hesitant to come out with COVID and I know that like myself personally my social battery now is so much smaller than it was before," said Lathrop. "But for the times that we're in, we're extremely happy with the numbers."
"We hope to continue growing and really keep connecting with the Emerson community," Lathrop said. "We're really focusing on a lot of philanthropy this semester, going out and trying to raise money for causes that all of us are passionate about as much as possible."
Delta Kappa Alpha president and junior media arts production major Ben Peterson said he hopes to foster a professional environment among the film-focused fraternity. 
"We're looking to really help all of our members collaborate and develop each other professionally, but also forming social connections and creating sustainable and ethical production practices or when you go off into the industry," he said.
Peterson joined in Fall 2019 and experienced pre-pandemic Delta Kappa Alpha. He says the pre-pandemic graduates of Delta Kappa Alpha took their "generational knowledge" with them.
"A lot of our upperclassmen who really knew a lot about how to operate the org graduated…we weren't having any recruitment or accepting new classes or meeting in person," he said. "So we lost a lot of generational knowledge in the org of what's worked in the past and what hasn't."
Recruitment Chair and Inner Chapter Chair of Delta Kappa Alpha Riley Dewey feels differently saying that COVID hasn't taken anything from the organization. 
"It feels like we're not necessarily losing anything because we're still able to hold our workshops internally and connect with others outside of the chapter and it really is up to the comfort level of the individual what they want to do," she said. "So sometimes we'll go on walks or we'll get lunch with other members and that's really nice."
Though she joined Delta Kappa Alpha as a new member just last fall, Dewey already feels as though she's grown as a person.
"I like having this kind of built-in community where I feel really safe creatively and it's a space where I feel like I can really try new things, which I don't always feel comfortable [doing] necessarily in other settings," Dewey said. "The stakes feel low, and everybody is so supportive."
Though he joined a full two years earlier, Peterson echoed Dewey's statement and hopes students find a community within Delta Kappa Alpha as he did his freshman year. 
"For me, DKA was really a place where I found a community as a freshman," Peterson said. "Like the feeling when you first joined the school, and you're really just kind of scrambling to make as many friends as possible because everyone is crammed into the same building and no one knows anyone."
Gabriel Borges contributed to the reporting.