'Freestyle Love Supreme' brings waves of laughter to the Colonial Theatre
Left with no set or costumes for their Boston opening night on Mar. 18, it was up to the cast of "Freestyle Love Supreme" to make the show go on without a hitch using their humor and creative musical talent—and that they did. 
The delayed arrival of their set pieces didn't hinder the performance one bit as the group feeds off of spontaneity. Following their Broadway run, Emerson's Colonial Theatre is the show's third stop on their national tour. Playing until Apr. 2, students can purchase rush tickets for $20 in person at the Box Office two hours prior to the curtain call. 
Conceived by Anthony Veneziale—with co-creators Lin-Manuel Miranda and director Thomas Kail—who also happens to play MC Two Touch in the show, "Freestyle Love Supreme" offers a unique viewing experience for every audience member. Improv hip-hop rappers utilize the audience's suggestions on words and personal stories to create a whole live show on the spot. From an audience made up of all ages, practically nothing was off-limits, making for hilarious, memorable moments. 
"FLS" is basically an Emerson comedy troupe show elevated 10 times with the addition of rapping. There's a level of intimacy between the cast and the theater's audience engagement that isn't often reached with an everyday Broadway show. There's no wonder why the show received a Special Tony Award in 2021. 
The show was previously the subject of a Hulu documentary, We Are Freestyle Love Supreme, which filmed behind-the-scenes moments like rehearsals, as well as on-stage performances during their 2019 reunion tour. The comedy musical group was started back in 2004, initially playing at various international festivals before going to Broadway. 
Alongside Veneziale, Friday's show starred Aneesa Folds as Young Nees, Jay C. Ellis as Jellis J, Andrew Bancroft as Jelly Donut, Chris Sullivan as beatboxer Shockwave, and keyboard players Richard Baskin Jr. and James Rushin. Everyone's talents shined through each of their individual personalities and their collaborative efforts really came together, stunning the audience with amazement for their improvisation skills. 
Going in without knowing what to expect was confusing at first. The cast started offstage doing a mic check from the wings, entering with a fun group rap and dance. The first thing MC Veneziale mentioned was the missing set, to which he then thanked the set designers for pulling it together on a whim, mainly by using heavy stage lighting. Honestly, having a set versus not having one didn't make any difference, as it doesn't take away from the incredible flair of each performer. All eyes focused on them more than anything. 
Things were more clear after Veneziale explained how the show is curated based on cooperation from the audience. The first word had to be a verb. Sitting nearby, an elderly lady whispered that her first thought was to say "Fuck." Now the girls that get it, get it. This was followed up with someone from the balcony yelling "Running,"—boring, which Veneziale agreed. The chosen word ended up being "Shiver." 
Both keyboard players were going ham creating music to supplement the freestyling. Also in the background was Shockwave the beatboxer, who is actually insane at his craft, being that that's all he did for the entire show. All three had solo sections to introduce themselves, and while the rappers did too, the instrumentalists really blew the crowd away, composing beats that seemed impossible to make—especially for the beatboxing, making people applaud. 
The last rapper to go during the first song was Folds, and that's when everything about the show clicked. Although the entire cast is overwhelmingly talented, in the nicest way possible, Folds is almost too good for the show. Never hearing about her before, her name and performance will now forever be seared into the brain of everyone who attends. A notable line of hers from the "shiver" rap—"One night with me is how it is to chew 5 Gum."
Going off those lines is surely great timing for Veneziale to follow up the song with "We say a lot of crazy shit at this show, don't record." Of course, after following theater etiquette throughout the show, there was a photo and recording opportunity at the end for anyone who wanted to savor the special performance. Veneziale joked about sharing them on social media and making people feel bad about themselves for not being there—very relatable to say the least. 
The show is genuinely hilarious and in the best way, will remind people of their favorite acapella-filled movie Pitch Perfect. When Bancroft as Jelly Donut was introduced, with every added task to rap, he was spitting bars quicker than someone can think, so intense that he was quite literally spitting. Plus, whenever he was given the chance, Ellis' Jellis J would start breaking down dancing to his castmates' beats, making it feel too real.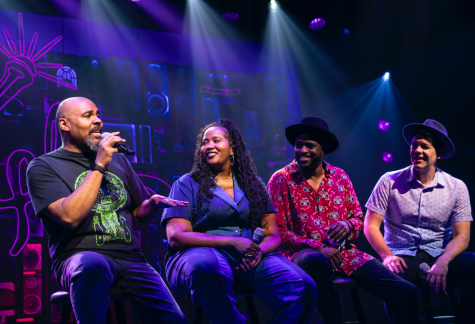 Veneziale once again pulled ideas from the audience, asking them to give him their funniest life story in the form of a headline. Someone brought up something about a music theory class, which is such an Emerson thing to do. Then Veneziale joined in with the bashing of the Boston transportation system when someone yelled, "We need a T line that runs on time." Finally, after getting some good laughs in from someone saying "I told my dad he looked like Yoda," the cast settled on someone's story about putting a penny in a power socket. 
They had the guest come up to the stage to recite her experience and ask her questions to fill in gaps. It was amazing how quick the rappers were to reenact the story with their own creative flair, with characters, freestyling, and all. When they seemed to have reached the end, they surprised everyone with a rewind and do-over, which then made the question "What would you have done differently?" make sense. So with the answer being "I would use a quarter instead," they did a 360 and incorporated that story, changing the outcome. It was like something never seen before. 
Following that was a more personal moment, as the cast brought their spread-out stools closer to the edge of the stage and the lights dimmed to a soft purple. Using the word "graduation" as a jumping-off point and a mellowed keyboard playing music in the background, the four told visceral true stories in a freestyle format. After each person's turn going down the line, Folds sang a chorus beautifully, showcasing her range, with the thought "Ugh she's so good" coming to mind repeatedly. This segment really emphasized the "love" part of the show's title. 
The show ended off on a strong note, showing how it progressively gets better with each new song. The last audience request was for someone to share what they had done for the day and come to the stage to give a play-by-play. Admiration goes towards anyone in the crowd willing to stand and speak in front of a packed house, which is a normal part of "FLS." Veneziale decided on an eager fifth-grade teacher. 
The teacher was grilled about her day, recalling it hilariously in detail as Veneziale sat on the edge of the other side of the stage, feet dangling and all. It was as if the two were besties gossiping after a long day of working with kids. The crowd was tuned in with all ears, listening to the young woman who made her life seem like anyone else's, but more exciting. She is too real for complaining about her job, as well as talking about her roommate and all the wine they drank before and during the show. 
Doing another full song and dance performance like the power socket story, Sullivan mimicked the teacher while Folds followed him around from behind, taking the lead in rapping about her day. It started off with an alarm clock bit, considering how the teacher mentioned how many times she pressed snooze that morning. Veneziale even mimicked the bottle of rosé she had. 
To no one's surprise, Folds once again had some unforgettable lines. Knowing the teacher's mascot is a griffin, she joked about it saying "If you call me a lion one more fucking time," erupting a laugh from any Emerson student. With the normalcy of swearing in the show, it was jarring when she censored herself saying "Are you freaking kidding me I hate this." But then the other rappers' role as the children in the class was a reminder of why "freaking" was the choice of word. Which got completely thrown out the window anyway when she said "What's that sound? It's the mother fuckin' ringing of the bell."
For a final almost encore performance before bows, they ran through the first entrance song again, bringing the show full circle. 
So go see "Freestyle Love Supreme" while conveniently located—see it once, twice, three times, or more! Every show is bound to offer a different bundle of laughter each time, one as enjoyable as the last.