The men's and women's cross country teams raced in the NEWMAC Championship on Saturday, Nov. 3. One of the teams' freshman ran the fastest time in school history since 2013.
Babson College hosted this year's New England Women's and Men's Athletic Conference Cross Country Championship at Franklin Park in South Boston. Eight women and seven men raced for Emerson.
Men's cross country freshman Oliver Glass ran the men's eight-kilometer race in 27:57 and finished in 38th place. 
The men's team placed seventh out of eight teams at the championship, and head coach Brandon Fox said Glass' race made a significant impact.
"I think [Glass] had much more room in the front, maybe even more room than I gave him credit for, but I knew there was a significant gap in between him and everyone," Fox said in an interview. "I think that's what made the difference, and you're only as good as your fifth guy, and all of the boys stepped up in a good way.
Junior Joseph MacNeil, who ran a time of 30:03 and placed 70th in the race, said the team's camaraderie makes him return each year.
"Me and Kevin [Serrano] and [Phillipe Legagneur] have done this since freshman year," MacNeil said in a post-race interview. "We all love each other, and we all run together every day. I love the dynamic of the team, and it's a nice outlet to share each other's days. I'm going to miss it when it's over."
Serrano finished 72nd with a time of 30:07, and Legagneur finished in 75th with a time of 30:43. Freshman Devin McAlister set a personal record with a time of 34:42.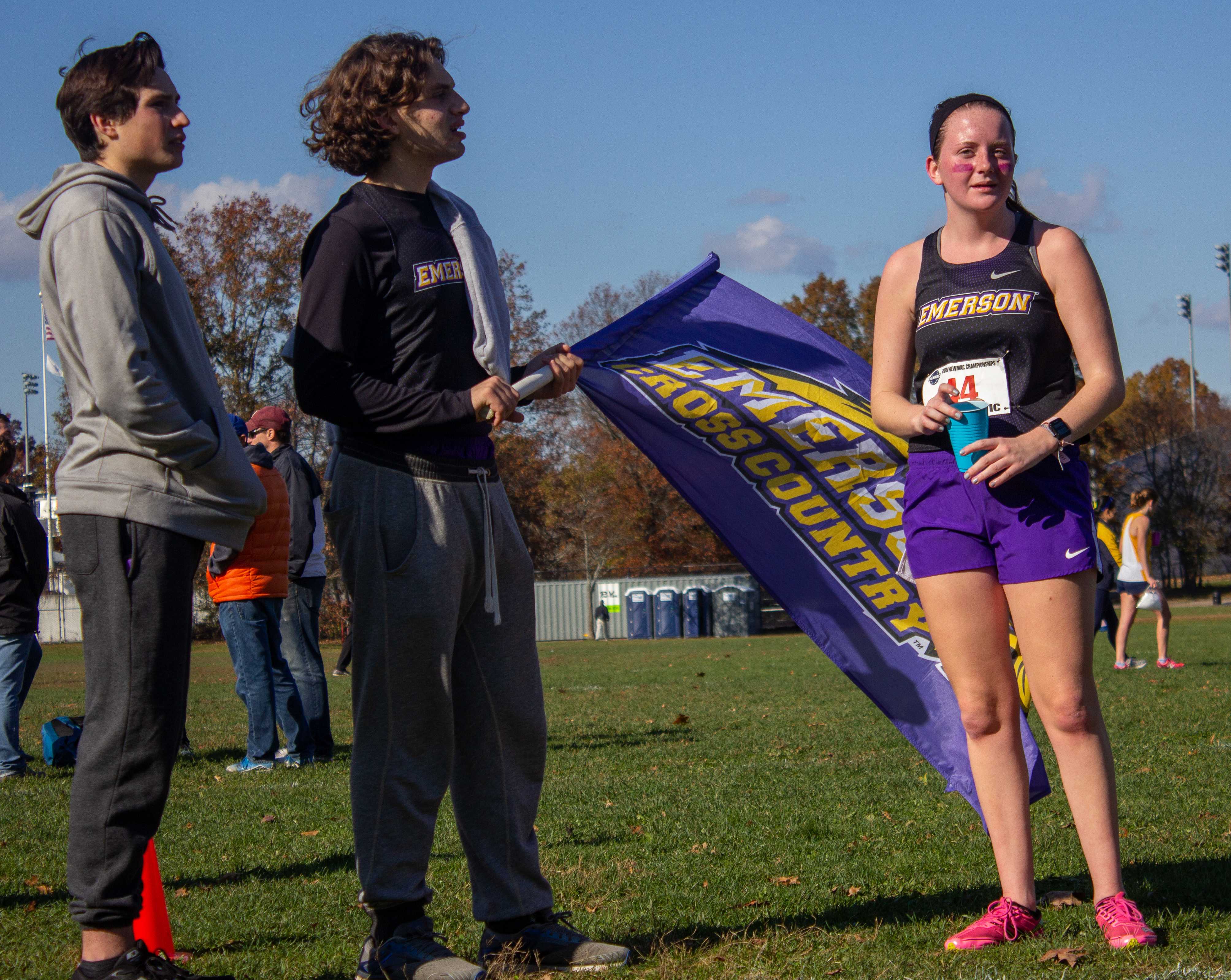 The women's team placed tenth out of eleven teams. Freshman Emily Hammond ran 26:31 and finished 100th in the women's six-kilometer race. She said the women's team at Emerson is much smaller than her high school's, but this made it more enjoyable.
"Coming from a [big team] you're always fighting to be in the top group, so [being on a smaller team] makes it less competitive so you're closer with everyone," Hammond said in a post-race interview. "I love it because it's not that stressful, and I thrive in that environment. It's wicked fun and we're all really close."
Junior Taylor Ranney ran a 25:38 and finished in 74th place while junior Madison Lynch ran a 26:03 and placed 88th.
The women's and men's teams will travel to Bowdoin College in Brunswick, Maine on Saturday, Nov. 16 to race in the New England Division III Regional Championship.
Nov. 4: This article was updated on Nov. 4 to change the name of the quoted person from Emma McGoldrick to Emily Hammond. This same change was updated in the second photo caption.
Nov. 5: The headline of this article was updated on Nov. 5. The previous headline read "Freshman sets school record at championship race." This fact was incorrect and the headline was updated to reflect that.