Friends share cherished memories of late journalism professor
Vanessa Ruiz recalled setting Moses Shumow up on a date with his wife Rose. Ruiz said she had to urge her friend to go out on at least one date with Moses, and when she finally did, Rose said it was the best of her life. 
Rose and Moses met in the North End and got dinner, drinks, and desert. Dancing followed, where Rose discovered Moses's talent for dancing—he was one of the best, Ruiz said. The night ended with a walk along Boston Harbor. 
"Rose, I'm so happy you met him and I speak for all of our friends who flew in from all over the place that we're just going to miss him so much and miss hearing you go on and on about how wonderful he is and what an amazing dad he is," Ruiz said, addressing Rose at Moses' funeral service Sunday. "I'm going to miss watching him support my friend through so much and love her so much and make her laugh."
Rev. Julie Flowers and Rabbi Alison Adler presided over the funeral as the rain pattered against the side of the First Baptist Church in Beverly. The college held a separate vigil for Moses Tuesday in the Semel Theatre where about 90 to 100 faculty, students, friends, and family gathered to pay their respects.
Moses died after an outbound Commuter Rail train struck him around 8:20 a.m. in Beverly while he was riding his bike through a pedestrian cut through. Transit Police Officers are still investigating the incident.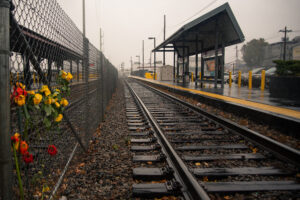 The two events underscored the grief the Emerson community has encountered in the past month as students, faculty, staff, and family members come to grips with both Moses's death and that of sophomore Daniel Hollis. The former lacrosse player died after an altercation in Brighton that left him on life support. 
During the vigil at Emerson, Rose admitted that she wasn't planning on speaking but she said she was touched by the community's response to her husband's death after only knowing him for two months.
"To his students, I'm old, I had to look up what GOAT meant," she said with a chuckle. "I kept reading 'he's the GOAT!'—he's the greatest of all time. So, I appreciated the notes." 
Rose said it was important to her husband that his students, future storytellers, understood they had to connect with someone before they could tell their story. 
"Moses did not believe in saving anybody, he didn't believe that you should swoop down and try to fix anybody's problems," she said to the gathered crowd. "He did believe in befriending people and helping them." 
During the funeral, Emerson Associate Professor Paul Mihailidis reminisced about his time spent with Moses in Salzburg, Austria. The two taught there together at the Salzburg Academy on Media and Global Change. Mihailidis told the crowd that each professor would hold a seminar and that students had to sign up for which one they'd like to attend. Moses's would always draw the most interest.
"Moses's sign up sheet didn't even have a title to it," he said to chuckles from the audience. "It just said 'Moses Shumow' and it would still get like double the interest than anyone else!"
Mihailidis said he and the other professors there titled Moses's arrival in Salzburg 'The Charm Offensive' because of his ability to bring people together. 
"The charm offensive is an intersection of passion and sincerity," he said. "I think Moses has given us the charge to continue on the charm offensive, continue his passion for his family and friends and for communities regardless of color, regardless of orientation, and regardless of location. It's our mission now to carry with us that passion and sincerity that defined Moses's life."
Graduate student Chitra Anwar and several other students from Moses's participatory methods class attended Tuesday's vigil. 
"He was so generous with his spirit, and his energy," Anwar said. "I almost forgot he's done other things and programs because of how plugged in he was into class." 
The Media Design major said she was moved by Moses's ability to humanize himself so he wasn't just a professor but their equal. 
"I hope one of the lasting legacies that he leaves is the idea that leaning on another and learning from another should not end with a conference or a publication," Rose said at Emerson's vigil. "If we want to honor him we need to think about, going forward, how we make our own circles."