Fun-loving ultimate frisbee team set to return to competition
By Tyler Foy, Sports Editor
September 12, 2021
The emphatically fun Emerson Skunks, the college's ultimate frisbee team, are preparing for their first competition since the Northeast Mixed Regionals Division B championship they won in 2019.
On Sept. 3, the Skunks were present at Emerson's in-person organization fair in the Bobbi Brown and Steven Plofker Gym. After two hours of potential recruits signing interest forms, the team went to the baseball field on Boston Common and hosted their first scrimmage of the year. 
President and co-captain Jared Merrifield said the turnout was unexpectedly high. About 40 players—with 60 percent of them being new to the team—attended the team's first scrimmage. And that isn't even the full number that could potentially perform with the team. 
Vice President and co-captain Audrey Cai said she was astounded by the number of players that came out. With such a large crop, the team was forced to adjust their plans.
"I was really surprised about how many people came out," Cai said in a phone interview. "I've never seen that in my entire time at Emerson. With so many people, we kind of had to divide people into groups based on skill level and everything, and we had to scrimmage on two fields."
The Skunks pride themselves on being an open community and welcoming all skill levels. After the stunningly high turnout of new players, Merrifield said the first few weeks of practice will focus on the fundamentals.
"I would say about half the kids have never played ultimate before," he said in a phone interview. "It's always a little chaotic at the first practice, maybe your skills aren't quite there. But look back in two weeks from now and a lot of them are going to improve tenfold in the next two weeks."
The Skunks pride themselves on being able to forge a community amongst the team, Vice President and co-captain Jamie Leuchs-Curtis said. 
"One of our main values is promoting an uplifting atmosphere," Leuchs-Curtis said. "We try to cheer players on with every small accomplishment and keep it positive. Hopefully, that'll encourage new players and make them feel welcome in our community."
Junior Ben Aliber praised the team's ability to take their roles seriously, but keep a positive, uplifting atmosphere for all members. That community is part of what prompted him to return for a second year on the Skunks. 
"I feel like there's inclusivity," Aliber said. "There's a lot of respect everyone has for each other. Everyone here takes practice seriously, even though there are times where we can goof off and have fun. Everybody knows their role and when it's time to work hard."
To assemble this community, the team builds chemistry off the field by having group dinners at the dining hall. 
"We have team dinners at the DH after practice, but finding a space with COVID to have everyone meet up is a little tough," Merrifield said. "We'll break up into groups and mix it up at the DH and have everyone go and sit with new kids so they can meet."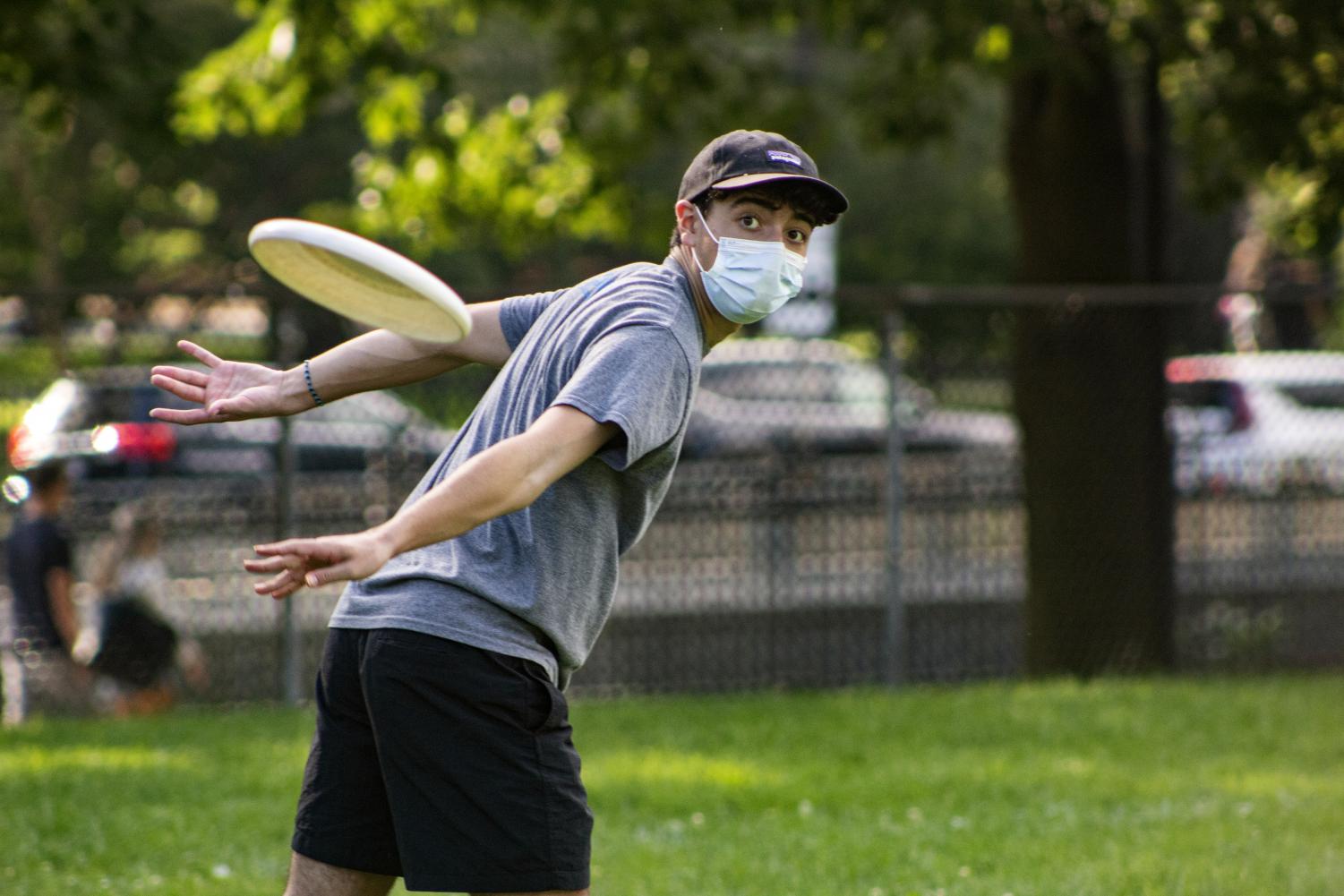 On top of the team dinners, players have been getting familiar with one another on the field by mixing groups in practice. Leuchs-Curtis said he has been impressed with the ability of new recruits and veterans to mix. 
"The new players seem to find themselves and among the returning players that they were starting to have conversations with," he said.
The Skunks, unlike a traditional sports team, aren't strict about practice and are accommodating to players who have to miss a session. That policy has led to new players organizing amongst themselves to find extra time to get out on the field.
"I'm actually very surprised because a lot of the newcomers are taking a lot of initiative with ultimate like they're already making plans," she said.
The team was able to host limited practices throughout the 2020-2021 school year but are excited to return to competition this season. Their first tournament is in early October at the Lemony Fresh Fall Classic located in Rhode Island.
COVID-19 restrictions halted the team's competitions for the 2020-21 school year, and made practicing difficult — but with in-person competition returning, the Skunks are excited to compete once again. 
"Most of the kids last year weren't able to scrimmage because of social distancing," Merrifield said. "A lot of them hadn't really played that much ultimate just in general. Everyone's really excited to get out there and play other schools, go to tournaments outside of Massachusetts, and get the full experience of the sport."
Tournaments are one of the ways that the team has bonded in the past, and are a key component to grasping the ultimate frisbee experience, Leuchs-Chris said. 
"It'll be really exciting to play formal games with these new players," Leuchs-Curtis said. "Having a year of COVID with these new players, they didn't really get the full experience. I'm really excited to go to tournaments and introduce so many people to playing ultimate and to the community that we have."
Aliber spent his entire first season with the Skunks unable to compete, making his impending debut in competition that much more exciting.  
"I'm really excited because it's a bonding experience to be able to travel with this great group of people and get the experience," Aliber said. "I'm also really excited for the tournaments because it's, you know, a time just to let loose, have fun but also you know to play ultimate which is what we're training here."
With such a large roster, the team will not be able to take all members to tournaments, forcing the Skunks to implement a new system to select who gets the chance to attend. 
"We can't take 50 kids to a tournament," she said. "That would be unrealistic but we've been talking about it, we're gonna take attendance this semester. We have four practices a week and we are making sure people come to at least two. We're going to see if we can bring people to the tournament, based on attendance turnout."
The last time the Skunks had the opportunity to compete they proved they were capable of competing with the best teams around — defeating division one Providence College at the Northeast Mixed Regionals championships in 2019. 
Despite their prior success, the Skunks aren't focused on winning at all costs — instead, they feel the joyful environment they create that keeps students mobile is the most important thing they offer the Emerson community. 
"We aren't always about winning," he said. "The community comes first and I think that having some sort of physical activity in college can be a really great way to spend your time."
Sophomore Henry Cheney said he plans to join the Skunks this semester after playing ultimate frisbee in high school. He agreed with the team's mindset that community is more important than winning. 
"I mean it's competitive, but there's spirit of the game," Cheney said before practice. "Everyone calls their own fouls and along with the regular score of the game, there's also a spirit score that both teams give each other. It tells who made the game a lot of fun, those that were good winners or good losers."
Cai said there is a lot of enthusiasm about getting to compete, but she feels her mentality might have to change before the games begin.
"I'm extremely excited that tournaments are back again," she said. "I come from a more competitive background. But since I am Captain right now I gotta tune that mindset down a little, and make myself go into the mindset of loving everyone on my team, and what I need to make sure is that everyone is enjoying themselves while enjoying ultimate." 
As the team looks forward to the tournaments later this season, Merrifield is focused on getting the team as prepared as possible, along with concentrating on building the family atmosphere the team is known for. 
"Our biggest goal is just to get everyone up to speed on all of our offenses and defenses that we run," he said. "But I would say more than that, it's really just making sure that we build the community that we had, pre-COVID."