Graduate student takes first prize in TV diversity category at screenwriting competition
While drafting a script outline for her Writing Series Television course in January 2019, second-year graduate student Jessica G. Hill Cabrera-Contaoi was inspired to channel the guilt and sadness she feels toward the current immigration crisis in the United States. A first-generation Colombian, she turned her feelings into the dystopian script From Harm to reflect on those current political issues.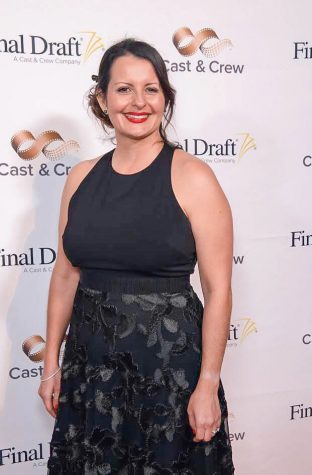 "In the back of my mind when I was writing it, I was very bothered by what I was hearing about what was happening at the border and children being taken away from their parents," Cabrera-Contaoi said. "I think there was also some guilt about feeling like I wasn't doing enough and feeling complacent, and that definitely was what I had in mind with my two main characters."
On Dec. 10, 2019, seven months after submitting her script, Big Break Screenwriting Contest announced Cabrera-Contaoi as the winner of the TV Diversity category for her script From Harm.
"I was sick [at work when] I got the email that I had won for my category and that I was going to be invited to the red carpet event in January, and I was just floored," Cabrera-Contaoi said. "I didn't know if it was just the cold medicine or if it was real."
From Harm is about a dystopian society aiming to weed out people who display "deviant" behavior by sending them to correction camps to prevent mass homicides and crimes. The system's flaws become evident when the child of a Latino senator is shipped off to a correction camp after displaying a mild form of "deviant" behavior. Three separate stories follow the senator, his wife, and a group of people trying to escape the correction camps, who come together to reflect the immigration crisis in the U.S.
"I think one of the reasons I love Sci-Fi is because you really can explore political themes in kind of an alternate reality, and experiment with the 'what if's' and reflect different scenarios of what could happen if the world keeps heading in a certain direction," Cabrera-Contaoi said.
The annual Big Break Screenwriting Contest was created in 2005 by the screenwriting software application company Final Draft to honor up-and-coming screenwriters. Contestants from all over the world are eligible to submit their original scripts for feature film and television screenplays to one of the various subcategories among the Feature and Television categories. Scripts are accepted on four deadlines between March and July, and the finalists of each of the six rounds are announced via email from September through December.
"I had not been paying any attention in the first two rounds," Cabrera-Cataoi said. I had been receiving the emails and I finally opened the top 10 email. I was looking through and I saw my name and I was in shock because I had no idea I had been placing in the last two rounds before that."
Cabrera-Contaoi said she was inspired by the television adaptation of the book The Handmaid's Tale because, as a mother, she could relate to the show's main character, June.
"When they do [the] flashbacks in the show, they show how that character was complacent," Cabrera-Contaoi said. "In her reflections, I think she realized that she should've fought harder not only for herself but for other people because if you don't then it can happen to you. I definitely carried that theme into From Harm with my two main characters who were part of a privileged class and had kind of turned their head on what was happening until it happened to them."
Associate visual and media arts professor Jim Macak, who taught Writing Series Television in spring 2019, said that Cabrera-Contaoi's pilot had intrigued him and her classmates.
"A lot of the students [and I] were really interested in how she managed to take this science fiction element and give it a very contemporary spin with the persecution of immigrants in this country," Macak said.
Macak said Cabrera-Contaoi's original script outline concerned him, since the pilot followed three separate stories that come together, but he was impressed by the final outcome.
Macak said Cabrera-Contaoi was a terrific writer and collaborator, always eager to receive feedback and improve her work.
"One thing that really struck me about [Cabrera-Contaoi] is that she really appreciates feedback and she would do total rewrites if necessary, if she felt it would improve the script," Macak said. "And that, to me, is a primary quality for any scriptwriter in this business because you're going to get a ton of notes and how you react to [them] is really telling."
Cabrera-Contaoi's mother Gabriela Hill said she loves how Cabrera-Contaoi writes about people of diverse backgrounds and is proud that she is achieving her goals.
"I love that her stories are from the soul," Hill said. "She has a great imagination [and] she loves the diversity of humans in every regard. She's truly enjoying [what she's doing]. She likes to read and write and produce…I'm a lot older and I still feel like I don't know what I want to do when I grow up, but she does."
Cabrera-Contaoi lives in Santa Monica, California with her husband and four-year-old son. She works full-time at Xandr as a product management consultant for the advertising company. Cabrera-Contaoi said she does most of her screenwriting in her Emerson classes.
"I fell in love with that part of the process of screenwriting and it really became a way that I process the world," Cabrera-Contaoi said. "Screenwriting is definitely a part of me now, it's not something that I ever want to stop doing, even if I don't get paid for it."