Happy Days star Henry Winkler '67 shares industry experience at Emerson Revisited Series
Famed actor Henry Winkler '67 chatted about his beloved career in Hollywood and roles in fan favorite television shows during an Emerson Revisited Series event on Nov. 4. 
"The world is competitive, yes, but so what?" he remarked in the discussion, hosted by Emerson Independent Video. 
Winkler touched on his legacy and small screen wonders like Happy Days, Parks and Recreation and Barry in the hour long discussion, which was attended by nearly 50 Emerson students.
EIV's Emerson Revisited Series was created in October 2020 to bring alumni back to the college to talk about their experiences in their field and their time at Emerson. 
During the panel, Winkler laid out a timeline of his career, beginning with his aspirations to become an actor which he had since before he could remember. While his family didn't fully support him becoming an actor, he always looked up to actors like the recently deceased Sean Connery, best known for playing James Bond between 1962 and 1983. 
Luckily for Winkler, at 27 years old, he landed a role in Happy Days, where he played Fonzie, a greased up bad boy. By the time he turned 72, he landed a role on HBO's hit show Barry. Between those shows, Winkler went on to play Dr. Saperstein on Parks and Recreation, Barry Zuckerkorn in Arrested Development and Coach Klein in The Waterboy to name a few. He also won two Golden Globes for his performance in Happy Days, as well as an Emmy for his role in Barry.
Winkler told aspiring actors that if they are willing to pursue their ambitions, there will always be room for them in the industry.
"If you are good, if you are willing to just jump off the precipice and fly with your imagination, there is room for you," Winkler said during the panel. "If the part is right and you're supposed to have it, you will get it."
Winkler grew up in New York City, the only child of, as he put it in the panel, "short Jewish and German parents." Winkler also struggled with dyslexia in his youth and said he barely graduated high school, after passing a geometry class he had flunked four years in a row.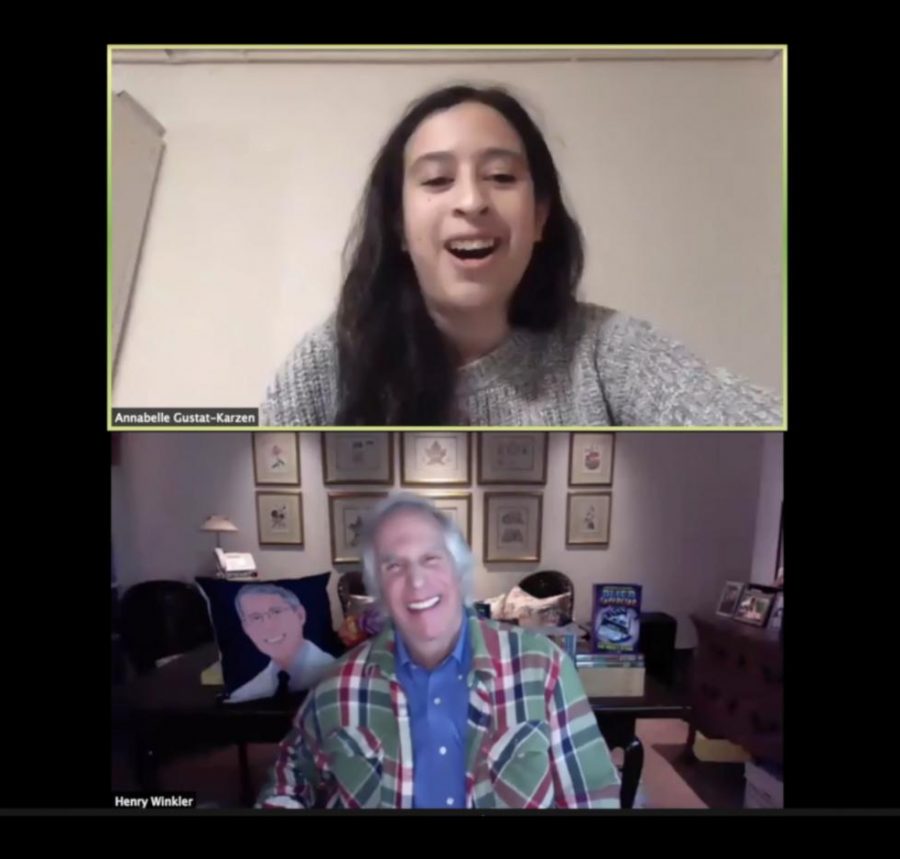 Winkler went on to apply to 28 colleges, but was only accepted into Park University in Missouri and Emerson.
"I packed my bags, came up to Boston, nearly flunked out my first year and got kicked out of my drama major in my second year, but I was able to finally graduate," he said.
Happy Days, which premiered in 1974, ran for 10 seasons. It gained Winkler fame and recognition as the bad boy character Fonzie, whose trademark catchphrase was "Eyy," and whose character inspired the term "jumping the shark"—which has come to describe when a show or a film loses its believability. The term comes from the episode near the end of the show where Fonzie literally jumps over a shark while jet skiing. 
In the television show Barry, a show about an ex marine gone assassin who falls in love with acting, Winkler plays Gene Cousineau, a self-centered acting teacher trying his best to reach his students. When asked about his Barry character in the panel, Winkler said that the original character of Cousineau was much more arrogant and rude, but he recognized some warmth and put his own spin on it. 
"You start with, what does the author say about you?" Winkler asked. "What do other people in the script say about you? How do you feel about how you're acting to other people in the script?"
Winkler gave similar development advice to screenwriters.
"If you don't write the human being in your mind, the actor doesn't know what to do," he said.
For this reason, Winkler recommended writers and directors take an acting class because "it's really important for you to know what the actor goes through and what the process is, so you can communicate what your vision is in the actors' language." 
He also advised directors to "invest [their] money in a really comfortable pair of shoes, because when you direct, you're on your feet all the time." He even recommended New Balance shoes specifically. 
During a slow time in his career before he landed Barry, nearly 17 years ago, Winkler was pushed to write a book about his experiences. After meeting with his writing partner Lin Oliver, they developed Hank Zipzer, a series of 35 children's books centered around a young man with dyslexia. All of the books have a specific font that works to make reading easier on people with dyslexia and were adapted into a three season TV show that premiered in 2014. 
"[It was] something I thought I couldn't do," Winkler said. "You don't know until you try, until you put one foot in front of the other, and suddenly you amaze yourself!"
But Winkler's final word on acting? Stay away from self doubt.
"I always wanted to be an actor. I never let the idea out of my mind," Winkler said. "Once any of you decide what you want to do, don't second guess yourself…. Everything you do is focused on getting where you want to go."