How Emerson tech groups prepared professors for a hybrid semester
For journalism professor Diane Mermigas, teaching in a hybrid format through a pandemic meant that she first had to play the role of a student. Throughout the summer, she took six courses taught by Emerson's Instructional Technology Group in hopes of mastering Zoom and sharpening her computer skills ahead of classes. 
A typical summer for the ITG, whose focus is teaching professors how to use technological resources, includes training around a dozen faculty members in services like Canvas, Zoom, and Panopto, Director Jennifer Stevens said. This summer, a whopping 302 faculty members decided to sign up for at least one course with ITG.
"I think we owe it to the students," Mermigas said in a Zoom interview. "Many of the faculty, like myself, feel that we owe it to the students, who have really put themselves into a whole new learning experience by bringing themselves back to campus or by deciding to learn completely remotely. We owe it to the students to do the best we can with remote [teaching] also because, in my mind, it's not just a fallback plan for pandemic time that we're in—it really is the future." 
That group, along with the IT Help Desk, the Iwasaki Library, the Media Services Center, Media Technologies and Production, and Instructional Technology (IT) as a whole worked through the summer to make teaching possible for professors and learning feasible for students.
"ITG are the heroes of our school right now," Russell Newman, a professor in the Marlboro Institute and the head of the full-time faculty union, said. "ITG put in heroic efforts in creating online classes that will serve as really good models for how to do asynchronous learning, with every effort put forward to try and demonstrate best practices." 
Newman said he signed up for every course provided by ITG, which included "Remote Teaching Intensive," "Getting your materials online," "Zoom and Video Production," and "Advanced Canvas". ITG teamed up with different departments to teach these skills to professors synchronously, asynchronously, and in one-on-one meetings. 
"It was boot camp," Mermigas said. "It was great. I found it very invigorating. It put us in the students' shoes, and that was really wonderful. I was interfacing with professors from other parts of the college that I didn't know. They were coming from completely different departments, and we were all learning together." 
ITG hired five temporary workers at the beginning of the pandemic to assist with summer courses and faculty training. 
Creative Instructional Designer for ITG Christopher Connors said the faculty's effort and the work they have put in for the sake of students motivated him and his department. 
"I loved the way they were so open to learning new things, and how nervous they were about making sure students got a good experience across the board," Connors said. "It was really uplifting for me, and it kept me going over that very busy summer, seeing so many faculty outside their comfort zone but still really pushing themselves because they wanted to have a good course." 
Writing, Literature, and Publishing professor Alden Jones, who teaches Literature of Photography and Art of Nonfiction, said technological support staff were highly receptive and accommodating to individual teachers' needs. 
"They were absolutely amazing," Jones said. "They were so available—anytime you need troubleshooting or Canvas help or anything like that, they were there." 
The IT Help Desk, which handles community members' everyday technological issues, received up to six times its normal number of service requests—or tickets—in March. Since then, students and faculty have continued submitting at least three times the usual amount of requests, Stevens said.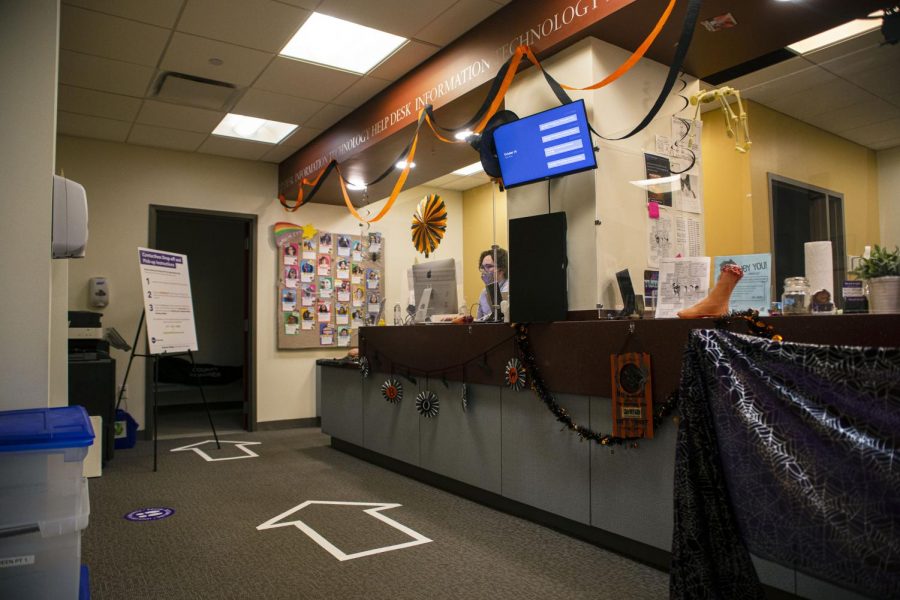 Whereas ITG and the Help Desk focus on helping teachers and students face new obstacles that stem from the hybrid format, the Iwasaki Library works to ensure community members can access physical course materials, as well as information that may be harder to come by in the pandemic. 
"What's amazed me about our faculty is they've had to change every step they take in thinking about how they're designing and delivering their material," Cheryl McGrath, executive director of library and learning at the Iwasaki Library, said.
The library received around double the content requests from professors as usual, McGrath said. She said materials of the past like textbooks, readings, and DVDs may not be available digitally in the midst of a pandemic. And although members of library staff have worked to track vendors and sought permission to digitize content, sometimes they are unable to fulfill professors' content requests and have to seek alternative methods of teaching. 
"We had to create some 'bad news emails' for faculty that says we can't get you this material, and then we try and always offer other options," McGrath said. "And that's where it becomes the intellectual conversation with a faculty member of 'Okay, you know what is the learning goal you're trying to achieve, is there any other content you can use that we already have? Is there something else that's available electronically you could swap out?'" 
Outside of ITG and the library, IT and the Media Services Center helped to provide classrooms with necessary resources like webcams for students joining remotely and microphones to combat the difficulty in communicating across the classroom, Associate Vice President of IT Brian Basgen said. 
McGrath said faculty were respectful and understanding of roadblocks the library and other departments may have stumbled upon. In return, she said she admires the collective drive of professors to provide as much semblance to past semesters as possible.
"What I heard from my staff is that faculty went above and beyond to take ownership of everything they needed to learn," McGrath said. "They understood how much work it was for the offices that were involved with them, and they were so appreciative of anything we could do for them." 
Stevens noted how, at least for tenure-track faculty, the summertime is usually reserved for individual pursuits rather than college work. She said she was pleasantly surprised by how faculty altered their summers in order to provide education through an unfamiliar format. 
"It sounds super hokey, and kind of embarrassing, but they really love you [students]," Stevens said. "They wouldn't do this if it wasn't for love, they wouldn't just be like 'Yeah, whatever, I'm just going to grab a paycheck'. All the extra stuff is because they care so deeply about their students."