Dozens of people gathered at the Parkman Bandstand in the Boston Common on Monday night to pay tribute to all of the lives lost in the Sept. 11 terrorist attacks. The memorial marked the 22nd anniversary of America's oldest continuing 9/11 vigil.
Gregory Payne, chair of the Department of Communication Studies, and Sonia Tita Puopolo '96, a Communications Studies affiliated faculty member, organized this year's vigil. Payne and Puopolo have participated in this tribute for over two decades.
The vigil was inspired by the day of the tragedy when Payne, a Crisis and Communication professor at the time, Puopolo, and other Emerson community members sought comfort amongst each other. The group united in grief at the Bandstand—singing songs, reciting poems, and telling stories about lost loved ones. The first vigil was held later that night.
On that tragic day, three Emersonians lost their lives, including Puopolo's mother, Sonia Mercedes Morales Puopolo. She was on board American Airlines Flight 11 departing from Boston Logan International Airport alongside Communication Studies Professor Myra Aronson. Jane Simpkin '88, a Communication Studies alumna, was also lost that day. 
At the vigil, Puopolo intimately spoke about the pain of losing her mother and her path of overcoming that grief. She spent nine years writing "Sonia's Ring: 11 Ways to Heal Your Heart," a book on mental health and healing. The title refers to her mother's wedding band that was found unaffected in 1.6 million tons of rubble at Ground Zero, a year after the attacks. 
"It's helped me move forward and heal every day. I think it's a journey. It's a process and I think it's evolved into what we preach and teach in terms of wellness and self-care," she said to the vigil's attendees.
Payne, one of Puopolo's former professors and longtime friend, celebrated her strength in being vulnerable. He emphasized that people who are open to sharing their stories have the power to heal and unite.
"What brings us back each and every year is faith in the power of communication," Payne said. "People in this circle can join together and send a tiny ripple of hope that can change and force people to adopt love over hate."
John Talanian, a former Boston resident, is another longtime attendee of the vigils. In the early 2000s, Talanian worked for the Boston branch of Cantor Fitzgerald, an American financial services firm. On Sept. 11, 658 of his co-workers at the New York branch inside the World Trade Center died from the attacks.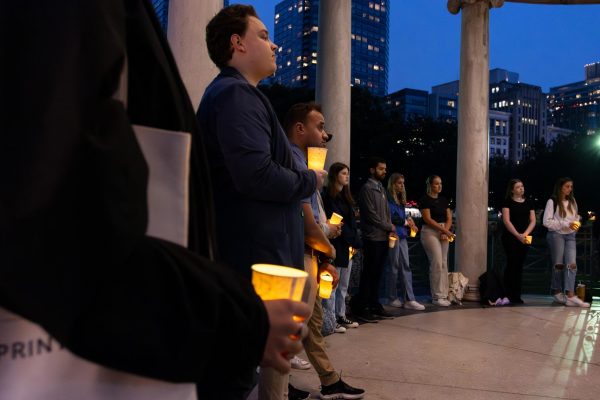 As Talanian witnessed the horror unfold on television, his heart stirred of grief and loss.
"We were all friends, it wasn't just a place you went to work," Talanian said. "It was like [losing] brothers and sisters and family members."
As time went on and commemorative memorials decreased in frequency, Talanian still felt a need to pay tribute. In 2007, Talanian found the Emerson vigils. He initially attended the vigils at a distance until Payne noticed him and welcomed him into the collective space of remembrance. Talanian shares that this has helped him heal and move forward.
"For me, it was very comforting just to feel the presence of being around people," Talanian said. "One of the aspects that I really appreciate is the witnessing or experiencing of love from strangers, and to that extent, I've felt that I've witnessed this in the bandstand."
Talanian currently lives on Martha's Vineyard and makes a three-hour commute each Sept. 11 to attend the vigils, taking a ferry to Cape Cod and driving North towards Boston.
"It's so important to me to take time off of work, to come here, to share my story, and to be here," Talanian said."I'll do whatever I need to to be here."
Alongside the Emerson community stood students from neighboring schools, including Boston University and Tufts University. A significant amount of the attendees were college students who were either very young or not yet alive on Sept. 11, 2001. Despite the lack of direct connections to 9/11, many students left the vigil personally impacted.
Taylor Johnston, an Emerson sophomore and undeclared, was emotionally touched by Puopolo and Talanian's stories of coping with loss and overcoming that trauma. 
"They're both really inspiring individuals. Hearing their stories was very sad obviously, but it was also amazing to hear two survivors' stories," Johnston said. "It was such a beautiful experience and I wanted to say thank you [to them] for providing such a special story." 
For some other students, the vigil served as a safe space where Emerson and Boston community members could openly express any experience with grief, loss, and pain. 
Alyssa DePasqua, a sophomore political communications major, found comfort in viewing the vigil as an opportunity to reflect on her own experiences and hear about others.
"It's an outlet for people to share whatever they're going through, what they've been through, and the loss they've encountered," DePasqua said. "It's very comforting to see that we can all come together on such a tragic day like 9/11."
To conclude the night, Puopolo initiated a discussion centered on love. Every person was encouraged to share how they define love and their personal experiences with love. Each answer was followed by setting a candle on the blue star in the center of the stone floor.
The Parkman Bandstand was bathed in candlelight and adorned with a circle of sanguine faces despite the somber rain that continued to engulf the night. 
"There is a lot of darkness out there but when I hear your stories, I see the light represented in these candles," Payne said to the group.