'I'm Glad My Mom Died' is Gen Z's entrance to the celebrity memoir
On April 4, 2022, Entertainment Weekly released the first look of the cover of Jennette McCurdy's memoir, "I'm Glad My Mom Died." McCurdy, largely known as a star of the popular early 2000s Nickelodeon show, "iCarly," is pictured in a formal, all-pink dress shirt and pants, with a tight grimace pressed onto her face as she cradles a pink urn brimming with pink confetti. The forthright nature of the memoir's title mirrors the self-deprecative style of humor of Gen-Z, and stands out as one of the many elements of McCurdy's story that has fostered a unique connection among young people. 
As the first look of the cover hit social media, viewers exploded with commentary on the former "iCarly" actor's blunt and polarizing book title. Insta-trolls flooded McCurdy's comments under her release post, some pondering, "Does anybody else think this is an odd book title or just me? ok." Others openly berated McCurdy, writing, "One moment you were crying that your mother was dying of cancer and now you're writing this book about her. Even if she was toxic as you say, the title of this book is vile."  
However, it's this exact blunt language, along with cultural references to McCurdy's experiences as a young woman in the media, that allow "I'm Glad My Mom Died" to connect with the younger generations in a way no other celebrity memoir has.The characteristics of McCurdy's writing that make her story so impactful for Gen-Z readers are also the very elements that make the book incredibly universal.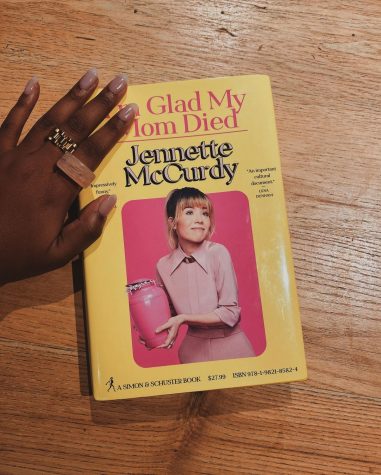 The only thing that drowned out the middle-aged trolls was the outpour of support from the TikTok demographic. Since the release of the book itself on Aug. 9, 2022 (when it promptly sold out on Amazon and hit the New York Times Bestsellers list within a week), social media has been full of young people speculating about how McCurdy was treated on the set of "iCarly" by show creator Dan Schneider. Users are recording their reactions of shock and sadness via TikTok as they read the memoir, encouraging others to read the book with leaked clips of the audio book and their own comprehensive reviews. 
It's not hard to relegate the popularity of McCurdy's story among young people to her former status as one of the most loved and recognizable young characters on TV. For many people between the ages of 16 and 25, McCurdy is synonymous with the butter-sock swinging, chicken-eating, sidekick character, Samantha Puckett. Viewers treasured Sam and Carly's fiery and sweet dynamic duo for more than five years, recreated Sam's famous "Ilovefriedchicken" dance in the mirror, and looked up to her ability to take absolutely no shit. 
The intense familiarity young people have with McCurdy as Sam Puckett make the revelations of her personal life particularly impactful for young audience members. In "I'm Glad My Mom Died," McCurdy recounts the emotional and physical abuse carried out by her mother, the intense anxiety of performance, and her struggles with eating disorders, grief, and mental health, all dusted with the specific pressures of being a visible figure for children in the media. 
In an interview with the New York Times,, McCurdy's iCarly co-star Miranda Cosgrove responded to McCurdy's struggles, saying, "You don't expect things like that from the person in the room who's making everyone laugh." Similarly for young people, it's difficult to accept that these struggles happened in tandem with our growing love for McCurdy in her "iCarly" years, and that in many ways, we potentially contributed to the anxiety she experienced. 
As older Gen-Z viewers of "iCarly" bear witness to the abuse and stress that McCurdy experienced through her words, they are forced to reconcile with the systems of abuse in child stardom, the anxiety of fandom, and the many ways that their favorite celebrities may have been hurting in ways that were not publicly visible at the time.
Even with the incredibly serious content of the book itself, McCurdy still finds moments of levity. In heavy moments, like the drive to her mother's funeral and a pivotal stage in her recovery from her eating disorders, she cites funny cultural references. From Taylor Swift to Nick Jonas to Sara Barielles' 2013 chart topper, "Brave," each reference is a bread crumb of familiarity for the young reader — a detail that grounds us in the context of her life, but also in our own. 
This element is compounded by McCurdy's bizarre humor. The title itself, "I'm Glad My Mom Died," is a crude declaration and a reflection of the emotional maturity it takes to recognize the humor in loving an abusive parent but still working to combat the effects of that abuse. Much like Gen-Z, McCurdy's humor lies just between the socially unacceptable and the wildly traumatic. 
"I'm Glad My Mom Died" contains an air of self-deprecation that is apt to connect with young readers. In an interview with Vogue, McCurdy describes the jealousy she outlines in the book towards her former "Sam & Cat" co-star and burgeoning pop star at the time, Ariana Grande, as "comedy gold." The comment reflects McCurdy's emotional capacity to heal, joke, and tactfully distance herself from a painful experience. 
Pair that with McCurdy's use of first-person point of view and the book becomes a sort of meta time capsule. McCurdy's choice to write in first person forces her readers to cement themselves firmly in the early 2000s and 2010s — a time older Gen-Zers were growing up — but also to have the courage to accept the truth of their memory alongside hers. 
McCurdy's "I'm Glad My Mom Died" has found a very specific place of comfort, discovery, and nostalgia for Gen-Z. The relationship is sewn in the book's themes of reckoning with unhealthy parental dynamics, the experience of media-influenced girlhood, and its nearly socially unacceptable spots of humor. Much like the goal of every good memoir, McCurdy has found a way to make the specific, universal. 
With every reference to a time in child stardom you may not remember, there is a heartbreaking description of loneliness. With every unhealthy behavior McCurdy uncovers about her mother, there is a subtext of learning how to recognize prolonged pain, but more than that, learning how  to gain the strength to honestly confront that pain and begin to heal.