Vice President Kamala Harris visited Boston on Nov. 9 to speak at Pipefitters Local 537, highlighting the importance of apprenticeship programs and union jobs. 
Harris' trip to Boston kicked off National Apprenticeship Week, which began Nov. 13. She spoke for half an hour, answering questions from the audience about her personal work with apprenticeship programs across the nation. Meanwhile, two and a half miles away, citizens were gathering outside the Ritz Carlton, where Harris was set to attend a Democratic National Committee (DNC) fundraiser Thursday afternoon. 
At around 11:30 a.m., a group of pro-Palestinian protestors organized on Avery Street, just outside of Harris' fundraiser. The demonstration contained a wide range of participants, from local college students to senior citizens. Even a few toddlers, joined by their parents, bore witness to the public display. The protestors met with one main goal: demanding an Israeli ceasefire on the Gaza strip.
Inside, the room was notably filled by Boston Mayor Michelle Wu, Massachusetts Attorney General Andrea Campbell, Massachusetts Democratic Party Chair Steve Kerrigan, former Massachusetts Representative Joe Kennedy III, and current Massachusetts Representative Tram Nguyen. 
Outside, two men were arrested upon entering the hotel during Harris' fundraising event. A line of police officers protected the entrance to the Ritz Carlton as a small group of protestors flashed hand gestures and expletives in their direction. Signs flew in the air, with one saying "CEASEFIRE: END THE OCCUPATION," and another condemning the vice president for alleged "crimes against humanity."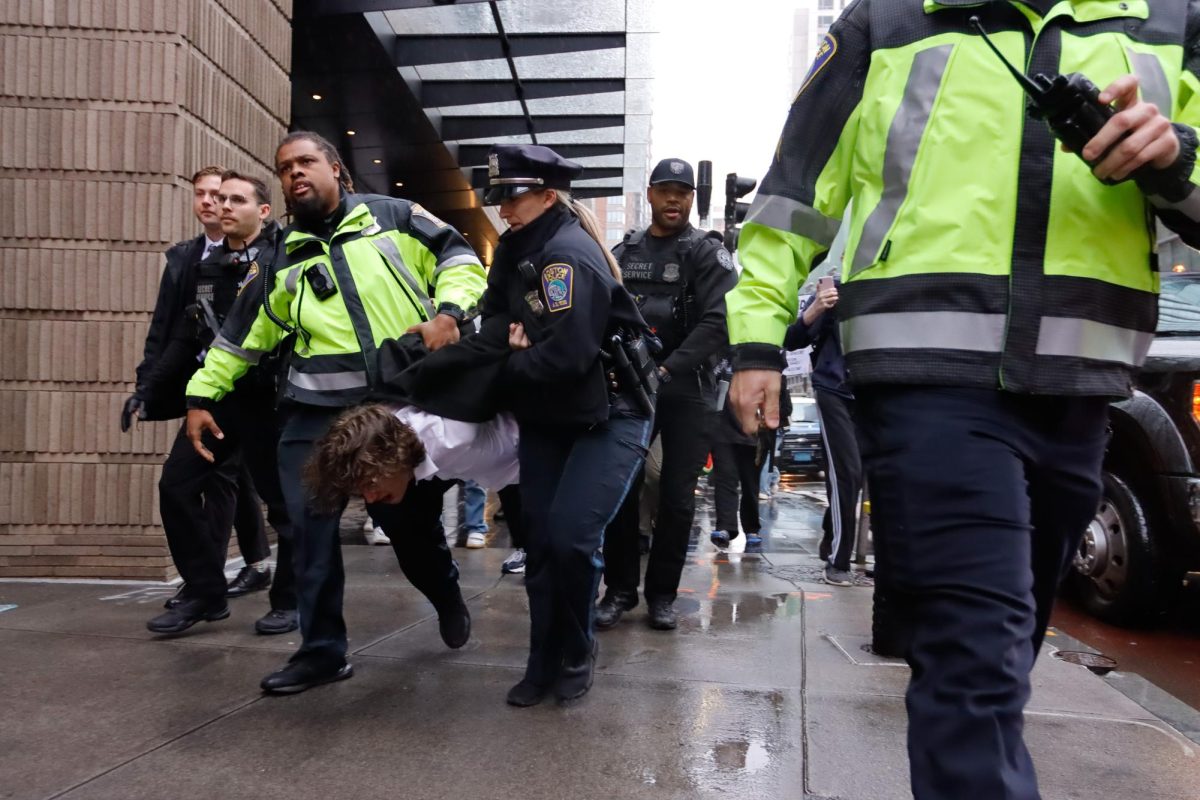 Harris took the stage at the Ritz Carlton at 1:35 p.m. Unprompted, she addressed the current situation in Israel and Palestine.
"The President and I have been very clear that Israel has the right to defend itself and it is a right that we support," Harris said. "We also strongly have urged and believe that it is critical that the people of Gaza receive humanitarian aid and we are working around the clock in that regard."
As the applause died down, Harris continued speaking on the issue.
"We should not conflate the Palestinians with Hamas and make clear that those are separate," she said. "The Palestinians are entitled to self-determination and dignity."
In the streets outside, a chant quickly spread through the crowd: "Israel bombs, U.S.A. pays, how many kids did you kill today?" 
Directly following this, an event speaker took the mic and began a second, much more direct, chorus: "Kamala, Kamala, you're a liar! We demand a ceasefire!"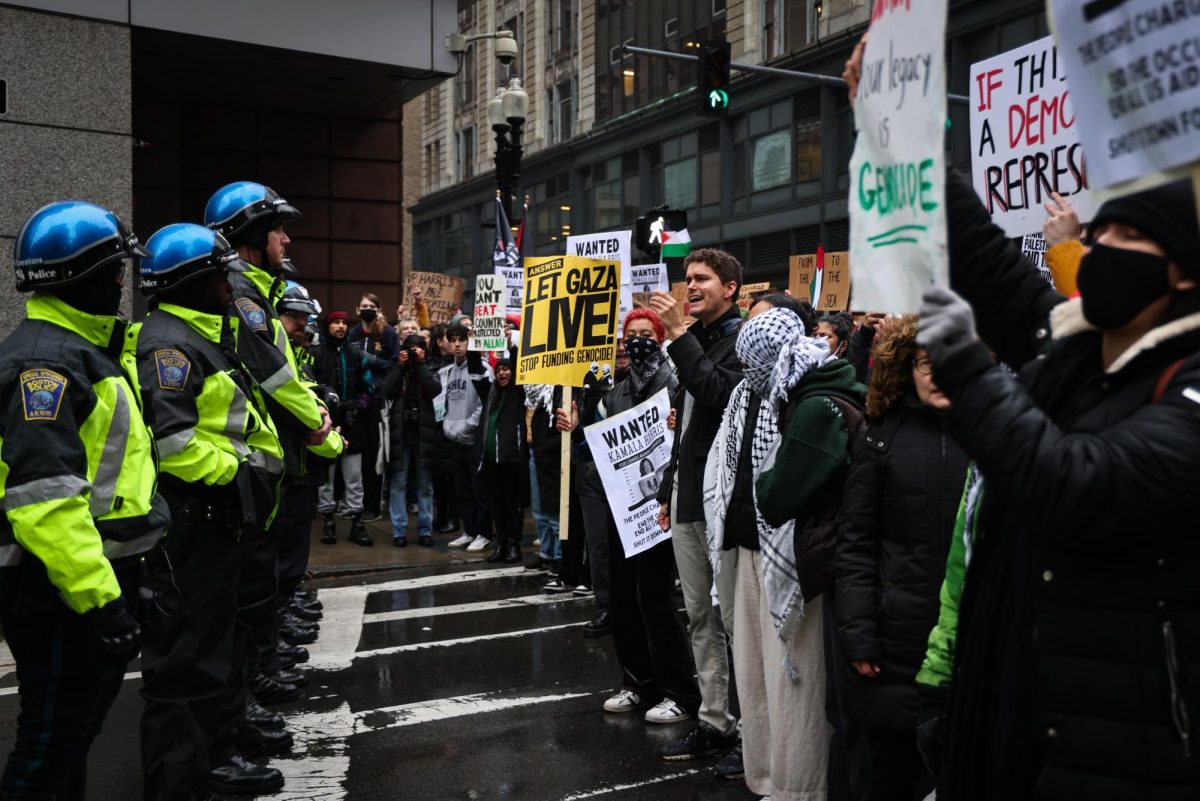 Only a few stories down from the floor of the DNC fundraiser, protestors continued to confront Harris' views on the Israeli-Palestinian conflict, chanting "Hey, hey! Ho, ho! Genocide Kamala has got to go." 
A hush fell over the crowd as one college-aged organizer took the mic and said, "Genocide Joe and cruel Kamala have shown us levels of Zionism that I did not know even existed."
Back in the ballroom, Harris answered questions about her Fight for Our Freedoms College Tour. She said she loves hearing from college students because their perspective on current world events is different from older generations.
"I am talking with people, who, for all of these issues—smart gun safety laws, protections of Roe, the climate crisis—these young leaders, it is a lived experience for them and they are not going to be patient about getting something done," Harris said. "I love that about them."
Harris made no comment on the protest that happened outside the Ritz Carlton. She exited the event through service elevators to the parking garage, driving out via Boylston Street and avoiding Avery Street where the protestors were gathered at the hotel's front entrance. 
The protest ended around 2:30 p.m. as word spread that Kamala had left the location. Remnants of the demonstration remained, however, as signs lay scattered on Boylston Street and neighboring roads. Outside of the CVS on Washington Street, a poster lay propped on the wall. It read, "The rain won't wash the blood from your hands."