'It is such an electric experience': Thousands converge for 127th Boston Marathon
Over 30,000 runners began the race in Hopkinton, running through sporadic rain and a blanket of fog in the 127th Boston Marathon on Monday.
Hellen Obiri, 33, of Kenya, bolted across the finish line in 2 hours and 21 minutes, winning first place in the women's race. Evans Chebet, 34, of Kenya, took the trophy for the men's race for the second year in a row, running all 26.2 miles in 2 hours and 5 minutes.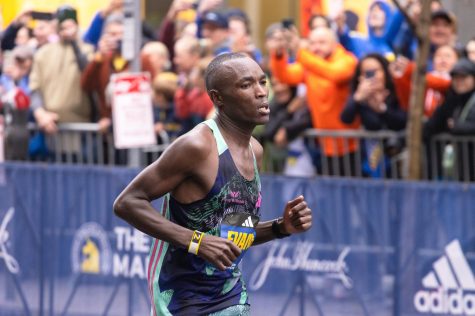 Marcel Hug, 37, of Switzerland, won the men's wheelchair race, crossing the finish line in 1 hour and 17 minutes. Zachary Stinson, 33, of Pennsylvania, won the men's handcycle race, finishing in 1 hour and 11 minutes.
Junior journalism major Morgan Gaffney, of Thetford Center, Vt., finished in 4 hours and 26 minutes.
"I was in shock," Gaffney said as she "dragged herself" to the finish line. "[I thought] 'Oh my God, I just ran a marathon.'"
Gaffney was at the marathon's finish line 10 years ago to support her mother, an experienced marathon runner, when the bombings occurred. 
"The bombing was a very traumatic experience for me and my family," she said, adding that it was partly the factor influencing her decision to run the marathon.
"[I wanted to] take that experience back for myself and heal myself," she said.
In 2013, Gaffney's mother ran with the Hole in the Wall Gang Camp, a non-profit group serving children with serious illnesses and disabilities. The group offered the opportunity to run again this year to commemorate the 10-year anniversary. 
Because Gaffney said her mother wasn't in the position to accept the offer, she stepped in and took her place. 
"The experience of being at the marathon is insane, whether you are a spectator or supporting family," she said. "It is such an electric experience and I wanted to be on the other side of that."
Jack Fleming, president and CEO of the Boston Athletic Association, said in an interview with the Beacon that Marathon Monday is a special day for the "iconic sporting event."
"Participating in the marathon doesn't just mean running from Hopkinton to Boston," Fleming said. "It can mean coming down to Copley Square and Fan Fest or supporting a runner … or just embedding oneself in the atmosphere of a very special weekend."
Spectators lined up along the route wearing raincoats over thick sweatshirts and holding umbrellas, with some taking shelter under handmade signs. Despite the damp and gray conditions, the crowd at the finish line was feverish, erupting in incessant cheers as participants rushed in, upholding Boston's legendary resilience.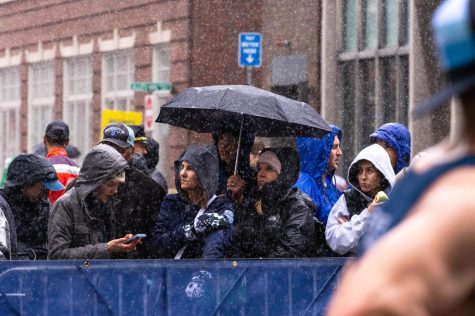 James J.B., of Worcester, stood near the finish line in support of his home country's Kenyan runners. With a large Kenyan flag tied around his neck, J.B. said he was rooting for world record holder Eliud Kipchoge, who placed sixth in the men's elite race. 
"Another Kenyan was able to step in and save the day," J.B. said of Kipchoge's loss. "[Despite the loss], I am here for a good time and to continue celebrating the win." 
For other spectators, the mood at the finish line was emotional.
Erin Philleo, of Sacramento, Calif., watched her husband Thuan Phan reach the finish line.
"I was crying so hard when I watched him run by, it's unbelievable," Philleo said. "He's been working for this a long time. I don't know if there are words for it."
Jaime Santillan traveled from Dallas, Texas for his first Boston Marathon. He said crossing the finish line "was the most exciting experience I've ever felt." 
"Everyone is rooting for you as if they knew you—that's what makes it special," he said, especially impressed with the crowd's size and volume. 
Throughout the day and along the entire course, spectators donned blue and yellow attire that read "Boston Strong," the tributing slogan for the marathon's 2013 attack. 
Elena Horton, a graduate student at Harvard University, completed her third Boston Marathon in 2 hours and 57 minutes, achieving her goal to run the oldest marathon in the world in under three hours.
This time around, Horton was focused on the "incredible energy" of the crowds.
"I hit a lot of high-fives which helped," she said. "The city was so fun."
"Heartbreak Hill," the well-known rugged terrain for marathon runners in Newton, offered an unbeatable moment for John Fielder because of residents' cheers. 
"The Boston College students really turned out this year," the Washington, D.C. native said of his third Boston Marathon experience. "It was great coming over the hills and having them [cheering]… and coming down the chute on Boylston Street. You can't beat it."
Screams echoed in Wellesley College's traditional "Scream Tunnel," which made for an "awesome crowd" a few miles up the course, Fielder said. 
Dignitaries were among those in attendance at this year's marathon, including former Red Sox player David Ortiz, the 2023 Boston Marathon grand marshal, who was awarded the Patriots' Award by the B.A.A. and the city of Boston. The award is presented "to a New England-based individual, group, or organization that is patriotic, philanthropic, and inspirational, and fosters goodwill and sportsmanship," according to the B.A.A.
Childhood friends and brother of Martin Richard, the 8-year-old who was killed in the marathon bombing, ran in his memory. The group ran as part of Team MR8, supporting the Martin Richard Foundation.
After running the 26.2 miles, medal-donning runners at the finish line said they felt exhausted, but accomplished, in running the long-standing marathon.
"[It was] a dream come true," said New Orleans, Louisiana native Gabriel O'Connell of his first Boston Marathon.
Pedro Henrique, who traveled from southern Brazil, was shivering from the rainy weather. 
"Every part of my body hurts," he said.
Jennifer McGowan, of Chicago, said the marathon brought "a lot of crowd support" to help with motivation through the "really cold and really hard" race course.
"The marathon has shown that it brings people together, countries together," J.B. said. "You get to see people from different worlds."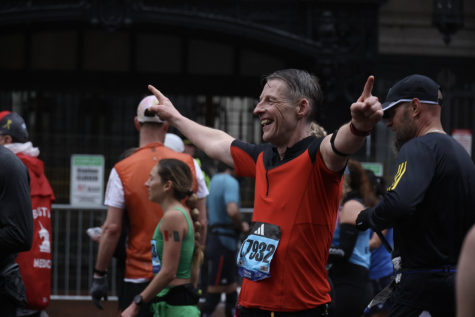 Bailey Allen, Parker Garlough, and Arthur Mansavage contributed to reporting.