'It's just a party': Boston Marathon returns after 910 day absence
By Adri Pray, Editor-at-large
October 16, 2021
Family, friends, and spectators alike lined the twenty-six mile route of the Boston Marathon on Monday, yet another glimpse of normalcy as the city continues its recovery from the effects of the pandemic.
Usually held on Patriot's Day in April, the Boston Athletic Association chose to hold the race's 125th incarnation in October this year—seventeen months after the 2019 event. Its resurgence saw 15,736 runners cross the starting line in Hopkinton, the vast majority of whom would cross the finish line near Copley Square just hours later.
Seasoned runners like Isabella Caruso of Concord, Massachusetts. welcomed the return of the event, long seen as a local tradition. Caruso, who has run the race three times before, said that it brought an energy to the city absent during the pandemic.
"It's just a party," Caruso said. "The whole city gets into it in a way that's really special."
Screaming spectators lined the 26.2 mile long course, cheering loudly for each runner who trotted by. Families in brightly-colored matching t-shirts scoured the Boston Athletic Association racing app to track their loved ones, trying to determine the exact moment they would run past them. Parents held their small children up on their shoulders so they could catch a glimpse of the action from above the crowd.
Zhen Long, a software engineer who works at Amazon in Seattle, said the Boston Marathon presented unique challenges. 
"There is almost no flat course," Long said. "It's hard to pace yourself. If, in the first half, you're overconfident, you're definitely going to screw up. I found it hard to tackle the second half because after we got to Newton, the difficulty level became terrible. I could only walk uphill because my calf got a cramp."
Andrew Belanger, a first-time marathon runner who lives in the North End, said the toughest part of the marathon for him was around mile 24.
"The hill wasn't too bad, because I was getting ready for it, but 24-25 hurt really bad. But I made it." Belanger said. 
Now that the marathon is over, Belanger plans to celebrate with a drink.
"I'll probably get a beer," he said.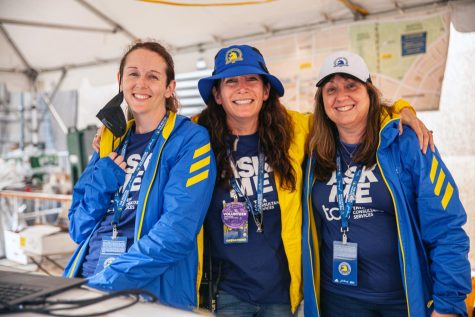 In addition to the runners, an estimated 200,000 spectators surrounded the finish line in Copley Square and the surrounding streets—one of the largest crowds in Boston since the outbreak of the pandemic in March 2020.
"It's crowded—but it's like organized chaos," said Linda Fechter, one of the many volunteers manning the BAA's information tent. "So many of these runners have been here or at other marathons before, that they know what they're doing. The energy is great, honestly. With the rolling start, the beautiful weather, and the excitement of just being able to be here, our job has been fairly easy today." 
Fechter has volunteered with the BAA for twenty-six years, but said bringing the marathon back after nearly two years, amid the uncertainty of a lingering pandemic, was a unique challenge for organizers. For this year's event, runners and volunteers alike were required to provide proof of vaccination or a negative COVID-19 test in order to participate.
"There were challenges figuring out the mitigation for COVID, but I think the BAA did a fabulous job with it," she said. "You know, people had to get a runner out to get a wristband before they were allowed to get their bid—but [they] are so excited to be back that it didn't affect them."
Indeed, many runners were eager to return to an event that has brought them so many powerful memories. Ian Hermon, a 33-year-old from Houston, Texas completed his first Boston Marathon in three hours and nine minutes on Monday. He recalled watching his mother complete the race eight years ago in 2013—the year of the Boston Marathon bombings, which killed three people and left hundreds more injured.
"I was right across the street from the first bomb, five minutes before it went off," Hermon said. "I was actually at [the Prudential Center] when it went off. It was a stampede of people."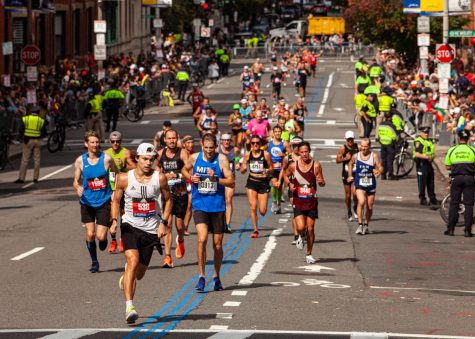 Even for those Boston residents who hadn't experienced the event, the marathon was still a familiar sight. Emerson students like first-year journalism major Danielle DuBois, who watched from the finish line at Copley Square, said the event has been a part of her life from a young age. 
"I've kind of grown up watching the Boston Marathon, and a bunch of other marathons," she said. "Being able to go in-person for the first time in my entire life was just super exciting." 
The Georgia resident, who fondly recalled running road races with her father throughout her childhood, positioned herself at the finish line to get the best view of the runners. 
"There were so many people who seemed like they had so many inspiring stories," she said. "You see the people that are crossing with someone in a wheelchair, or the army veterans, and it's so emotional. I don't even know the people, but it was still so impactful."
Morgan Kunysz, a junior visual and media arts major, also had never visited the event despite being from New England. Like DuBois, he said that witnessing it in person was inspiring on a personal level.
"My freshman year [in 2020], it didn't work out because of COVID—and then again, COVID last year," Kunysz said. "This is the first time I was able to [come see it]. It's really cool. I used to run cross country, so I like seeing that stuff." 
"Maybe one day I'll, you know, run myself," he added. 
Even amid the pandemic, the event attracted thousands of spectators and participants from around the world including Kenya's Benson Kirupto and Diana Kipyogei. Both first-place finishers in their divisions, Kirupto finished in 2 hours and 9 minutes in the Men's Professional division. Kipyogei finished in 2 hours and 24 minutes in the Women's Professional division.
"The Boston Marathon definitely has a big sense of community, and after the Boston bombing, everyone kind of united even more as a city," DuBois said. "[Especially] with the whole 'Boston Strong' movement, I feel like Boston's held very, very true to that."
Bailey Allen and Camilo Fonseca contributed reporting.