James Berkowitz joins literary community in Los Angeles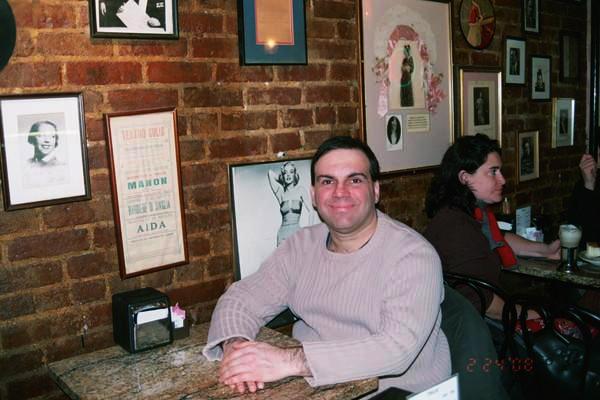 James Berkowitz stood at the window in his grandmother's house on the South Shore of Massachusetts immediately following the end of his mother's battle with cancer. It was a freezing cold January day in 1993. He can still remember looking at the bare willow tree outside, heat radiating from the old cast iron stove beside him. That was when his first poem, which he would later title "Circle of Love," came to him.
Berkowitz, who graduated from Emerson in 1986 with a degree in communications, went on to read this poem as his mother's eulogy at a public chapel.
"I was shaking and quivering," he said. "It was so powerful, and people didn't know if I'd be able to get through it."
But he did, and afterward, received requests for the poem from people who had heard him speak. This catapulted him into his next phase of writing. Berkowitz's new work was recently published in San Francisco Peace and Hope, a literary journal devoted to poetry and visual art, and has more forthcoming in Edgar Allan Poet Journal #3, a Los Angeles-based publication.
Growing, and growing up
Berkowitz's interest in poetry grew out of a love for music. He said that as a child growing up outside of Boston, he spent most of his time in libraries. He recalled that he would hand an album to the reference librarian, she would set it on the turntable, and he would listen to it through large headphones. Berkowitz would search for books with lyrics and was particularly fond of the Beach Boys' "Good Vibrations" and musical storytellers like Bob Dylan, Gordon Lightfoot, and Simon and Garfunkel.
"I would take words in my own head and apply them to songs that were already created," he said. "I was always writing."
From his passion for music grew his desire to work for the Emerson radio station WERS. Berkowitz said that as a kid, whenever he was in downtown Boston, he would listen and say that he would one day work there. And that he did—once accepted to Emerson, he worked on WERS and heard bands like The Pixies and Mission of Burma play in the studio. He also hosted a show on WECB called Bright Lights, which highlighted the local music scene.
His courses at Emerson included jazz, voice, and articulation, where said he said he ran through verbal exercises—like "the man camped on the land in Manchester, New Hampshire" —to tone down his accent for speaking on the air.
"It was key because growing up in Boston, my dialect, of course, was that real thick, heavy Bostonian dialect—'How ah yah, hows it goin' ovah theah, yah go tah Emahson?' that type of thing," he joked. "It really was an exercise in that area—and the creativity."
Berkowitz said he and a friend would share their poems, which strengthened both of their work. He also interned at places like KISS FM, a nightclub called The Channel, and a booking agency.
"Communications allowed me to open up and really get to utilize my voice in an artistic manner," Berkowitz said. "Emerson allowed that experience because it's a very open place where you're not just with textbooks and then going home and studying, being a parrot regurgitating. Being involved on so many levels—it was very exciting."
City of angels
Following his mother's passing after college, Berkowitz said he had a dream one night in which he saw images of a place he'd never been to—sights of palm trees, mountains, and the Pacific Ocean—and he decided to move toLos Angeles from Boston, where he has lived ever since.
Berkowitz attended the film program at the University of California, Los Angeles, where he said he created a short dramatic romance film titled Circle of Love. A few years later, in 1997, he decided to create his first chapbook, Canteen Trumpets at Noon, and in 2003 he published another, Angels are Watching. Berkowitz has since been published in Blood & Honey Review, LA Examiner, Los Angeles Independent Newspaper, Creations Magazine, Vision Magazine, and others.
Over the last 20 years, Berkowitz said that he has seen Los Angeles transform into a exciting city for literature.
"You usually don't think of LA as a literary place, with Hollywood and all the film areas," he said. "However, what I have discovered into the millennium and especially the past decade, there's been a surge of youth that have been putting marvelous events together all across the city."
Berkowitz said he found community in places like the old bookshop in the neighborhood of Silver Lake that held his first reading, and the coffee shop in North Hollywood where he read his own work for the Los Angeles Poets Society. Berkowitz said he developed his presence on stage over the years, and he now performs emotively, moving around the stage, often with musical accompaniment.
"My greatest reward in any writing or reading and performing is to connect with other beings," he said. "Once it connects—that's the gratification."
Getting published, staying true
Berkowitz describes his writing as an antidote to darkness and an expression of the soul.
"A lot of my work will transform and lift the spirit," Berkowitz said.
"The inner sun / rises from deep / within the soul / bringing all that / comes with the dawn," reads the poem "The Inner Sun," as published in San Francisco Peace and Hope.
"The Inner Sun' by James Berkowitz explores the vastness of the human spirit," wrote Elizabeth Hack, editor of SFPH, in an emailed statement. "The poem transcends and guides us to a place of eternal hope. San Francisco Peace and Hope is honored to publish the work in our newly released book."
Berkowitz said that both SFPH and Edgar Allan Poet have missions that are in line with his own personal goals and beliefs as an artist, which is vital to him and his work.
"I'm very meticulous [with] how I want to be associated and the types of publications where I'm published," he said. "That's something that's very important, as a writer, is when you're sending out work, is making sure that it's in line with what you're doing."
Berkowitz said that these small, relatively new literary magazines are essential for letting people be heard in this day and age.
"To me, poetry is news, because it's truth," he said. "When you hear people communicating their expressions and experiences, and it comes woven through language and words and the cadence of that—the human emotion—it's very powerful, and it resonates. We need more of the publications and people stepping up."