Kasteel Well to designate new gender-neutral bathrooms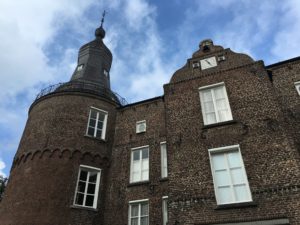 The Kasteel Well campus in the Netherlands will soon install gender-inclusive restroom signs, similar to the signage on the Boston campus. Bathrooms at Kasteel Well are gender-neutral, but both male and female signs can be seen on the door.
Kasteel Well Executive Director Dulcia Meijers said she recently ordered inclusive signs with a triangular symbol that will better represent transgender and nonbinary students. The sides of the triangle will have a female symbol, a male symbol, and the combination of male and female together, she said.
Meijers said Kasteel Well tries to align with the Boston campus, but wants to use different symbols that are more European and Dutch-specific.
Meijers said the campus has been under renovation since 2010, and part of that was to include single-stall, gender-neutral restrooms for students.
A few years ago, Meijers said she received feedback from female students about the makeshift single-user neutral stalls being messy. Meijers said she established separate men's and women's stalls as a solution. All bathrooms are single-stall with the exception of a multi-stall for men and one for women.
Vice President for the Social Justice Center, formerly the Office of Diversity and Inclusion, Sylvia Spears said when the Boston campus makes steps to integrate gender-inclusive restrooms, other locations should follow suit.
"One of the challenges I think for Emerson is, as they expand locations, ensuring that the student, staff, and faculty experience is the same," she said.
There are no maps publicly available to students at Kasteel Well indicating the location of neutral or inclusive stalls on the campus, and the availability of gender-neutral restrooms is not listed on the Kasteel Well website.
"It's already a big enough adjustment to move to a different country," Emerson's Alliance for Gays, Lesbians, and Everyone Vice President Lauren Lopez said. "There's also no way to prepare for possibly having to walk across campus between classes to go to a different bathroom, or maybe not being able to use a bathroom at all that day."
Two years ago, the Social Justice Center and EAGLE selected multi-stall restrooms in high-traffic areas of the Boston campus to designate as inclusive of transgender, genderqueer, and gender-nonconforming individuals, and installed signs indicating this.
Junior Gwendolyn Black-Graham, who is transgender, attended Kasteel Well last fall. She said that when the women's facilities were not operating properly in the castle, she felt uncomfortable using the men's room. She said she didn't have a bathroom of her own, and only a handful were not marked explicitly male or female.
"Because it was marked 'men's,' I didn't go in. It just felt wrong using [the men's room]," Black-Graham said. "I could see if a student didn't identify with a certain gender, or if a student didn't identify as either gender, then they wouldn't want to confirm that."
Lopez said gender-inclusive bathrooms are important because Emerson students need comfort and convenience. They said for someone who is cisgender, their only thought is that they have to use the restroom. Lopez said that no one understands an issue entirely if it does not affect them.
"It's just all of these barriers that no one ever thinks about," they said. "I don't see why there needs to be gendered bathrooms anyway. This is supposed to be seen as a progressive and diverse institution."