Lions dominate Bridgewater State for second home win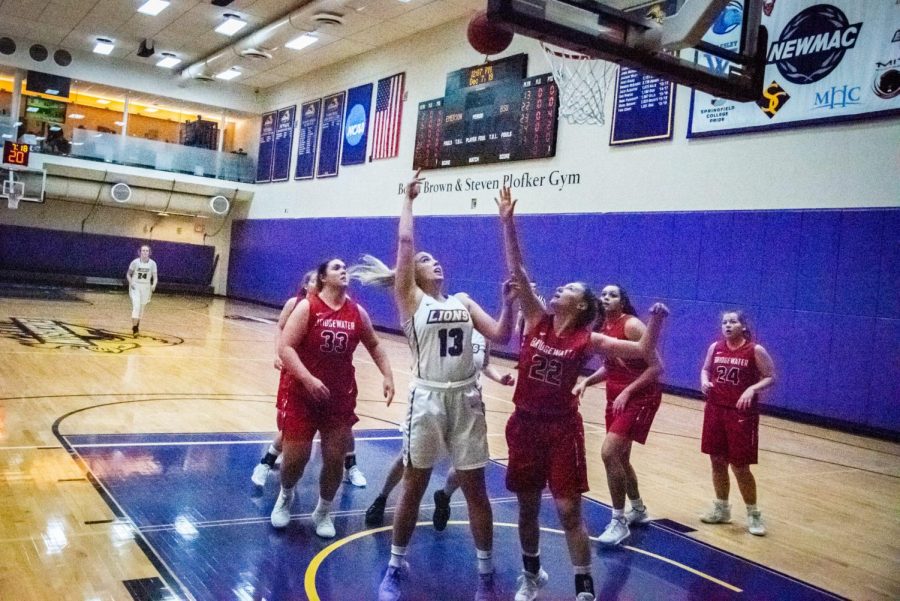 By Megan MacLaren
December 7, 2019
The women's basketball team defeated Bridgewater State University by a score of 75-47 on Saturday afternoon.
The Lions came out strong, earning a quick four-point lead, but the Bears came back to take a 6-4 lead. Senior guard Quinn Madden made a layup that started a 16-0 run for the Lions, and the team led 22-6 at the end of the first quarter.
The Lions never gave up their lead for the remainder of the game. They limited the Bears to five points in the second quarter, ending the half with a 36-11 lead.
"Our defense is definitely what set us apart from them," senior guard Natalie Clydesdale said in a post-game interview. "We got so many turnovers, we rotated really well. That was definitely the key today."
The Lions dominated the third quarter by taking a 64-21 lead, allowing only ten points.  
We choose information accessibility
News and the truth are under constant attack in our current moment, just when they are needed the most. The Beacon's quality, fact-based accounting of historic events has never mattered more, and our editorial independence is of paramount importance. We believe journalism is a public good that should be available to all regardless of one's ability to pay for it. But we can not continue to do this without you. Every little bit, whether big or small, helps fund our vital work — now and in the future.
"I think it's overall our strongest defensive performance," head coach Bill Gould said in a post-game interview. "They executed as good as you can possibly get."
The Lions substituted players constantly throughout the game. 
"You know you can be more aggressive, be more active, and run faster because you know you don't have to play 38 minutes," Gould said.
The Lions struggled with fouls in the fourth quarter, with senior guard Katie Foultz fouling out with two minutes remaining in the game. However, the Bears only made 37 percent of their free throws, which allowed Emerson to maintain the lead.
"I'd rather have people being aggressive and picking up the occasional foul than not being aggressive and picking up no fouls," Gould said. 
Freshman guard Chelsea Gibbons scored a career-high 10 points while sophomore forward Katie Beckmann played a season-high 22 minutes. Clydesdale led the team with 15 points in the game—11 of which came from the first quarter alone.
The Lions play their next home game on Tuesday, Dec. 10 against Lasell University at 6 p.m.