Lions lose heartbreaking game in double overtime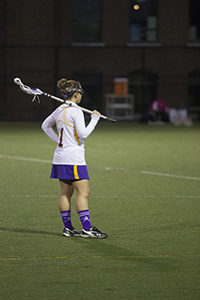 Norwich University: 9
Emerson College: 8
Yesterday, it took 13 seconds for the women's lacrosse season to come to an abrupt end in the first round of the Great Northeast Athletic Conference playoffs.
Norwich University scored a game -winning goal immediately after gaining possession in double overtime, capping a highly contested match that saw nine lead changes and a dramatic equalizer from Emerson's Tayllar Righini in the first overtime.
However, the Lions could not hold off a quick sprint from the Cadets at the start of the second overtime, and lost 9-8.
Head coach Megan Moore said she was disappointed with how the season ended, and that the team as a whole had higher expectations for the playoffs.
"The team that was out there tonight was not the team we have proven ourselves to be all season," Moore said. "This game, and the way this game ended, was not a reflection of the success we've had this season."
Emerson finished the season with a 7-2 conference record, and entered the playoffs tied for second in GNAC rankings.
Last season, the team finished with a 6-3 conference record, ranking third in the GNAC, and lost in the semifinals against Lasell College.
Moore said the Lions improved in a number of areas since last season, both on offense and defense, and that the team's conditioning saw significant progress.
"Starting even from last year, the improvements on this team are paramount," Moore said. "We made a commitment to our strength and our fitness, which is something that has not been a foundation for this program before."
Earlier in the season, Emerson beat Norwich 18-2.
The team was without its leading scorer Chelsea Phillips, who suffered a concussion in the final minutes of the team's last regular season win against Mount Ida College last week.
"All I can say is that it was really tough watching from the sidelines," said Phillips, a junior marketing communication major and a team captain.
Phillips ranked second in the GNAC in goals scored, with 67, and ranked third in total points, with 78. She was also named player of the week twice this year, and chosen for the GNAC Honor Roll, composed of players from across the conference.
This is the last season the Lions will play in the GNAC, as all Emerson teams, except men's volleyball, will play in the New England Women's and Men's Athletic Conference starting next fall.
Moore said she anticipates the team being competitive in the NEWMAC, but added it will need to elevate its level of play.
"We will be in the middle of the pack in the NEWMAC," Moore said. "It's going to be more of a building process. We're in great shape from this year, but we have to get better."