Marsha Della-Giustina, founder of Emerson's broadcast journalism program, remembered as a 'legend'
Remembered as a "legend" in and outside the classroom and newsroom, the Emerson community mourns the loss of Dr. Marsha Della-Giustina, who broke glass ceilings for women in local television and helped launch the careers of thousands of students. 
Della-Giustina died on June 12, following a brief illness. She was 76.
According to former students, including WCVB-TV News Anchor and Emerson alum Maria Stephanos, Della-Giustina wasn't just their professor for a semester—she was their professor for life. She was dedicated to helping her students become the best version of themselves, whether or not they continued careers in journalism.
"She was always guiding all of us. She has done this for every one of her students—stayed in touch, made sure that if she didn't like something that we were doing, she would remind us," said Stephanos. "That was the beauty and the power of Marsha. She didn't tell you the things you wanted to hear, she told you things you needed to."
Della-Giustina spent more than four decades at Emerson, where she was hired in 1977 to help launch the undergraduate Broadcast Journalism program. She later helped create the college's journalism master's program in 1997. 
"Marsha's passion and dedication made Emerson College's journalism program one of the best in the nation and her professional network was unmatched," said Jonathan "Satch" Satriale, Technology Director for Emerson's School of Communication and a former student of Della-Giustina. "The love and knowledge she gave to her students, and the profession, is her legacy."
She was well-known by former students and colleagues for her "Marsha-isms" or mantras. "Believe no one, assume nothing, and follow the money," she often said.
Assistant Vice President for Student Success Sharon Duffy called her the "center of the journalism universe" because of her commitment to her students. 
"She used to laugh and say, 'Sharon, they're all my kids, no matter how old they are, or where in the world they are in,'" Duffy said.
During her tenure at Emerson, she served multiple terms as department chair and represented the journalism faculty as a founding advisor of the chartered chapters of the Radio Television Digital News Association and the Society of Professional Journalists.
In 2012, she received the Emerson Recognition and Achievement Award for Advisor of the Year for her role as advisor of WEBN–Emerson's student-run broadcast news station that she founded in 1998.
At Emerson, she held students to the highest journalistic standards and brought them to cover high-profile events including the Presidential Inaugurations, Iowa Caucuses, Academy Awards, Super Bowls, and MLB Spring Training. Under her leadership, WEBN won Associated Press College News Station of the Year six times, a National College Broadcasters Award, and dozens of additional AP awards.
"She was very tough but very fair," said Tripp Whetsell, adjunct media studies professor and former student. "She demanded the best from [her students] because she had high industry standards and wanted them to have high industry standards."
Della-Giustina retired in 2021 and was given Emeritus status in 2022.
She started her career as an education reporter for her hometown newspaper, The Agawam Independent, as a high school student. After graduating from college, she taught junior high school English in Westfield, Massachusetts, but eventually returned to journalism.
She was a news producer for WCVB-TV in Boston from 1974 until 1984, where she oversaw multiple daily broadcasts and served as both an electronic news gathering producer and assignment editor, as well as a field producer for numerous special events, including the 1976 U.S. Presidential election. She produced and hosted "I Am Woman"—a public affairs program highlighting women's economic, media, political and cultural issues—that aired on WBZ-FM in Boston from 1973 until 1974.

Della-Giustina also produced several documentaries covering the women's rights movement. Her film "Women in Non-Traditional Occupations, High Wage, High Skill, High Achievement" won a National Grace Allen "Gracie" Award from the American Women in Radio and Television, a Special Citation from the Education Writers Association, and a Golden Screen Award from the National Association of Government Communications. Her feature documentary "Courage to Change: Male Batterers" can be found in the curriculum of many institutions, and her film "A Roundtable on Domestic Violence and Media" also received a Commendation Award from the American Women in Radio and Television.
Della-Giustina won two Emmys from the National Academy of Television Arts and Sciences, a Society of Professional Journalists National Advisor Award, a Distinguished Broadcast Journalism Education Achievement Award, and a Curriculum Design Award from the Women's Institute for Freedom of the Press over the course of her career.
She earned a Bachelor of Arts in English from Russell Sage College in 1968, a Master of Science in Broadcast Journalism from Boston University in 1974, and an Ed.D in Media and Technology in 1985 from Boston University.
She is survived by her sister Jo-Ann Della-Giustina of Plymouth, Massachusetts, a brother Joseph Della-Giustina of Palm Beach, Florida, several nieces and cousins, and thousands of former students who saw her as a professor, mentor, and a dear friend.
She constantly reminded her students that they were all real journalists. According to former student Carol Yelverton, she empowered them to enter the often harsh terrain of the newsroom with competence.
"She sent her students into the world not only with the skills to do their jobs effectively and well but with the confidence to know she considered them worthy of the call," Yelverton said. "For this, she will be forever in the hearts and minds of those fortunate enough to have learned from a true master."
Leave a Comment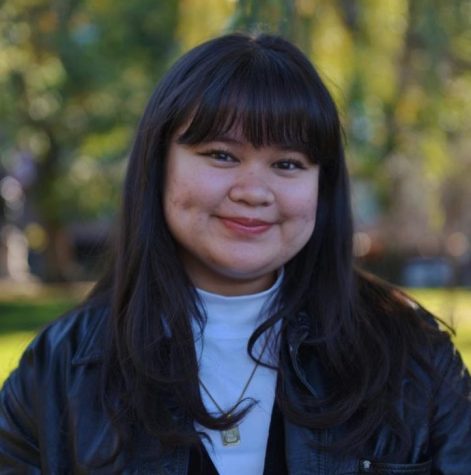 Hannah Nguyen, News Editor
Hannah Nguyen (she/her) is a junior journalism major from North Wales, Pennsylvania. Her work has appeared in publications like The Boston Globe, North Penn Now and AsAmNews. Outside of writing, she enjoys thrifting and painting her nails. (see: https://linktr.ee/hannahcnguyen)