Massachusetts COVID metrics rise as anticipated second wave approaches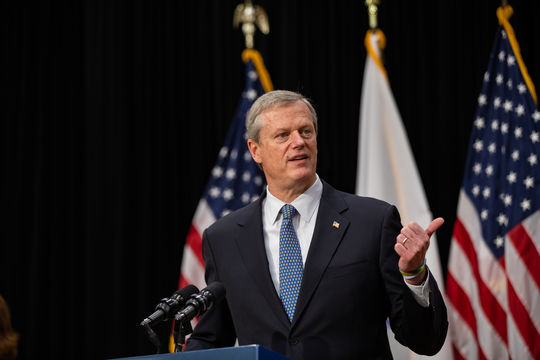 Coronavirus cases ticked up dramatically in Massachusetts over the last week, as epidemiologists ramped up warnings that the winter season may bring about a second wave of the virus.
Twice this week, single day case totals broke 800, a mark last hit in late May when numbers were dropping off from the state's peak in April. Massachusetts' rate of positive tests per people tested has been on a steady rise since mid-August. That number was recorded at 4.6 percent on Wednesday, compared to around a 1.5 percent average in mid-August. 
Cases in Boston are on the rise as well. Three weeks after the city entered the "red zone," the state's high risk categorization for COVID-19 infections, the seven day average positivity rate is soaring, sitting at 5.7 percent as of Wednesday, up from 4.5 percent last week. Boston has reported 1,275 new positive tests over the last two weeks.
The uptick in positivity rate led the city's public school system to cancel all in-person instruction Wednesday, meaning roughly 2,500 "high-need" students, the only ones who were allowed to return to the classroom at the beginning of October, will transition to remote learning on Thursday. Students with disabilities, learning English as a second language, or in foster care are classified as high need.
The school district said it would begin a phased reopening when the city again maintains a positivity rate below five percent for at least two weeks.
While case numbers at Boston-area colleges remained relatively low for the first month of their reopenings, those numbers are now trending up. At Boston University, administrators noted a "worrisome" increase in cases over the last week, reporting 34 new cases, compared to just eight cases the week before. BU's case total sits at 188.
After an outbreak among its swim and dive team last month, Boston College is reporting 221 total positive tests to date, while Northeastern University has reported 139 positives. 
Emerson has reported 25 positive tests to date, including multiple cases among food workers on campus. The college's positivity rate out of total tests conducted sits at .08 percent, one of the highest in the area. 
Emerson does not report the positivity rate per people tested and has refused on a number of occasions to provide The Beacon with the number of unique community members that have been tested. That number is required to calculate the positivity rate per people tested.