MBTA general manager Steve Poftak to step down on Jan. 3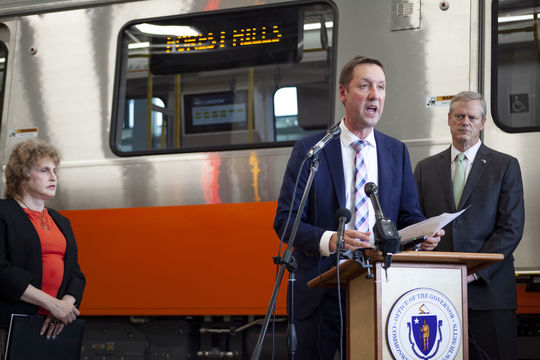 MBTA General Manager Steve Poftak announced Tuesday he will step down on Jan. 3, 2023. He led the agency for four years during some of its most difficult times, navigating Boston's problematic transportation system. 
Poftak will leave two days before the new governor takes office and a year before his contract was set to expire on Dec. 31, 2023. During Poftak's time as manager, the MBTA underwent the COVID-19 pandemic and a federal investigation that revealed major safety issues on the T, as well as overseeing construction projects on the Green and Orange Lines. 
"Serving as MBTA general manager has been the experience of a lifetime and it has been my honor and privilege to work with all of you," Poftak wrote in a letter to colleagues. "While we have faced and will continue to face challenges, I believe in the strength and resilience of the MBTA." 
Leading up to his departure, Poftak will prepare for a transition in leadership. It is unclear at this time who will fill his role. 
Poftak said he is proud of the accomplishments the MBTA made these past four years and emphasized the agency's ability to keep transportation running in the midst of a pandemic. 
According to The Boston Globe, Gov. Charlie Baker said in a statement, "The T workforce showed up every day during the pandemic when most could stay at home, and thanks to Steve's leadership during that period, Steve and his team have continued to build a better T every day."
Baker's administration appointed Poftak in 2019 after serving as the vice chair of the agency's oversight board, a member of the MassDOT board, and acting general manager of the T in 2017. He also was the executive director at Harvard's Rappaport Institute for Greater Boston and worked at the Pioneer Institute—a Boston-based government think tank. 
Senator Elizabeth Warren said in a statement that Poftak's resignation was "long overdue," according to The Boston Globe. 
Maura Healey, the leading candidate in the race for governor, previously said she would appoint a new general manager in alignment with her commitment to improving the transportation system as a whole.