Merger fuels anxiety among Marlboro students
MARLBORO, Vt.—The rumors and talk circulated for years. General anxiety about what would happen to the future and legacy of Marlboro College lingered on the wooded hilltop campus. 
When the news finally broke this week, senior Erelyn Griffin wasn't shocked. 
"I knew something was coming but it's still devastating in a way," the Westminster, Vermont native said in an interview. "We were all aware of the struggle of small liberal arts colleges around here and other people were shutting down and we've had low enrollment for a while." 
Emerson and Marlboro College announced a surprise merger Wednesday, affecting each community in drastically different ways. While the Boston campus celebrated the potential addition of new students and faculty, Marlboro community members questioned the future and legacy of the 73-year-old institution. 
Where one campus sits at one of Boston's busiest intersections, the other sits within the forested hills of Vermont, secluded from a small town only five minutes away. Trees and greenery encroach upon most of the buildings on Marlboro's campus where nature and outdoor activities are an integral part of life. The school even designated 130 acres of forested land as an ecological reserve in 2017 to protect it from development.  
The two colleges plan to merge starting in the fall 2020 semester, with Marlboro closing its doors after the spring 2020 semester, according to a statement released by Emerson. 
Marlboro previously planned to merge with University of Bridgeport until their discussions ended Sept. 13, according to a September statement on Marlboro's website. The Vermont college will donate its $30 million endowment and its real estate, valued at more than $10 million. 
Marlboro's endowment will go to Emerson's Liberal Arts and Interdisciplinary Studies program which will be renamed the Marlboro Institute for Liberal Arts and Interdisciplinary Studies at Emerson College. Marlboro's students and faculty can choose whether they want to come to Emerson at the beginning of the fall 2020 semester. Those who choose to come to Emerson will join the liberal arts and interdisciplinary studies program.
Marlboro College President Kevin Quigley said the circumstances for the partnership align with small liberal arts college closures across the nation—declining enrollment and low tuition revenue have a disastrous effect on the operating budget. Marlboro counts as the fourth in a string of Vermont colleges that have shuttered over the past year. 
"We see the potential for synergy of coming together, so the two institutions through that institute will create something unique, important, remarkable," he said in an interview. 
Students at Marlboro learned of the "alliance" in a similar fashion to Emerson students—both presidents gathered their individual communities to announce the news.
Griffin isn't a stranger to college closures. She first attended Vermont's Johnson State College, which became Northern Vermont University after it combined with Lyndon State College in 2018—after Griffin had already left.  
She transferred to Marlboro after her first semester. Despite the eventuality of Marlboro's closure, Wednesday's announcement still hit Griffin hard.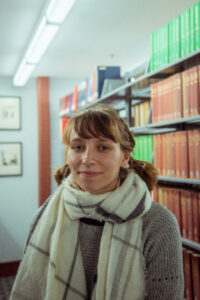 "This is my home in a way and that's why even though there might be some carryover of the academics to Emerson College, it feels really devastating to our whole community because so much of our identity was this place, and we don't know what's going to happen to this place and that's sad," she said while standing in Marlboro's library. 
The deal remains in its early stages. Quigley said although the college has not worked out many details of the deal, staff positions at Marlboro will be eliminated.
The Vermont college's president said he is working hard to find ways to support the staff who will lose their positions and is developing a process to provide them support and guidance.  
"I do hope that at some point in time we can have a more detailed conversation of … opportunities for our staff who have the qualifications and the dedication and passion to support the Marlboro Institute, that might be considered for the position," he said. 
Marlboro Professor of Film and Video Studies Brad Heck graduated from the Vermont institution in 2004 and worked in Chicago, Seattle, and Brooklyn before coming back to teach at the college in 2016. The documentary filmmaker and professor said the community is wondering how the two colleges will be moving forward with the merger. 
Community governance—the idea that every member of the college participates in decisions—is ingrained into the lifestyle at Marlboro. Members of the community attend town hall meetings where they can vote on various initiatives from spending funds and what trails to restore to creating operation policies.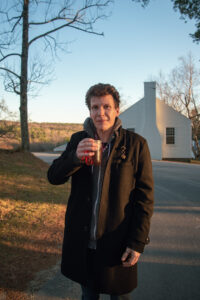 The deal with Emerson College left many Marlboro students and staff with unanswered questions—would Emerson allow for open participation like the Marlboro community was used to, or would the deal proceed behind closed doors? 
Heck said most individuals at the college learned of the deal Wednesday—a decision, he said, that affects Marlboro community members' lives and the pedagogy and legacy of the college. 
"In a lot of ways the whole community governance process is antithetical to the process of finding a merger …  for obvious reasons, and I think for reasons that are probably to the benefit of all, the whole process has to have been relatively closed, which we're not used to," Heck said in an interview with The Beacon. "I think we're not used to not having input, but we're also not used to just not having this information."
Since Quigley is considered a staff member, his position will be eliminated in July if the deal is finalized. He said he doesn't know what he is going to do after his time at Marlboro. 
"Two things have driven me throughout my whole life: I want to be in a position where I can make a difference and I want to be in a position where I can learn something that enriches my life," he said. 
In an attempt to convey the adaptability and flexibility of humans to Marlboro students, Quigley shared the story of when he interviewed for his position at the college. He moved from Bangkok, Thailand and interviewed in the middle of winter. 
"In 48 hours, I experienced a 100-degree temperature change and part of the interview process was I went out to our outdoor program with a group of faculty and staff and students and they said 'you have a choice, snowshoes or cross-country skis,'" he said. 
Heck, for his part, is not on the tenure track. Rather, Marlboro classifies him as a visiting professor, as no tenure track exists in film and video. The professor teaches two to three classes a semester and will have eight tutorials and two classes in the spring. 
A documentary filmmaker when he isn't working, Heck said he doesn't know what the future holds for him. 
"I mean, I also make documentary films so I might just focus on that more, but I really love teaching here," he said as he walked between the white clapboard buildings that make up the Vermont campus.  
Students at the college are faced with a difficult decision—whether they should venture to Boston to attend Emerson or look at transferring to other institutions.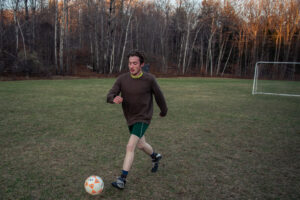 Junior Cedar Van Tassel moved to Marlboro for college after receiving a full-tuition scholarship. His studies focus on ecology and sculpture art and he said he's particularly interested in where humans and the environment intersect and how they interact with each other. 
In an interview, he said he is wary about moving to Emerson.
"I'm in sort of a weird situation because they don't teach ecology really at Emerson and they don't really teach sculpture at Emerson either," he said. "I have no idea what I'm going to do."
Van Tassel said it would be hard for him to leave Marlboro's campus because of all the natural land there.
"There are a lot of people who are into theater and video production who I'm sure will pretty seamlessly move over who don't really care about the woods and the land," he said. "I think that it's a very good deal for people and it seems like the communities are pretty similar. I'm just not personally sure how things that I study are going to actually work out."
Tobias Lyon-Callo said he expected the school's closure but hoped he would have more time on the campus. Lyon-Callo said he is unsure about transferring to Emerson.
"I want to figure out more about Emerson before I make any decisions," he said. "It's a big change, it's a big commitment to go from the middle of Vermont to Boston. But, I don't know, I think I might not. The best-case scenario would be if I could take a year and decide, but I don't know if that's going to be a possibility."
Griffin, the Marlboro senior, said if she was an undergraduate she wouldn't make the switch to Emerson—a big part of why she chose Marlboro was because of the unique nature of the campus. 
"When I walked into the dining hall I was like 'this feels like home,'" she said. "I think that's exactly how a lot of other people feel and it's hard to reckon what we will be without this place."