Mike Cantalupo '15 creates docuseries highlighting the value of elders' wisdom
Video journalist Mike Cantalupo '15 explored the experiences of old souls, specifically those who are or exceed 100 years of age, in his new docuseries entitled Centenarians. 
The docuseries consists of one centenarian interview per episode. There is currently one episode out, with the second on the way, though no release date has been finalized yet. All episodes—and more short stories and features of other notable centenarians—are available on Cantalupo's website,  www.100.film.
"What we believe is that the wisdom of 100-year-olds and people of extreme age can guide us as younger generations to a more thoughtful future," Cantalupo said in a phone interview with The Beacon.
NewMemory LLC, a video production company co-founded by Cantalupo and partner Andriy Kyryllov, produced the project. The company capitalizes on Cantalupo's passion for interviewing and Kyryllov's skills as a director. Cantalupo originally began the process of creating Centenarians with Kyryllov after leaving the Total Pro Sports YouTube channel, where he served as a host from 2016 to 2018. 
He said that although he found success with Total Pro Sports, reaching around 300,000 viewers each day, he felt a longing to work on a project with a deeper meaning. 
"At a certain point…it didn't feel like I was communicating a message that was important to me," Cantalupo said. "From [there], I decided 'Okay, well let's go out and try to figure out what message I can convey—the story that I can tell.'" 
Cantalupo cites his relationship with his grandparents, who he lived with growing up, as one of his largest influences in making Centenarians. 
"I spent most of my time as a child, as an eight-year-old, talking to 80-year-olds, whether it be my grandparents or my grandparents' friends," Cantalupo said. "So from a very young age I was able to conversate with them, and I grew very comfortable with that generation."
Cantalupo attended Emerson College as a visual and media arts major. He credits Emerson for highlighting the importance in uplifting voices that are not adequately covered. Cantalupo said he felt that the voices of elders were not amplified as they should be in the media, leading him to decide to launch his docuseries.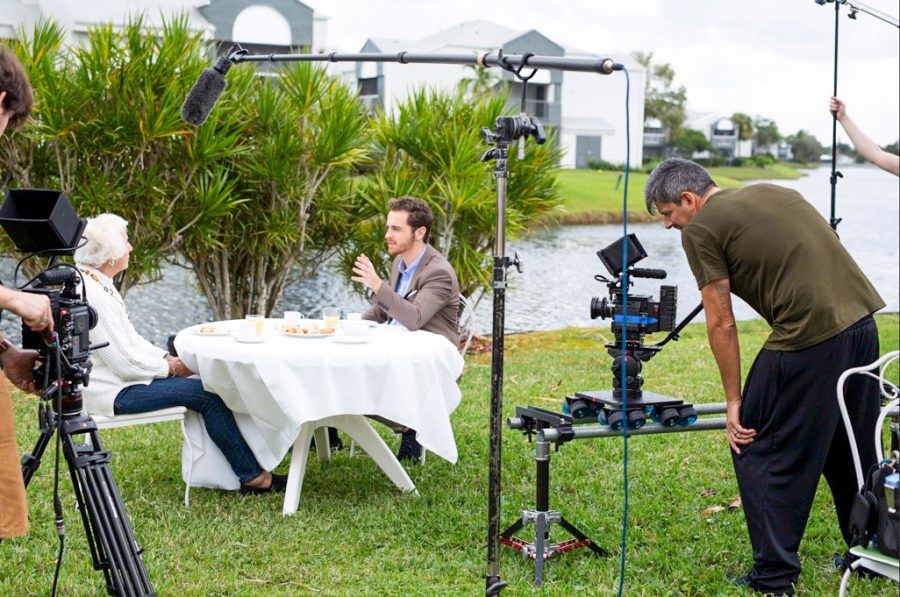 When it came to finding centenarians to interview, Cantalupo said it was easier than he anticipated. Chapter one's star, Joane Rogers, was said to have sort of "fell into [their] lap," since he was living in Miami and stumbled upon a centenarian celebration a few towns over—a mere week and half after he solidified the concept of Centenarians in his head. 
Cantalupo said that of the thirteen centenarians present, Joane, a former New York City dancer, clearly stood out to him. 
"Her love for technology and her love to keep going… she was very clearly a star very quickly," he said. 
After Rogers finished filming the episode, Cantalupo said she exclaimed "this [had] been one of the best days of [her] life." 
Cantalupo found Garth Reeves, the subject of the unreleased chapter two, in a similar manner. The filmmaker saw a post about Reeve's 100th birthday celebration in the Miami Herald. Reeves owned and served as the publisher of the Miami Times, an influential Black newspaper, from 1970 to 1994. The paper, originally established by Reeves' father in 1923, is one of the oldest Black-owned businesses in the city. 
Cantalupo attended the party and then secured an interview about two months before Reeves' passing.
"I remember when we saw Garth, we were in the office, jumping up and down, celebrating, because this [was] exactly the man that we needed next: a man of true history," he said.
Cantalupo explained how Reeves gained a shining reputation with the Miami Times, which gained popularity nationwide because of how it gave a voice to the Black community. He also was said to play an intricate part in both the desegregation of Miami's beaches and golf courses in the late '50s.
Despite these important contributions to the civil rights movement, Cantalupo said Reeves' story is often not included in the history books.
"It's this certain level of people that get the history books—and there's nothing wrong with that, but there is so much more to the history," he said. "There's so many more history-makers around, and the coolest part about it, with Centenarians, with me, is that now these people are going to be listened to."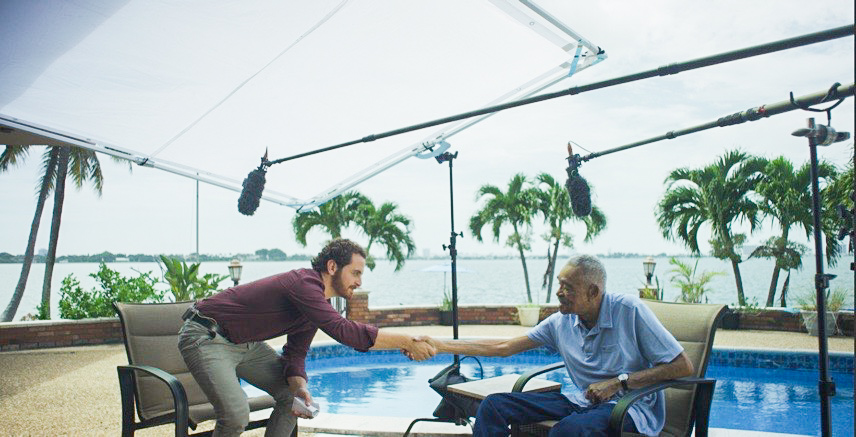 In showcasing these history-makers, Cantalupo hopes to give viewers who have differing views on historical events an opportunity to learn about the other side.
"It invites people who may not be interested in the civil rights movement, or may have different views of what actually happened. [It] may actually open up the conversation, and allow them to listen," Cantalupo said. "[It's] a firsthand account as well. That's the important thing. These people lived these experiences, so there's no denying what reality is."
Cantalupo adds that he wishes there was a sort of "mass major cinematic preservation," similar to Centenarians, about past generations.
"We would have [recordings] from former slaves, the perpetrators of the end of the indigenous people, who were victims of the Trail of Tears," he said. "And we would have this history that would be preserved in a way that would still be approachable today. We're looking to utilize the newest technology, the best technology, so in 50 years or 100 years, these voices are still relevant to the conversation that is being had in the future."
However, he said there are challenges in creating a project that would accomplish that kind of preservation.
"The biggest obstacle, thus far, has been still trying to prove that these voices are worthy of being amplified [and] get more funding to be able to really tell these stories in the way that they deserve to be [told]," Cantalupo said. "It's been a year and a half of that obstacle… people who could actually make the decisions don't care as much as the regular viewer." But even with these obstacles, he describes the experience of making the series as "magic."
Cantalupo received a wide amount of support for his newest project and has found the Emerson community to be a great source of feedback. He said two Emerson students are helping him with social media, and that he would want to involve more students in the future as well. 
He spoke highly of Emerson Channel, which he contributed to during his college tenure.
"Emerson Channel was everything to me. Like I went to Emerson for the Emerson Channel," he said. "I learned so much that was beyond anything that I really gained in television. The Emerson Channel [was an] intricate part of my existence. I worked at least 40 to 50 hours a week on Emerson Channel for pretty much all of my Emerson existence… and [that is] definitely what shaped me into becoming what I am." 
Cantalupo specifically credits Emerson Channel manager Diana Barton, Media Technology Production manager Antonio Ascenso, and visual and media arts professor Eric Handler as key influences in his career.
Barton, in particular, was very supportive during the beginning stages of Centenarians. She explained that Cantalupo expressed great talent during his time at Emerson, making him the ideal person to lead a project like this. 
"He was very, very present on Emerson Channel. His talent… he has just a great gift of gab, and can converse with anybody," Barton said. "He's genuinely interested in people and what they're doing. The subject matter makes perfect sense for him… He's onto something. The population is aging. They're more active now. There will never be a loss of stories among them. Mike seeks those stories, and so he's the best one to be put in charge of telling them."
Cantalupo regards his next episode as one that is particularly special.
"With the Black Lives Matter movement–they call it a yearning for conversation–Garth will be… as he said to me before, [and] one of the last things he ever said to me, 'When Garth Reeves speaks, people tend to listen.' Garth is a big one. I'm excited to see it. There's a power in what he's saying," he said.