Mouse traps and sports drafts: Here are the winners of the 24 hour screenplay competition
By Lucia Thorne, Assistant Lifestyle Editor
November 16, 2020
When first-year Jacob Warman's girlfriend suggested he write about a woman who regretted using mice glue traps, he did not think the idea would lead him to victory in the student-organized 24 hour screenplay competition.
The screenplay competition was organized by fellow first-year visual and media arts students William Blackwell Kinney, Derek Delson, and Maxwell Reid in lieu of the 48 hour film festival, which was cancelled this semester. The winners of the 24 hour screenplay competition were announced on the class of 2024's Instagram page on Nov. 9, with Warman receiving first place. 
The competition took place from Aug. 21 to Aug. 31, and was created to give first years a more engaging orientation experience than the activities held over Zoom. It concluded with the announcement of the winners on Monday; Warman won first place, Ethan Miller took second, and a three-way tie resumed between Hayden Startzell's The Last Day of Charles I, Katya Shakula's Liberty, and Mackenzie Ramsey and Spencer DeLorenzo's Love on the Brain. 
Warman found out his screenplay Glue Boards won a day before the post, when he ran into the competition's organizers in the Boston Common. He said the reality of the win fully set in when the post went live. 
"I didn't really feel the full excitement until I saw [I had] 20 [new] followers on Instagram, 10 comments, my phone was blowing up," Warman said. "Then I went on [my phone] and I saw they released the winner. So that was a far more cathartic experience when it was everyone reacting." 
The organizers were able to find alumni Noah Garfinkel '06, Chris Romano '00, Jon Rineman '05, and Elizabeth Zephyrine McDonough '06 to judge the 44 submitted screenplays. The winner and runners-up will receive written feedback from the judges as their prize.
Miller said he felt honored to win second place with his screenplay Untitled, which parodies political parties by comparing them to professional sports drafts. 
"I felt pretty good knowing that someone in the industry who has a pretty prominent role…  looked at my work and liked it to that degree," Miller said. 
Warman's first place winning screenplay, Glue Boards, explores the concept of immortality through a sci-fi lens. In it, an old woman is questioned about her life by a young man before being turned into a hologram by her interviewer. 
Warman said he based the screenplay off of a conversation he had with his mother about the UK National Holocaust Centre's "The Forever Project" exhibit, where ten Holocaust survivors were asked a series of questions to immortalize their stories for generations to come. Warman used the glue boards for mice as a symbolic way of describing immortality and mouse traps as a symbol of letting death take its course.
"The glue board is this weird unnatural prolonging of death itself, which is a parallel to immortality and the hologram," Warman said. "By that weird suggestion that I didn't take seriously at first, it really tied the screenplay together."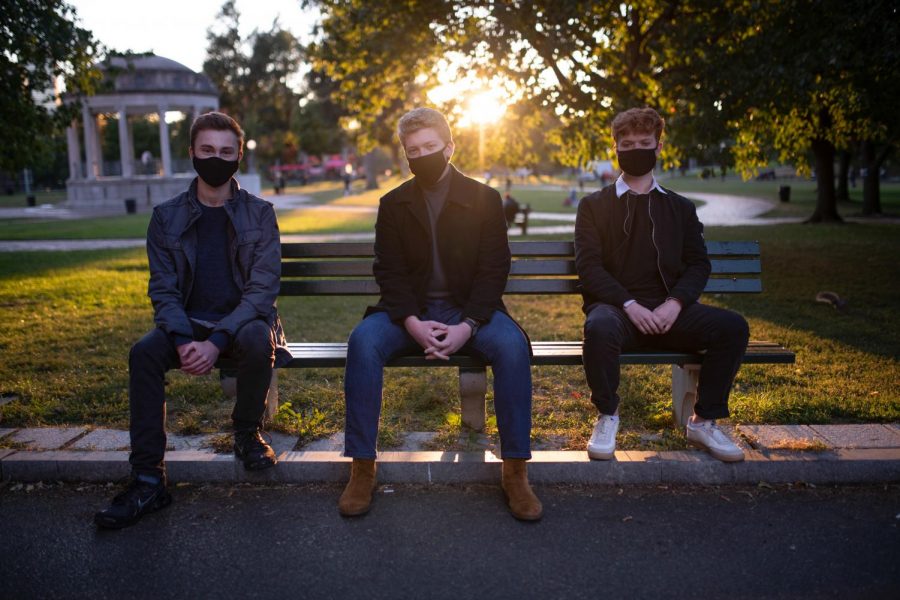 Although there was no set date for the announcement, Blackwell Kinney, Reid, and Delson apologized for the long wait for the results due to judges' work schedules and communication issues. 
"I'm very proud of what we've done," Delson said. "It ended up being a little bit longer than we hoped, but we're super super glad that we can announce the winners and also give people their [rubric] scores." 
The trio shared their gratitude for those who submitted screenplays and said the competition would be nothing without the participants. 
"[I am] incredibly proud to be part of the Emerson Community and incredibly proud of all of you. Fantastic job and thank you so much," Reid said during an in-person interview. 
In regards to his win, Warman said he is most excited about what it will do for him creatively, as he plans on making a short film and feature-length screenplay based off of his winning screenplay. 
"Besides the judges, by far the most exciting thing is that people have been swiping up on my [Instagram] stories and stuff and I'd love to just collaborate, get out there, and make stuff with as many people as possible," Warman said.