Neo-Political Cowgirls perform for Lucas Flint scholarship fund
On a cold, rainy night in Boston, a silent audience sat in Old South Church under dim lighting, waiting in fear while veiled figures gradually appeared around them, whispering and shouting across the room. Eerie music began to play and more figures appeared, yelling in tongues, while young women, dressed in white, danced and spasmed across the stage. 
"Hysteria," a one-night play performed Oct. 30, was an immersive Halloween experience composed of ghost stories and dances. Stories of real women who were shut away after being diagnosed with hysteria, a 20th-century term used primarily against women for being too emotional, inspired the performance.
Emerson parent Kate Mueth is the founder and artistic director of the Neo-Political Cowgirls, a dance theater company of women that create performances that uplift and showcase the female voice. When Mueth decided to create "Hysteria," she had more than just the performance aspect in mind. 
"Look at how women were treated for wandering womb syndrome, which is what they called it back in the day," Mueth said in a phone interview. "And it was just women, not men being hauled into these insane asylums and having these bizarre treatments being put on them for very common things that could be depression, or maybe she was getting the shit kicked out of her by her husband or maybe a chemical imbalance, sadness, or grief."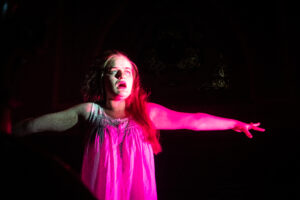 Throughout the show, the women being put away or punished for their behavior had the chance to tell their side of the story to highlight the hypocrisy of their treatment. 
The show served as a fundraiser for the Lucas Flint Memorial Scholarship, an annual scholarship awarded to an incoming visual and media arts student in financial need.
"I don't know who the students are that will receive the scholarship and it doesn't matter, it just matters that someone does, and that in the process, they learn a little bit about Lucas Flint," Mueth said.
Lucas died on Dec. 18, 2018 after being hit by a car in his hometown Braintree, Massachusetts. Mueth received a community email from President M. Lee Pelton about Flint's death and decided to host a Facebook birthday fundraiser that raised over $4,000 to establish the scholarship.
Mueth filled her production with Emerson students―seven in the cast and six in the crew. Mueth told the audience at the show that the actors only had two days to rehearse as a complete cast, and all their preparation beforehand had to be done over Skype. Mueth said the Massachusetts Freemasons, whose lodge is located adjacent to Emerson's campus, allowed her troupe to use their space to rehearse. 
"[The actors] are really talented and with all that they have going on, they're working really hard, and I'm so impressed by it," Mueth said. "This work is not easy, it's not like you're just handed a script and that's it, there's so much we find as we work."
Lucas Flint's mother Susan attended the show and said the performance embodied the kind of horror that her son would have loved. 
"[Mueth] said she would love to do something and kind of incorporate students from the school to be involved for a fundraiser for the scholarship fund, and that it would be fun to do," Susan said in a phone interview several days before the show. "And Lucas was a huge fan of Halloween, so it's only appropriate." 
Susan said this fundraiser was the first to raise money for the scholarship fund since Mueth ran her Facebook fundraiser last year.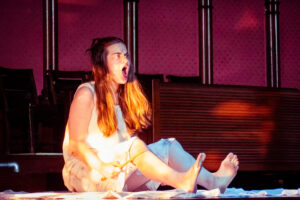 Sophomore Annalise Englert, an actress in the show, said she decided to audition after her friend, sophomore Jordan Barnett and a member of the "Hysteria" crew, briefly mentioned it. 
"I knew it was for the Lucas Flint memorial fundraiser and that was something that I was definitely interested in helping out with," Englert said in an interview. 
Englert realized the importance of the cause after witnessing Mueth's passion and commitment to the show.
"[Mueth] really explained how [the fundraiser] is such a big part of it and why we're doing the show," Englert said. "[Mueth] became really close with Lucas's mom and she's going to be at the show. And it's great that we're able to use art as a bigger picture and being able to perform, enjoy ourselves, and tell a story, but also know that there's good coming from the show."
Susan said in addition to the scholarship fund, she plans to start her own Lucas Flint Memorial Fund applicable to organ donor services and establish a scholarship for students from her son's high school. 
In Braintree, Susan put up a billboard in March 2019 with a picture of Lucas that reads, "One Life Taken; Five Lives Saved. Be a Hero. Be an Organ Donor." Susan said she has paid for the billboard to remain up until August 2020. 
"I don't plan on taking it down," she said. "If I can keep it going, I'm going to keep it going." 
In the future, Mueth said she hopes that Lucas's name is always celebrated during Halloween time. Mueth's son, Emerson sophomore August Gladstone, plans to create an event called "Scaramount" at the Paramount Theatre next year, where Lucas's passion for Halloween will be kept alive. 
"I want this to become an annual event some kind of a Halloween haunt event because, apparently, Lucas loved Halloween," Mueth said. "It's something I want to build into the school as a tradition, so that students keep remembering that Lucas was an Emersonian and that he had passion and he mattered."