New administrator hired for global engagement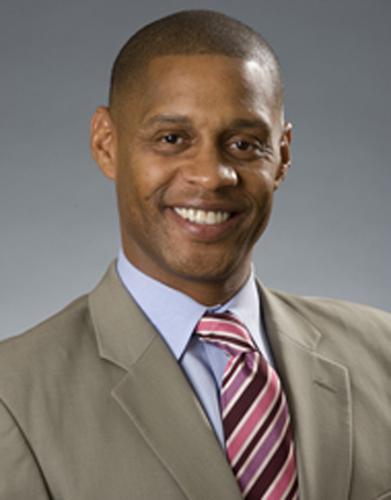 Anthony L. Pinder, Emerson's newest administrator, said he is aware of the many activities and opportunities available on the college's three primary campuses—the Boston site overlooking the Common, the newly-opened Los Angeles Center, and Kasteel Well in the Netherlands—but sees a problem with them: they're not connected enough.
"There are all of these different things happening, but they're just that: they're just things happening," said Pinder, who will be Emerson's inaugural assistant vice president of academic affairs for internationalization and global engagement. He cites the lack of a central, unifying plan.
President M. Lee Pelton announced Pinder's hiring in a Jan. 16 email sent to students, faculty, and staff. Pinder will be the first to serve in this high-ranking administrative position, newly created to fulfill Pelton's global engagement goal, one of the five measures outlined in the strategic plan he introduced in his fall 2012 inaugural address.
According to the official description created by the college during its search for candidates, Pinder will report to the vice president of academic affairs, Michaele Whelan; supervise two staff members; and work closely with administrators, students, and faculty members across Emerson's campuses to create a global strategy for the college.
"[Pinder] will oversee the college's international programs and initiatives," said Whelan. "He will really try to figure out what it means for us to be a leading institution in the arts and communications in a global way."
According to Whelan, who described the hiring process as atypically long, the search for candidates began in spring 2013 and lasted until December, with a brief hiatus over the summer. Emerson also hired Storbeck/Pimental & Associates, an executive search firm that specializes in recruitment for universities to find suitable candidates.
"We ran a search last spring and didn't really get what we wanted," Whelan said. "We tweaked the position and started again in September."
It was through the search firm that Pinder, who currently works as the director of internationalization at Georgia Gwinnett College in Lawrenceville, Ga., learned of the position at Emerson. After several virtual interviews via Skype with Whelan and the faculty search committee, two finalists were invited to visit the Boston campus, and were interviewed in person by Whelan and Pelton.
Faculty search committee member Thomas Vogel, director of the master's program in global marketing communication and advertising, described Pinder's qualifications—which include experience with internationalization at other colleges, years spent as the national director for minority recruitment, and leading the Peace Corps in Equatorial Guinea as country director—as exceeding his expectations for the position.
"It was almost like magic," said Vogel, describing his impression of the marriage of Pinder's qualifications and his engaging personality.
Vogel said Emerson's current array of international study opportunities is disparate and often initiated by individual faculty members. These programs include the eight-credit summer program with the Academy of Performing Arts for Film and Television in the Czech Republic and associate professor of communication Gregory Payne's spring 2013 class trip to Kazakhstan.
"[Pinder's job will be to] support these individual initiatives and make it a bigger, Emerson-wide strategy," Vogel said.
Sophomore journalism major Bianca Padró Ocasio said she is dissatisfied with the college's current global studies offerings, and said having an administrator specifically dedicated to creating a more global curriculum is a step in the right direction.
"I find a lot of students at Emerson who are very culturally unaware," she said.
The college's position specification for Pinder's new role outlines an expectation for creating a global strategy that develops "intercultural competence in native and non-native students."
"The very specific thing about Emerson that was exciting is that it sees itself as forming a new direction in this very field of communication and the arts," said Pinder. "As a person who has been doing international work and international education for the past 14 years, I thought it was a wonderful opportunity to see how and the ways in which I can really make a statement in the world of international education."
As the senior administrator in charge of global engagement, Pinder said his early priorities will be to understand Emerson and learn about what global study opportunities are already in place for students and faculty.
"I think my job will be to make sure that [global engagement] expands and builds on the mission and the wonderful history of Emerson College," he said.