Junior Bianca Nicdao's documentary New Sights New Bites started as a BFA project, but as more Filipino students joined the production team, it turned into a celebration of heritage branded by the tagline #ProudToBe. New Sights New Bites aims to explore the food, culture, and lifestyle of the Philippines to bring awareness to other backgrounds at Emerson.
"Bianca wanted a team that could make cool things together and we wanted to portray happy lives despite the differences. Food can be linked to people, culture, and it connects us all," Senior Alfonso Mateo said.
Traveling to the Philippines this December, the New Sights New Bites team will explore the country's food, culture, and lifestyles.
"It would be a new sight for many viewers, and new bites for someone who's never experienced Filipino food and culture [and who will] be exposed to it for the first time," Nicdao said.
Nicdao and her team will host #ProudToBe, a concert supporting New Sights New Bites on Saturday, Nov. 3. The event, at Berklee College, charges $5 for entry to directly fund the crew's trip to the Philippines. Musicians from Emerson, Boston University, Northeastern University, and Berklee College of Music will perform. Performers include The Space Cadets, Lonely Waves, Andy Jung, and more.
The team will begin to collect money through Kickstarter and GoFundMe fundraisers starting mid-November.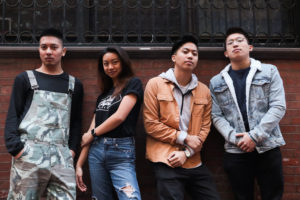 The documentary team consists mainly of Filipino students. Mateo and sophomore Francis De Leon are co-producers who spearheaded the #ProudToBe concert. Senior Ranton Andaya serves as the marketing director and Yusuf Bahadur, who studies at California Polytechnic State University, is the co-host of the documentary.
The trip to the Philippines is estimated to cost between $10,000 and $15,000, allowing the team to shoot in different Filipino provinces like Siargao, Palawan, and Manila, the country's capital.
Mateo said the documentary plans to raise awareness of social classes in the Philippines and show how culture and food bring unity within the country. He said he hopes it will spread awareness around campus and to others of all different cultures and backgrounds.
"It's about representation, what we have to offer to Emerson and others," Mateo said.
Nicdao said she plans to incorporate behind-the-scenes footage of people cooking, various street foods, and domestic lives.
As a Pakistani and someone outside of the Filipino culture, Bahadur said he is excited to learn about the Philippines. Bahadur said he travels from California to Boston to work on the film.
"It feels really exciting—a completely new environment and experience from the essence of the culture. I've never been there before," Bahadur said in a phone call from California. "As a minority myself, I think representation and expression is important by opening the culture up. It allows other people to be like, 'I can do this too,' and that they can be inclusive. Hopefully, it inspires people."
Each week, the team meets to decide on posters, interview questions, subjects, and goals for the documentary.
Junior Daysia Tolentino said she was thrilled that New Sights New Bites was able to produce a project that highlighted and represented her culture to a larger audience.
"I have faith that it will be a good project. [It's] a good opportunity for people to learn more about the Filipino culture that is portrayed through news and media," Tolentino said. "I do like that they are highlighting beyond our really long history of colonization."
Junior Joey Sweeney said he was enthusiastic for the upcoming documentary.
"I do appreciate the message," junior Joey Sweeney said. "I think although the audience are people from all different cultures and walks of life, everyone can still feel that same sense of pride—pride in who you are. I think it's very relatable."
New Sights New Bites begins filming in December with an expected release date of May 11 at the Bright Family Screening Room. The launch will be hosted by Nicdao and Bahadur.
Nicdao and Bahadur said they hope the documentary can transform into a series of episodes highlighting other countries' lifestyles and cultures.
"It's honestly one of the most rewarding experiences that I've had so far at Emerson," De Leon said. "I know, once I look back, I will be super excited. I don't mind working all-nighters for this documentary."
Editor-in-chief Shafaq Patel did not edit this article because she is friends with a producer.