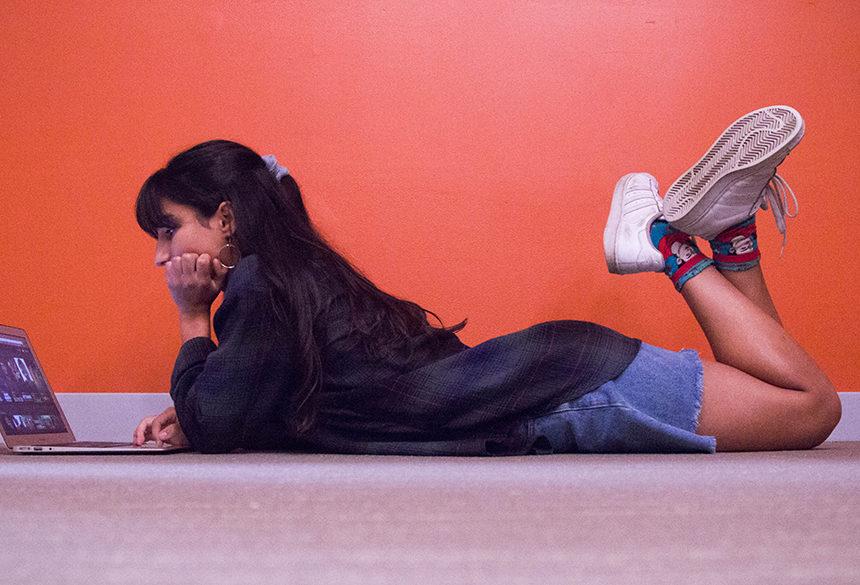 Polyamory is having a moment in pop culture right now. And by that, I mean that a moderately popular animated Netflix show had a sub-character with eight polyamorous gay dads as the butt of the joke a few times over the course of 12 episodes of its most recent season. That same program, Bojack Horseman, also featured television's first major character to navigate the struggles of coming out as asexual—an often overlooked narrative in the LGBTQ community. The fact that these storylines are so groundbreaking proves how starved certain segments of the LGBTQ community are for even the slimmest hint of representation, which is why it was so disheartening when I learned that YouTube was demonetizing LGBTQ content.
The vast majority of money on the site comes from advertising, and YouTube decides how that money is disbursed. Recently, without much explanation, and after continued criticism from YouTubers, YouTube decided advertising money would no longer go to LGBTQ-themed videos based on what they perceived those advertisers would want. The site also demonetized videos featuring violent video games and Evangelical Christian channels. It makes those videos harder for people to find, and it makes it harder for the creators to make them without losing money.
Historically, much of queer mainstream content has centered around the narratives of white, gay men (think Will and Grace and Modern Family) because they are presumably more palatable for cisgender, heterosexual audiences than stories about other more complicated, intersecting identities. Storylines centering on queer women and transgender people, such as Orange is the New Black and Transparent, are delegated to streaming services, seen as too controversial for basic cable. With the exception of Bojack Horseman, I've seen two shows—Insecure and Broad City—that explore polyamorous relationships. Both are functionally monogamous male-female pairings that occasionally remind you they happen to be open.
Of course, overall queer representation in television is improving, but there is still a long way to go when many queer people still can't see themselves on screen. As a result, these overlooked LGBTQ groups, including people of color, transgender people, and polyamorous people, are often excluded from the mainstream queer narrative, thus left to create their own content.
YouTube was the first place I was able to explore my sexuality and sexual identity. It was the first place people who looked and felt like me spoke directly to me and told me I was normal, that I was okay. YouTube was a safe haven for queer creators who were often turned away from mainstream production opportunities for being "too niche." And, like anyone else, YouTube creators have to make money.
I started watching Hannah Hart's YouTube channel before I came out, because I knew I could safely watch her food show and vlogs free of parental suspicion of her being gay. There are also phenomenally well-produced web series centering on queer women, such as Brown Girls and Gal Pals. Anyone who knows me knows I love Just Between Us, an odd couple YouTube comedy channel that focuses on queerness and mental illness, for polyamorous, queer content. But Emerson alumna and Just Between Us co-star Gaby Dunn has already said her LGBTQ videos are being demonetized, and she and her comedic partner may have to decrease the number of videos they put out.
Of perhaps greater concern is the idea that LGBTQ content in and of itself is not advertiser-friendly. Such an allegation is concerning and discriminatory. It's also worth pointing out that more explicit heterosexual videos are not being demonetized. Dunn noted that a video in which it is implied she is having sex with a man has not been demonetized, while videos of her kissing girls have.
Had these restrictions been in place when I was a young person, it would have taken a lot longer for me to find those videos and figure out who I was as a person. Some of them may not have even existed. Many queer creators have had to quit the platform entirely. Even as queer stories are being written into film and TV, YouTube is often the first and only place queer people can find sex education that's applicable to them.
It's fantastic that LGBTQ stories are becoming mainstream, but the continued importance of online content, such as YouTube, cannot be underestimated.
YouTube may want to be a more wholesome site, and that's admirable, but they have to recognize there is nothing inherently inappropriate or problematic about LGBTQ people, and they have as much right to see themselves on screen as anyone else. YouTube has the power as a platform to stand apart from other media and make queer content accessible. I hope it does.