Patriots: Rookies are the future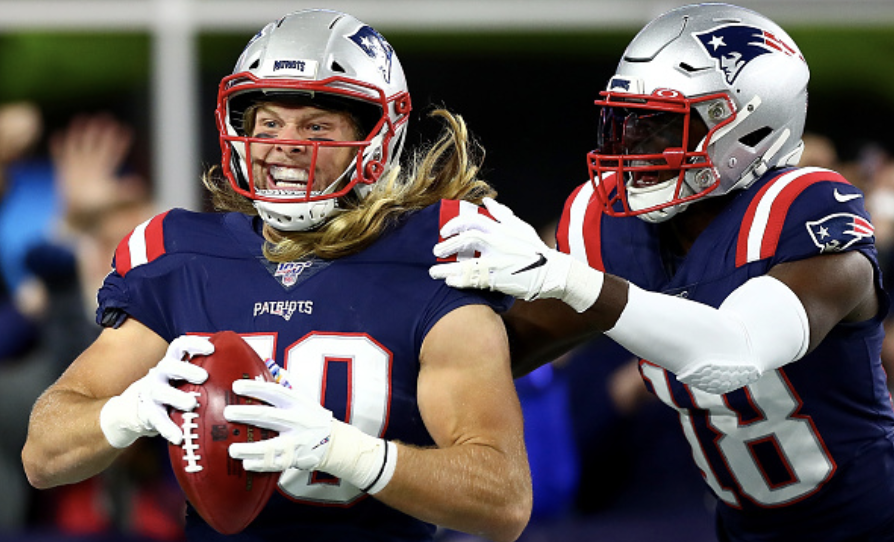 By Lara Hill
October 16, 2019
Chase Winovich, former defensive end for the University of Michigan, sat in his home surrounded by dozens of friends and family on the second night of the NFL Draft in March 2019 when he received a call that changed his life. 
"The Patriots," Winovich said, holding his phone up for the room to see. He shushed everyone as he engaged in his first conversation with head coach Bill Belichick. He hung up and the entire room erupted with applause. 
Winovich is now a Patriot.
The New England Patriots brought in Winovich and nine other players in the 2019 NFL Draft and signed multiple undrafted rookie free agents. 
We choose information accessibility
News and the truth are under constant attack in our current moment, just when they are needed the most. The Beacon's quality, fact-based accounting of historic events has never mattered more, and our editorial independence is of paramount importance. We believe journalism is a public good that should be available to all regardless of one's ability to pay for it. But we can not continue to do this without you. Every little bit, whether big or small, helps fund our vital work — now and in the future.
The Patriots' 2019 rookie class is the most interesting in recent years, and many of these players are making contributions to the team. 
Winovich is one of the most entertaining players to watch on the team. He consistently applies pressure to the quarterback and boasts four sacks, just half a sack behind Jamie Collins Sr., who leads the team this season. Winovich's sacks totaled a loss of 34 yards for the Patriots' opponents, which ties Collins for the most yards on the team. 
Winovich scored his first NFL touchdown last week, returning a blocked punt for six yards in the Patriots' 35-14 victory over the New York Giants. 
Wide receiver N'Keal Harry—the Patriots' first-round pick—spent the beginning of his rookie season on injured reserve but looked impressive in the preseason. With his height and speed, Harry showed many similarities to wide receiver Cordarelle Patterson, who played for the Patriots last season. Harry caught an acrobatic 25-yard catch from former Patriots quarterback Brian Hoyer in the team's first preseason game before exiting the game with an ankle injury. Harry returned to practice this week and is eligible to play in week nine.
Wide receiver and undrafted free agent Jakobi Meyers showed promise through the preseason and the first six games of the season. During the preseason, Meyers caught 20 passes for 253 yards and two touchdowns and gained 77 yards after the catch. Against the Giants, Meyers caught four passes for a season-high 54 yards. With the Patriots offense facing many injuries at the wide receiver position, Meyers has an opportunity to show he is a reliable and consistent target and establish himself as a core piece of the offense. 
Although undrafted free agent Gunner Olszewski played as a defensive back at Bemidji State University, he is adapting well to his new position as a wide receiver. Olszewski made his debut in his new position last week, catching two passes for 34 yards. Olszewski mainly functions as a punt returner for the Patriots, where he boasts 147 return yards and averages 8.7 yards per return. He muffed one punt in week three that led to a New York Jets touchdown.
If given more offensive snaps, Olszewski could mold into a strong deep threat. He ran a 4.56 40-yard dash at Bemidji State's pro day and showed his elusiveness during punt returns.
Patriots fans were shocked when the team drafted right-footed punter Jake Bailey. Belichick is known for his preference for left-footed punters because a left-footed punt spins in the opposite direction. This occasionally throws off the returner, often resulting in a muffed punt. The Patriots released long-time left-footed punter Ryan Allen before the start of the 2019 season. Bailey proved his value through the first six games of the season, producing an average of 45.8 yards per punt with a long of 63 yards. 
However, since Bailey's arrival, kickers Stephan Gostkowski and Mike Nugent missed more field goals and extra points than previous seasons. The kickers made only 81.8 percent of field goals and only 79.2 percent of extra points this season, and many Patriots fans place the blame on Bailey. Bailey sometimes holds the football with the laces pointed towards the kicker instead of away, which might be the cause of the missed kicks, NBC Sports reported.
These five rookies show a lot of potential for the rest of the season and are certainly players to look out for. The return of Harry could fill the void caused by injuries in the receiving core, and Winovich is becoming a dominant pass rusher. With more development, these rookies could lead the future of the team.