Q&A: Dr. Charles Steinberg on running a professional baseball team during a pandemic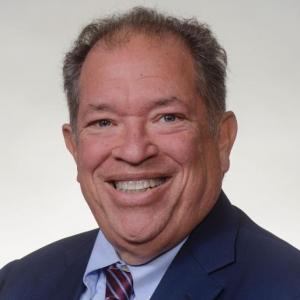 The COVID-19 pandemic ravaged the world of baseball this year. Major League Baseball shortened its season to 60 games, and Minor League Baseball play was cancelled because MLB teams did not supply their affiliates with players for the season.
But for the Pawtucket Red Sox, the Triple-A minor league affiliate of the Boston Red Sox, the loss weighed a little heavier than for other teams. 2020 marked the group's 50th and final season. Come next season, the minor league team is slated to move to Worcester, where construction of their new home field, Polar Park, is nearing completion.
The Beacon spoke with Dr. Charles Steinberg, director of sports communication at Emerson and president of the Worcester Red Sox. He began his 45-year career in professional baseball as an intern for his hometown Baltimore Orioles and rose to the head of public relations during his 19-year tenure. Since then, he has served in different roles for the Boston Red Sox, San Diego Padres, Los Angeles Dodgers, and Major League Baseball.
In the interview, Dr. Steinberg explained how the PawSox sustained business and support within the community during the pandemic ahead of the club's imminent move. 
The interview was edited for clarity and brevity.
Q. What challenges do you face running a baseball team and working here at Emerson simultaneously? 
A. This is a tussle of love. When you love working for a ballclub, which I've been doing for 45 years, it takes a strong force to make you leave the office at traditional hours. It's more traditional to stay and work late. Similarly, when you love teaching at Emerson as much as I do, you want to get there as early as possible because you've got a whole world to immerse yourself in. The biggest challenge is: how do I leave my baseball work to go teach my baseball work?
Q. What's been the most difficult challenge of running the PawSox in the midst of the pandemic?
A. One challenge was: how do we do our part to help the community? Our staff showed remarkable flexibility and adaptability by abandoning their normal duties because we didn't have ball games and embracing innovative opportunities to help the community. That might have meant taking food in the freezer that was going to be for opening day and preparing it for those who are less fortunate. It might have meant having mascots go and buy coffee for frontline heroes. It may have been driving around to neighborhoods where kids were suddenly sequestered at home and having a little one-car parade. 
The second part was figuring out how to keep staff members employed. We're not generating revenue doing those good deeds, nor would we expect to. When Gov. Gina Raimondo said in April she would be open to returning to outdoor dining, we had the idea of "Dining on the Diamond". We have the most gorgeous grass outfield, grass infield, and infield dirt that you can imagine, which isn't being used. That turned into a phenomenal success, and we have accommodated thousands of families. We still have a waiting list of more than 3,000 families—more than 10,000 people. While we rendered a really uplifting service to the community, we also managed to keep our staff employed—that was a really big victory.
Q. How has the lack of a season affected your decision-making as an executive? 
A. You're required to stay nimble, agile, flexible, and to react quickly to unforeseeable, changing circumstances. We adapted community service and Dining on the Diamond, but then the Red Sox began their season and said, "We'd like to use your venue for half our players," as though they were a taxi squad. Well, you got to flip again. Now does that spell the end of Dining on the Diamond? What time would we be finished with the field and get everything cleaned up and put the tables out there? How soon could you have your first seating for dinner? Impressively, our staff figured out how to have Red Sox baseball by day and then Dining on the Diamond on many evenings, with fans all socially distanced. You have to stay focused all day, every day. There are no hours in baseball. That was one of the earliest adages taught to me as a young intern.
Q. How has the lack of a 50th and final season in Pawtucket affected the fans and the community? 
A. A series of emotions that range from melancholy and frustrated to bewilderment.This is where Dining on the Diamond stepped in. People were afraid that they wouldn't get to savor those memories. They were afraid they wouldn't get to say goodbye, and maybe even in a more intimate setting than sitting in the stands. Here they are,, sitting on the grass in fair territory where their former heroes played—rising stars who went on to greatness with the Red Sox. Many fans tell us it was marvelously therapeutic, and the food was great. Yes, it was great to sit on the diamond. But in a year like this, it was their way to commune with the McCoy memories. Maybe we can keep it going, and maybe a goodbye is not as firm as it seemed.
Q. You've started a number of initiatives like the PawSox Scholars and Paws for a Cause within the PawSox foundation, which have made quite the difference. With the imminent move to Worcester, do you plan on keeping up with the Pawtucket community? If so, how? 
A. For 50 years, the PawSox have had a territory defined by Minor League Baseball. These are your fans. What people didn't pay a lot of attention to is that that territory included Worcester. So when the PawSox would do things, they wouldn't just do them for Pawtucket. They would do it for all of Rhode Island, southeastern Massachusetts, and Worcester because it's all one territory.
Now, we're moving to Worcester. While Worcester will now be the center of attention and headquarters for our ballplayers, Pawtucket is still part of our community. We're moving into a new house in the same extended neighborhood.
Q. What hopes do you have for an inaugural season in Worcester?
A. One of the things that COVID-19 has taught us, to paraphrase Dr. Anthony Fauci, is the virus will decide. The fools pretend they know more than can be known. You can only know what we know. We would like to think the world will be back to normal by April, but the truth is, we don't know. So, we plan for normalcy. We plan for a grand opening, a week of festivities. But, you also have to have alternate thoughts of, "What if you can't have as many people? What if you can't have any people?" You don't make any announcements that reflect some arrogant belief that you know more than one has the capacity to know. You want to always embrace humility. We'll just keep going and do the best we can and try to plan for every contingency.
Q. If COVID-19 restrictions still apply, what do you foresee as the most treacherous obstacle of a 2021 season?
A. First and foremost, we want to keep the health of the people who come, our players, and our staff workers as our number-one priority. We would like enough people to be able to come so that our business is sustainable. We need to calculate how much revenue we have to keep the operation going, but we're not alone in that boat. We've got 30 major league teams and more than 130 minor league teams are all in that same boat. So you share information and try to seek information from people wiser than you.
Q. Assuming the WooSox get to play next season, what expectations do you have for the team?
A. We have the great advantage in Triple-A to not worry about the wins and losses. Our goal is to help Boston win the World Series. In all my years at the Boston Red Sox, the most important thing about Pawtucket was, "Is Xander Bogaerts ready to come to the majors? Is Jackie Bradley Jr. ready to come to the majors? Is Mookie Betts ready to come to the majors?" It's the Red Sox who provide the players that constitute the WooSox. If it was the big championship game and Boston needed our starting pitcher to help win the title, you tell him to get in his car and drive to Fenway Park. 
For every person on that field, their goal is to be where so many of us have been. I'm thrilled to help be a windmill to help these players and staff members go to the majors. It's the same as teaching. You're coming in. And eight years from now, if you're on SportsCenter, I will have been thrilled to do an interview and lead to an article that you might use in your portfolio. So, you want the team to play well, have fun, and connect. But you also want 10,000 people to have a great time, win or lose. That's the actual profession.