Recreational cannabis dispensary opens in Brookline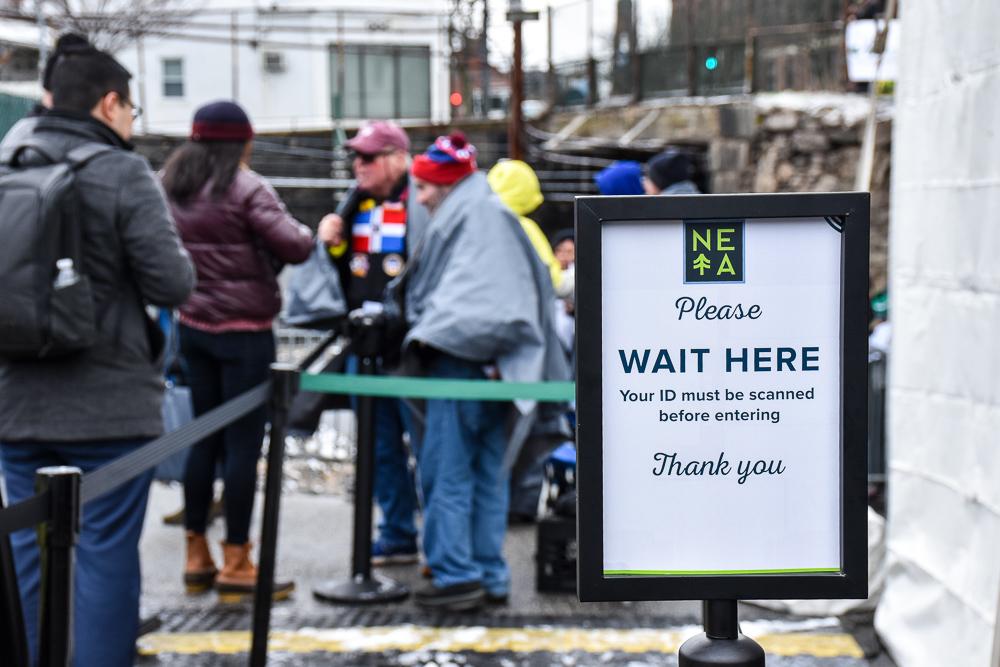 By Chris Van Buskirk
March 23, 2019
New England Treatment Access opened its doors Saturday at 9 a.m. as the first dispensary to offer non-medical cannabis in the greater Boston area.
The dispensary, about a 10-minute walk from the Green E Line Riverway stop, is located in the old Brookline Savings Bank building at the corner of Washington and Boylston Streets.
The store closed its 14-space parking lot in anticipation of the hundreds of customers lining up. About 40 people queued up outside of the shop prior to 8 a.m.—an hour before the opening—on Saturday. The crowd increased to approximately 100 people as 9 a.m. drew closer.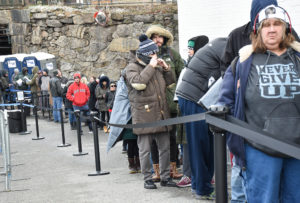 Town of Brookline Selectman Neil Wishinsky said in a press conference on Saturday that the predictions of an apocalyptic scene with traffic jams and long lines did not come true.
"I don't see any traffic jams. The line seems to be manageable. People seem to be taking the advice to take the T," he said. "We're hoping this is just a smooth non-event from the town's perspective and that things will go smoothly."
We choose information accessibility
News and the truth are under constant attack in our current moment, just when they are needed the most. The Beacon's quality, fact-based accounting of historic events has never mattered more, and our editorial independence is of paramount importance. We believe journalism is a public good that should be available to all regardless of one's ability to pay for it. But we can not continue to do this without you. Every little bit, whether big or small, helps fund our vital work — now and in the future.
Prior to letting in the line of customers, NETA opened its doors to Wishinsky, which made him the first official customer to buy non-medical cannabis within the Massachusetts Route 128 border—a highway that divides the greater Boston area from central Massachusetts. He purchased two types of edibles, nuggets and lumens.
"It was quite an honor being the first customer," he said
James Jenner, 38, of Brighton waited in the 30-degree weather since 6 a.m while bundled in a New England Patriots beanie and a blanket provided by NETA employees for being the first customer in line.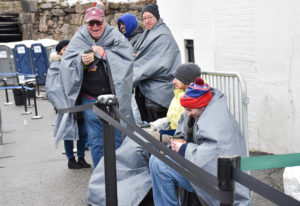 Jenner said he slept at his mother's house and then waited in his car for an hour until braving the cold to stand in line. Jenner said he uses cannabis to treat nerve pain and anxiety as a result of multiple operations and diabetes.
"I chose not to do the medicinal card route. I didn't want to be in a database. I didn't want to pay the fees," he said shortly after purchasing an electronic vape pen. "I wanted to have that sense of normality that any patient can get going into, say, a CVS for their prescription to get the medication that they need to live a normal everyday life."
Associate Director of the Center for Health and Wellness Laura Owen previously said in an interview with the Beacon that the college does not expect the opening of the new dispensary in Brookline to increase students' use of cannabis on campus. Wishinsky said college students should use cannabis products legally and responsibly.
"Don't drive and [instead] take the T," he said.
The legal age for recreational cannabis consumption in Massachusetts is 21. College officials previously told the Beacon that the college follows the U.S. Drug-Free Workplace Act of 1988 and the U.S. Drug-Free Schools and Communities Amendments of 1989, which require the campus to remain substance-free despite state laws legalizing the drug.
Chris Van Buskirk,
Chris Van Buskirk is originally from Buenos Aires, Argentina, but was raised in Dallas, Texas. He served as Editor-in-Chief of The Beacon from July 2019 to July 2020.

Email: [email protected]
Tweets...