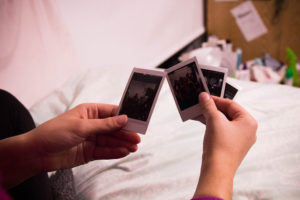 During my freshman year, it didn't occur to me college would someday end. I sat on flurries of lint that covered my dorm room carpet, played cards, and fell in love with new friends. Under the hazy, twinkling lights, everything felt like a dreamland. It felt like life would continue on this way forever—full of naps, Gatorade cocktails, and impromptu hangouts in the common room.
Standing in the Little Building elevator with my bags for winter break, the impermanence of college suddenly hit me. I breathed in the musty air and stared at the RA bulletin board until the doors closed. Acid burst in my stomach as I realized I didn't want to leave. This was my new home. The end of the first semester made me note the brevity of my freshman year. I began to cry a little.
I urge freshmen to embrace that feeling. Relish in this time. There's no way to avoid the cliche of stressing about how fast college goes by. The years pass in the blink of an eye, now a tear down my cheek.
I'm a senior with one semester left until college ends. Little Building, my first college home, is veiled in a tarp—or rather, a body bag. Is it dramatic to mourn? I feel so overwhelmed with nostalgia that I make mental montages of memories to torture myself: the endless snow days freshman year, the old Dining Hall with its cozy charm and bulletin board napkins, the mozzarella sticks dipped in mayonnaise, the sloppy nights when we cried in the bathroom, the music, Super Bowls, birthdays, mistakes, and all the temporary goodbyes.  
A series of transitions define the college experience. Each year, or semester, we're forced to take down our Christmas lights, untack our tapestries, and move on to another temporary place. We adjust to these places so well we start to say we're going home when coming back from winter break. Meanwhile, we push through the anxiety about what these changes mean. Upgrading from an LB double to a Piano Row suite challenges floormate friendships when there's no longer a common room to gather in. Off-campus living tests relationships even more when you have to trek through the snow to see each other. Then, there's the semester abroad or on the west coast, when our cast of characters changes with the season.
To make change even scarier, there's the fast-approaching reality of responsibility. It's the comedown of realizing I'm in decades worth of debt for a degree that relies on my ability to create. As artists, our work starts from within and is yanked outward. It can be hard. We chip away at words, hit backspace, and curse sentences and stories that won't string together. The unpredictable nature of ideas appears terrifying when tied to income. It's easy to long for freshman year, when all we had to answer was our name, major, pronouns, and where we're from. Now, there are too many questions left unanswered. Where will I live? What will I do? How will I eat? Who will my friends be? Will I be happy?
I'm jealous of freshmen for the time they have left. I often wish I spent that time building a more impressive resume. I regret not having a handful of clubs and internships under my belt to relieve my job-hunting anxiety. But the more I think about it, the more I realize the value of these years. Resumes are important, but I'd urge underclassmen to let themselves feel everything.
Get too attached to the people and places around you, then adjust to the forces of change. Cry in the bathroom and, if it comes to it, pee yourself on the T. Make mistakes. More importantly, don't believe you have to 'make the most of these years' and feel happy and put-together all the time. My time at Emerson tested me harder than any class ever did, and I learned the most about myself. This is what makes us real people. Although I'm already homesick for my temporary homes, I'm grateful to feel so much. Because that's what makes art.