SGA endorses space-allocation policy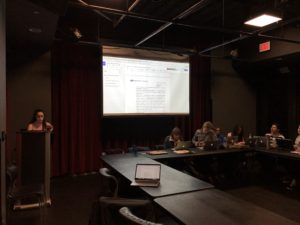 The Student Government Association unanimously endorsed a new policy that would help the college standardize the guidelines and rules for assigning and re-assigning space oncampus on Feb. 27.  
Senator Patty De La Garza wrote the preliminary draft of the space allocation policy over the past two years. Although De La Garza obtained an endorsement from SGA, she said senior administration officials still need to review the guidelines.
In the document, De La Garza proposes the creation of a Space Allocation Committee to review and determine how spaces are used oncampus. When an office or room becomes vacant or renovations create new space, deans and vice presidents will be required to consult the committee for guidance on how to properly assign the area in this new set of rules.
If approved, the committee will be composed of 11 people, including the senior associate vice president for real estate, two SGA members, and three additional student representatives.
The policy recommends a priority system for space allocation, where academic programs and departments come first, followed by student engagement and campus life, and administration, staff, and faculty needs last.
During SGA's joint session meeting, De La Garza said Emerson does not currently have a space-allocation procedure. To create this document, the senator gathered feedback from constituents, and organizations and researched other colleges space-allocation policies.  
"Space is a valuable and limited resource that must be managed, maintained, and allocated to contribute in the fulfillment of the college's mission," the policy states
SGA also voted on two appeals for the Emerson Recognition and Achievement Awards and SheCult.  
ERA appealed for $38,389 to fund three events—Green Gala, Acappellooza, and the ERA Awards ceremony. Last year, ERA appealed for $22,550 to finance only the awards ceremony. SGA unanimously approved the appeal.
ERA recognizes campus and student leaders by presenting 11 different awards, such as Advisor of the Year and Student Leader of the Year, to groups and individuals. Green Gala is an annual event promoting environmentalism and sustainability, and Acappellooza gathers the Acapella Council and invites acapella groups to perform together.
"Because all the events are happening at the same time, we are collaborating with them to be more sustainable and cost-effective," Chair of the ERA Awards Jess Guida said.
SGA unanimously approved SheCult's appeal for $3,135 to print 300 copies of their magazine.
The organization gained SGA recognition last semester and donations made their previous magazine possible. This semester, the organization spent the majority of their budget on flyers, leaving little money to publish their magazine.