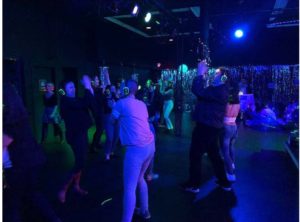 Shaggy carpets, inflatable chairs, and blue string lights filled the Cabaret for a silent disco hosted on Friday night. Emerson students danced, sang, and ate—all while listening to music through individual, wireless headphones.
Student Accessibility Services, Off-Campus Student Services, and the National Student Speech Language Hearing Association collaborated to make the silent disco an inclusive event for people with sensory sensitivities as a final event for Autism Acceptance Week.
President of NSSLHA Mary Gagliardotto and Student Ambassador for Off-Campus Student Services Kayla Carcone organized the event.
"During the last orientation there was a student with a hearing sensitivity who couldn't really participate in events because of the loud music," Carcone said. "The stimulation—mostly the sound—was overwhelming."
Sensory issues can make it difficult for students to attend Emerson events, Gagliardotto said.
"In the past, Emerson has put on a lot of events that have been lots of fun, but they can be very loud and in your face and a little overwhelming," Gagliardotto said. "We wanted to bring an event that is extremely inclusive and open to all Emerson students."
Gagliardotto said they wanted to make sure that every student feel comfortable and safe to enjoy themselves.
"There's a saying within the autism community that goes, 'there's nothing about us, without us,'" Carcone sad. "We partnered with Student Accessibility Services to get feedback from their office about making this sensory friendly."
Jeff Morris, assistant director of Off-Campus Student Services, worked with Student Accessibility Services to find a student to assist the organizers with creating the event.
"We were put in touch with a student who does have autism who helped us with what kind of lights we need to be using and what kind of sounds to create this really inclusive environment," Morris said.
The event was lit with cool-blue tones, and avoided harsher red tones and strobing lights. The disco was equipped with 100 wireless headsets with three channels and individual volume control. Two of the channels were tuned to the two live DJs, while the third was a playlist of popular songs compiled by NSSLHA student organizers.
"The DJs are going to have two completely different styles of music," Morris said. "We're going to have one DJ playing fun dance, disco-electronic kind of funk and another one playing down tempo that's a little bit chiller and a little slower."
When the headsets are removed, the atmosphere of the space is quiet.
"We also have the studio room dedicated to people who just want to take a break or hang out," Gagliardotto said. "There is a lot more control you have over the environment and also a lot more opportunity to be in a quiet space, but still have a lot of fun."
Attendees enjoyed free food from Shake Shack and Dirty Water Dough Company.
"When you're looking into that room with no headphones on and it's dead silent, but then all of a sudden a hundred people are singing together, it's really something to watch," Morris said.