Sophomore's band to open for Frankie Cosmos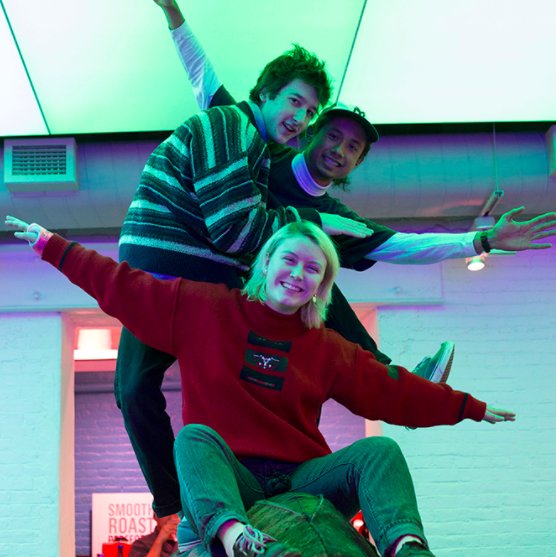 By Dylan Rossiter, Operations Managing Editor
November 15, 2017
Claire Foley didn't know how to play guitar, had never written music, or performed with a band. But a little over a year after starting out at open mic nights the sophomore and their band, Ultra Chapelle, is set to open for singer-songwriter Frankie Cosmos on Friday at the Cabaret.
"It's really, really surreal," Foley said. "Frankie Cosmos is one of my favorite musicians. I was freaking out about it for so long that now I'm just warmly numb. I know it's gonna hit me again, and I'm going to be freaking out as it gets closer."
The event, sponsored by WECB, has been a long time coming for station general manager Sam Baler. The senior said he's always wanted a big WECB concert and hopes Friday's show is the start of an annual tradition.
"I really love Claire's songwriting," Baler said. "They have a lot of charisma, are a great singer, and are fun to watch perform. I also knew how big of a fan they were [of Frankie Cosmos], so it seemed like a perfect fit."
Foley said Ultra Chapelle began as a solo project, which they started back home in Mont Vernon, New Hampshire. Foley said they got their start performing at open mic nights, and later in venues around the southern New Hampshire area.
We choose information accessibility
News and the truth are under constant attack in our current moment, just when they are needed the most. The Beacon's quality, fact-based accounting of historic events has never mattered more, and our editorial independence is of paramount importance. We believe journalism is a public good that should be available to all regardless of one's ability to pay for it. But we can not continue to do this without you. Every little bit, whether big or small, helps fund our vital work — now and in the future.
Today, Ultra Chapelle is a three-piece indie alternative/pop band with Foley on guitar and vocals, sophomore Nick Arcari on bass guitar, and junior Lorenzo Rosi on drums.
"They are both so insanely talented, and I'm lucky that they want to work with me at all," Foley said.
The trio formed when Foley was playing at a house show at Lorenzo's house this spring.
"When I came to Emerson, I hoped that I would be able to continue playing music," Foley said. "I would just play for my friends when we were doing homework or something, and eventually, some of them put on house shows, and it snowballed from there."
Foley said Cosmos was an inspiration and influence on their music.
"I was so excited when I heard that he booked Frankie Cosmos, and then when he asked me if I wanted to open," Foley said. "I just started tonelessly yelling because I was so ecstatic and could not comprehend that this all had been placed in my lap."
Cosmos, whose legal name is Greta Kline, said she is looking forward to sharing the event with Foley.
"I listened to some songs on the Ultra Chapelle Bandcamp, and they were beautiful," Kline said. "It's so fun to play a show where you are stoked to watch the other people playing."
Doors for Friday's free Emerson-only event open at 7:30 p.m. The Cabaret is located on the second floor of 52 Summer St., the same location as the Fitness Center.
Dylan Rossiter, Operations Managing Editor
Dylan oversees revenue, strategy, growth, and newsroom operations at The Beacon. He has helped in the paper's transition from a weekly print publication, to a multi-platform daily news source. He first...