Stranger Things cameo inspires student-run fundraiser for victims of Uvalde school shooting
One Emerson student launched a campaign and raised over $25,000 — and counting — for victims of the mass shooting that killed 22 students and teachers in Uvalde, Texas on May 24. 
In the first episode of the new "Stranger Things" season, character and aspiring journalist Nancy Wheeler reveals that she plans to attend Emerson College the following year. She is sporting a never-before-seen purple Emerson t-shirt for the duration of the episode, resulting in a flurry of social media buzz from Emerson students, alumni, and faculty alike. 
"[The cameo] feels like a really big inside joke because Emerson is a small school," alum Mandi Hinrichs, '14, said. "It's this tiny school with this huge network. We're just everywhere." 
In response to the cameo's growing popularity among the Emerson community, rising senior and writing, literature, and publishing major Reagan Allen recreated the logo with the hopes of sharing the design with those who wished to flaunt it. 
"I woke up Friday morning and [the cameo] was the first thing I saw," Allen said. "I rushed to recreate the logo in Adobe Illustrator and it literally took me 20 minutes."
While Allen knew she wished to share the design with members of the Emerson community, she saw the sales as an opportunity for good rather than one of financial gain. 
"I had no intention of trying to profit off of the shirt because I didn't come up with the design," Allen said. "I just wanted it. The more I thought about it, the more I realized what it could be. I realized there was a lot of potential for it to do a lot of good." 
As a resident of San Antonio — a city just hours away from Uvalde, Allen's decision to donate her earnings to the victims of the Robb Elementary School shooting was an obvious one. 
"For my Texan community, [the shooting] just hit so close to home and when I heard the news, it was just devastating," Allen said. "With that happening, it was clear that if I was going to donate the profits, it was going to Uvalde." 
Each shirt ranges from $27-$32, and all profits are donated directly to the GoFundMe created by VictimsFirst, which allocates all funds directly to families of the shooting. Allen chose this specific organization for its commitment to those most affected by tragedies such as that in Uvalde. 
"VictimsFirst is this amazing organization that wants to prevent victims of mass shootings from being revictimized by people coming and trying to allocate funds to themselves," Allen said. 
The campaign quickly spread via social media, catching the attention of students, faculty, alumni, and even those with no affiliation to the Emerson community. The more it spread, the more sales began to rapidly grow. 
"I was excited when we hit 30 shirts; I was excited when we passed my initial goal of 50, and then it got to 100," Allen said. "I posted it in the alumni Facebook group, and it went from $2,000 to $3,000 in 20 minutes. It's incomprehensible, the rate at which it grew." 
The fundraiser began attracting more and more people for both its connection to the hit show and its cause to aid those in need in Uvalde. While it was set to close on June 1, the fundraiser reopened due to popular demand. For many, the campaign became a way to not only represent their school, but to also support a community in need. 
"It's so easy in a situation like this to feel helpless and not sure what to do," Hinrichs said. "It's one of those things that shows pride for Emerson, but also helps contribute to a cause and is a way to create a positive impact." 
The intent behind the fundraiser seems to reflect the message on Nancy Wheeler's shirt in the show: "expression necessary to evolution." The phrase, an old trademark of the college, perfectly fits the intersection of a lighthearted pop culture cameo and the heavy and powerful need to support Uvalde's victims. 
"We can't help but feel frustrated and feel like there are very few ways for us to make tangible, actionable change," Allen said. "It's possible, and you can connect things that maybe you wouldn't have thought could connect on, and turn it into this really impactful, hopeful moment."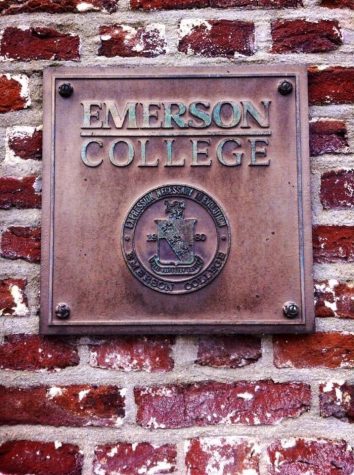 In a similar sentiment, Hinrichs reflected on the fundraiser and the light it sheds on the power of the Emerson community. Like many, she expresses the pride she feels towards her alma mater for taking something as simple as a few-second clip from a Netflix show and shaping it into an opportunity for great change.
"It's so easy to joke around about the apathetic art student stereotype, but that wasn't Emerson," Hinrichs said. "There were students there that were more into the arts and pop culture and media, but there was always something driving that. There was always a feeling that we care about something bigger than ourselves. The fundraiser is a good reflection of Emerson [students] and where their heart is."
While tragedies such as those at Robb Elementary may cause feelings of helplessness to bystanders, Allen's fundraiser taught many the importance of doing whatever they can to show support. Furthermore, it shows that actions as simple as purchasing a t-shirt or sharing a link on social media now hold more power than ever before.
"It's hard because the only true change is going to come from gun control legislation, and that's something that most of us don't have the power to enact," Allen said. "But through these types of campaigns and online movements, it can certainly feel like a step in the right direction."