Straus remembered for kindness, humor
At resident assistant Caitlin Brown's first floor meeting of the semester, she asked her Colonial Building residents for a volunteer who could write notes in handwriting neater than her own. 
A hand shot up. 
"Me! I'll do it!" 
Jocelyn Amelia Sidel Straus, ever enthusiastic, grabbed a sheet of paper and the markers available, Brown said, and proceeded to color code and decorate the board.
"During the meeting, she didn't only write down all the ideas — she had the majority of the ideas," Brown said with a laugh. "She thought, 'Maybe we can get cats allowed in the building if we push for it hard enough.'" 
Straus — a political communication major in the honors program — did not live to see her ideas come to fruition. On Oct. 14, Straus took her own life at age 19.
In the time she spent at Emerson, people who knew her said she made them laugh, went out of her way to help classmates, and helped build a community that now feels a void. 
A force bringing people together 
Douglas Straus, Jocelyn's father, said a memorial took place in Richmond, California on Sunday, Oct. 19 with more than 500 people in attendance, many of whom knew his daughter from her childhood in El Cerrito, California.
"She just had a magic sparkle in her eye," Straus said in a phone interview. "She was incredibly beautiful inside and out, and was extremely kind and generous." 
Straus said he realized the impact his daughter had on the Emerson community when he traveled to Boston from El Cerrito last week and met with students and faculty.
"One [student] said that she was sitting alone at lunch on one of the first days of orientation," he said, "feeling alone and scared, and this girl sat next to her, looked at her, smiled, and said 'Hi, I'm Jocelyn.'" 
Straus said the same student told him that she was relieved to see his daughter was in one of her classes on the first day of school. 
"She told me that that was the first time she knew it was going to be okay to be at Emerson," he said. 
Brown, a junior visual and media arts major, said Straus was a force that brought people together, particularly in her floor's common room. 
"Whenever someone would walk by — and I don't think it really mattered if she knew them or not — she would be waving, smiling, and gesturing for them to come in. She always had the latest ideas and the 'best thing ever' she wanted to share with them," Brown said. "That was her favorite phrase: 'This is the best thing ever.' There were so many best things ever, and it changed every day."
An energetic friend 
Foustene Fortenbach, a freshman visual and media arts major, said she and Straus became very close soon after they moved into their Colonial suite, and she described Straus as "beyond friendly." In an interview with the Beacon, Fortenbach smiled thinking about how quickly the two bonded. 
"She just came running into my room one night and that's where we sort of picked up," Fortenbach recalled. "We started talking about ramen. She was very particular about her food and was a devoted Trader Joe's fan. She was telling me which one to get." 
Fortenbach said she will remember Straus most for her enthusiasm and sense of humor, which she demonstrated during a round of the word guessing game Taboo in their Fundamentals of Speech Communication class.
"I went up, and I was looking at the card, and finally I said, 'It's a food that you eat,' and all of a sudden she stands up and screams, 'Spaghetti!' — and that was the correct answer," Fortenbach said, laughing at the memory. "She just knew it." 
A thoughtful classmate 
In the classroom, Fortenbach said Straus spoke her mind. 
"She was never afraid to voice her opinions in class, and I thought that was extremely brave because that's something I have issues with," Fortenbach said. "She was a big Taylor Swift fan, and we were critiquing ['Shake it Off']. For the most part, people weren't particularly fond of this one video, but she went for it, and she was like 'No, this is a good video,' and she explained why." 
Robb Eason, Straus' Ethics and Justice professor, said Straus was a fantastic student and a caring peer.
"She was outgoing, sat in the front row, and appeared to make friends easily," he wrote in an email to the Beacon. "I watched her offer to help students she didn't know fill in holes in their lecture notes on more than a few occasions."
Marcela Lima, a freshman marketing communication major, said Straus was studious and insightful in their Honors Seminar.
"She was the kind of person that didn't talk too often, but when she did contribute, you could tell that she had well-thought-out ideas," Lima said. 
Lima said that Straus' death has inspired the honors students to bond outside of class. 
"I wish we could've done that with her," she said.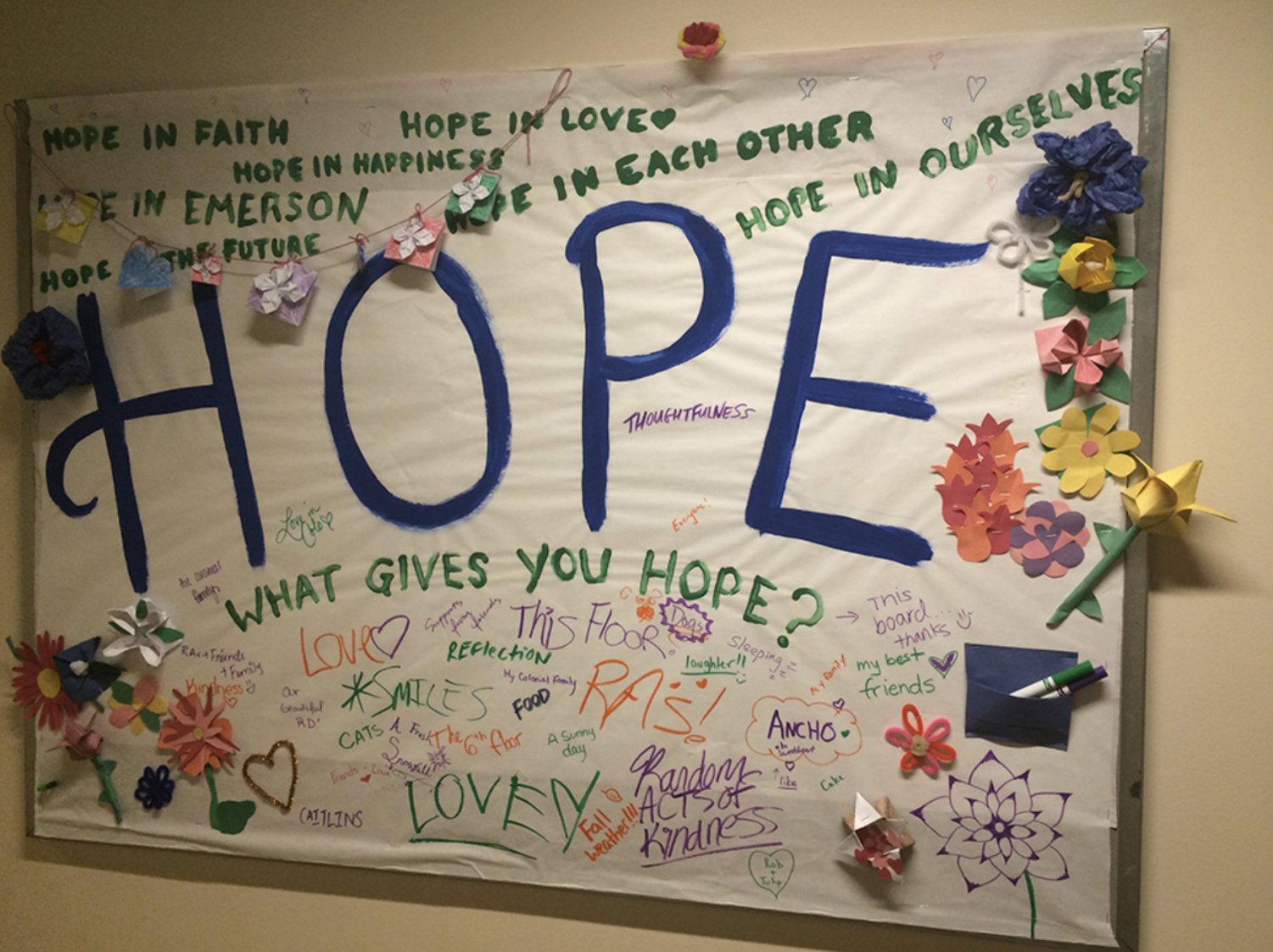 Honoring her memory
Colonial Residence Director Caitlin Courtney said Straus' floor has been marked by "immense sadness" since students learned of her death.
"Everybody who lived here knew her," Courtney said. "It's hard for them to fathom that somebody so kind and loving and a part of this community is no longer here." 
A memorial service at Emerson is being planned, according to President M. Lee Pelton. 
However, Courtney said in the face of grief, residents have made an effort to lift each others' spirits and honor Straus' memory.
"There have been so many acts of kindness," Courtney said. "Somebody went and wrote an inspirational quote on every single door on every single floor in this building. People have left love messages and flowers for Jocelyn, flowers for my staff, flowers for myself — everywhere. It has just been beautiful." 
Courtney added that the Friday after Straus' death, she returned to the building to find students singing songs and redesigning the floor's bulletin board, covering it with messages of hope and paper flowers in pinks and purples, colors that Fortenbach said were Straus' favorites.
Brown, Straus' resident assistant, said she wants Straus to be remembered by the Emerson community for who she really was. 
"I hope that in their minds, they picture the Jocelyn that was smiling and waving at them when they passed the common room," Brown said. "I know that's the Jocelyn that I'll remember." 
Resources for students 
"If you or someone you know is feeling depressed or having suicidal thoughts, there is help," Elise Harrison, director of Counseling and Psychological Services, wrote in an email to the Beacon.
Emerson Counseling and Psychological Services
216 Tremont Street, 2nd floor
617-824-8595
Samaritans Hotline
877-870-4673
Confidential and free Hotline
U.S. National Suicide Prevention Lifeline
800-273-TALK (8255)