Student band brings funk and fun to Emerson stage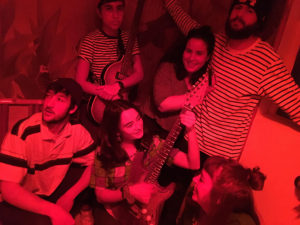 Last semester, junior performing arts major Annie Krivit watched sophomore Claire Foley's band Ultra Chapelle open for Frankie Cosmos at a free concert hosted by WECB Live.
"I was like, 'I want to do that! That's so cool!' And now I'm doing it," Krivit said.
Krivit and her band, Annie Krivit & Co., will open for (Sandy) Alex G on March 15 at a new WECB Live concert in the Cabaret. Krivit said she has been singing for as long as she can remember.
"I started playing piano when I was five, and started guitar soon after," Krivit said. "I have always loved it and have always been doing it."
Krivit started writing and recording her own music in her senior year of high school, but she only recently started performing it live.
Krivit said she spent the last year performing at open mics, house parties, and other events in an effort to play more live shows.
"I feel like there are times in one's musical career that sometimes it's all about the writing, sometimes it's about the recording," Krivit said. "But for me right now, I'm trying to really get myself out there and establish myself."
Senior Sam Baler, WECB's General Manager, said he met Krivit when she started coming to open mics hosted by WECB last semester.
"I thought [Krivit] would be a good fit to open up for Alex G," Baler said. "She's a great songwriter, great singer. She's really fun to play with."
Baler said that Krivit formed a band during the fall semester with sophomore Nick Arcari on drums and junior Lorenzo Rossi on bass. Baler himself joined the group in November as the lead guitarist.
Rosi, who is studying at the Los Angeles campus, was replaced this semester by Caro Gutierrez, '17.
Sophomore keyboardist Lauren Hewer, and backup singers Daniela Fanelli '17 and junior Julianna Sy were also added to the band recently. Krivit, who sings and writes the music for the group, said they are still looking for more backup singers.
Krivit posts her work on SoundCloud. She has released fifty tracks and three albums—Could Be Nice, Trees Have Arms Like Me, and an album of instrumentals.
She said she is working on a new album of more ethereal, atmospheric music and moving away from the folk, singer-songwriter music of her older releases.
Krivit said she wants to challenge herself to write more fun, danceable songs, citing artists like Homeshake and Mild High Club as recent sonic influences.
"I've been really obsessed lately with synths and keyboards and stuff like that," Krivit said. "I just want to play music that people can dance to, and feel in their bones. Back in the day, I used to write more songs that were more fun. And those are actually the songs that we're playing now, the songs from a long time ago."
Krivit said she grew up around music. Both of her parents are musicians. Her father, John Krivit, is an affiliated faculty member in the visual and media arts department at Emerson. He works as a producer, engineer, and composer, and used to own The Sound Market Recording Studio. Her mother attended Berklee College of Music and Boston Conservatory for country and opera singing.
Krivit considered applying to Berklee herself for songwriting.
"In retrospect, I'm really glad that I didn't do that," Krivit said. "I'm a very competitive person, so I think being around all that competitive nature and people who are a million times better than me—I think it would drive me insane. But Emerson's great because I feel like everyone is super supportive of one another. It's also cool how at Emerson we can all combine our artistic talents into one to collaborate on something really cool."
Krivit said that her acting training at Emerson prepared her to play her music live.
"It's a lot about performing and getting over your fears of messing up and taking risks," Krivit said. "And I think a huge part of music is taking risks. I mean, performing in front of these huge crowds, you have to really be comfortable in front of an audience, be comfortable with yourself, and have confidence."
Krivit said while she loves acting, she is more interested in pursuing a music career, as she feels music comes more naturally to her.
"I think music is the best thing in the entire world," Krivit said. "A song that really speaks to you, a song that you just want to listen to over and over and over again is just the best feeling, I think. With music, I still have so much hope. Every year people are making better and better things. And I'm just really excited for the future, seeing what my friends can do, and seeing what I'm going to do."