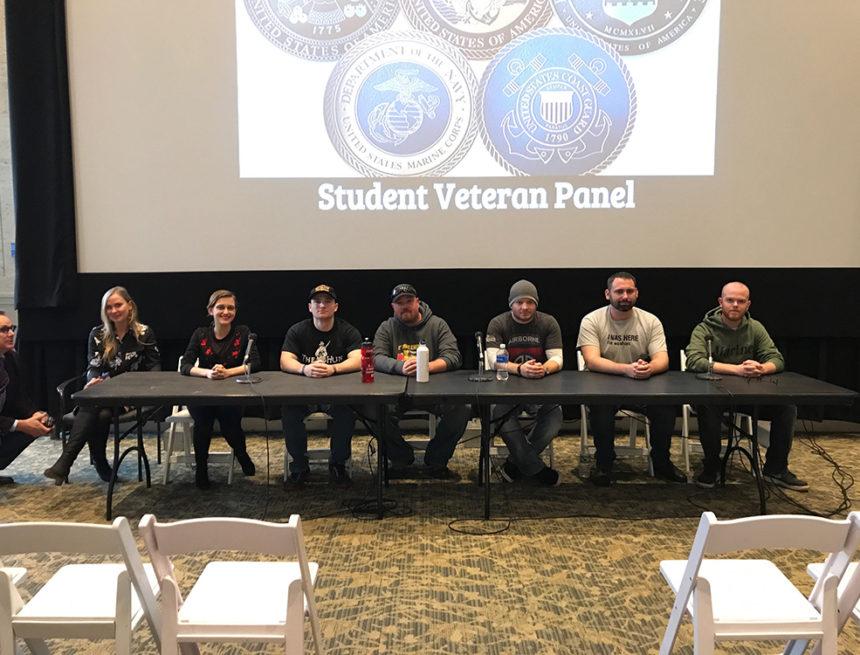 Student veteran Jonathon House said he didn't feel any culture shock when he returned to the United States in 2016 from his military base in Iwakuni, Japan, but rather when he began attending Emerson a month later.
"I won't say I am a vet in class because I know certain people are going to assume things about me, my beliefs, who I am, and what I've done," the Marine said.
He said transitioning from military life to Emerson was difficult specifically because of the lack of acceptance at the school.
House was one of five student veterans who answered questions about their experiences involving military service at a panel in the Bill Bordy Theatre last week. There are about 15 student veterans at the college. Veteran Affairs and Resources could not be reached for confirmation of this number.
Michael Saunders, a former explosives engineer who served in Iraq in 2003 for the U.S. Army, and current writing, literature, and publishing major, worked with Emerson for two months to arrange the panel. He said he was motivated by his interactions with other students.
"We want to eliminate some of those misconceptions that we often find ourselves to be a part of," Saunders said.
House said misconceptions about military life and soldiers—including students assuming his political beliefs or that he has murdered someone—have affected his time at Emerson by making him feel less inclined to identify as a veteran.
"Emerson has a set of beliefs that are big into tolerance for a lot of subsets and marginalized groups … but if you don't fit into the student's narrow view of what is right and what is wrong you are like a pariah," House said.
Tyler Mendelson, who served in the Marines for five years and is a current visual and media arts major, said he was originally drawn to Emerson because of its reputation of inclusivity. As a veteran, he doesn't feel a part of that inclusion.
"A lot of people don't know a lot about veterans, especially at this school," Mendelson said. "So a lot of the misconceptions come from the news and all the crazy war movies."
Mendelson said many students don't understand things from the veteran perspective.
"We are just guys trying to do the right thing, regardless of your political beliefs are or whether you think the war is right or wrong," he said.
According to House, Emerson provides financial assistance to student veterans at the college through the Yellow Ribbon program, a provision of the Post-9/11 GI Bill that allows veterans to attend private schools and graduate programs costing more than the state tuition cap. Under this provision, the college waives the remaining $38,000 not covered by the GI Bill.
"Emerson makes it more easy for vets to attend this school than most schools do, and we are very thankful for that," House said.
The panelists discussed wanting more on-site support from the school beyond financial means. They specified wanting an on-campus space where they could decompress after classes, cope with any trauma, and be in a space of people who relate to their struggles.
Northeastern University and Northwest Vista College have similar veteran lounges for students.
Saunders is in the process of creating a veteran's club at Emerson this year to combat misconceptions, teach the students about military culture, and reach out to the Emerson community.
"To see the positive change I was able to make [in Iraq] I want to convey that to people here," Saunders said.