Students rely on new hobbies to stay busy during quarantine
At the height of quarantine—the neverending stretch of summer break between campus closure in March 2020 and the beginning of the fall semester, students had to get creative. It would be months before they'd be occupied with classes and extracurriculars. 
To combat the boredom following the early cancellation of her senior year of high school after lockdown began in March, first-year Tess Greenwald started to browse online websites to fill up her free time. Six months later, Greenwald and her roommate, first-year Alaina Fitzpatrick, spent their first day of the fall semester on a shopping trip at Primark.
Greenwald said her habit of both online and in-person shopping has only increased since March. The mindless scrolling and browsing through companies like American Eagle and Amazon was relaxing and entertaining for her, especially at the peak of COVID-19 cases when shopping in-person wasn't possible. Seeing shopping recommendations on her TikTok feed influenced her to indulge in impulse buys. 
"I definitely bought some stuff where I was like 'I did not need that,'" Greenwald said.
After working her retail job at Marshalls over winter break in her hometown of Boulder, Colorado, Greenwald spent some of her earnings online during the campus' enforced week of quarantine for students before spring in-person classes started.
Her online shopping purchases include a portable water bottle blender that broke right after it arrived, a new backpack—even though she had just gotten a new one the previous semester, swimsuits, and decor for her dorm room.
Fitzpatrick, who often orders jewelry from Amazon, said that she uses online shopping as an easy way to distract herself. She said being on the Emerson campus allows her to express her fashion sense, more so than she is able to in her hometown of Worcester.
"At my high school, we would wear sweatshirts and leggings," Fitzpatrick said. "That's all people would wear. It's fun to dress up here because you fit in—everyone dresses up."
After getting back from their 12 p.m. classes on most weekdays, the girls usually ask each other, "Do you have homework?" If the answer is no, they'll head to Target (masked-up) or spend the afternoon browsing online sites together.
To minimize the financial impact of their shopping, Greenwald and Fitzpatrick typically flock to the sale sections of Old Navy and H&M. 
"We try to ball on a budget," Greenwald said.
Junior Rebecca Hirschhorn said that quarantine has also affected her shopping habits, leading her to buy extra sets of dice for the fantasy board game Dungeons & Dragons that she "doesn't need."
Hirschhorn, who transferred to Emerson in Fall 2019, said that because the pandemic stunted the ability to form new friendships and participate in events on campus, she's started to talk on the phone more often.
"I always probably talked on the phone more than the average person in my age group, but now I probably call a friend every day," Hirschhorn said. "I just need to hear a human voice. Texting someone is just not the same."
During the fall, Hirschhorn needed something to do with her hands while binge watching sitcoms on Netflix and Dungeons & Dragons live play shows. Having known how to sew since childhood, Hirschhorn began hand making stuffed animals, specifically frogs or pink rabbits. She used dozens of paper bags she's accrued since the start of the fall semester to design patterns for her stuffed animals.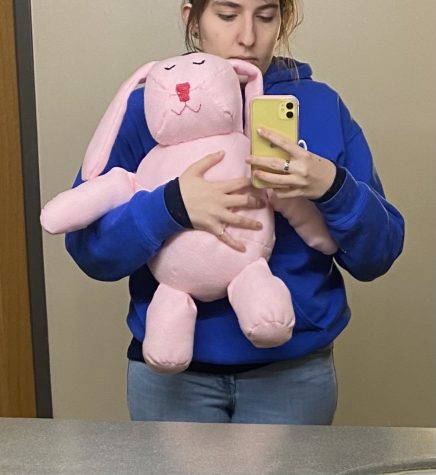 Since making her first stuffed rabbit in October, Hirschhorn has sold several stuffed animals to other Boston area students for $20 each through her Instagram account, @sketchbeckpages.
Due to the lack of fabric stores in Boston, Hirschhorn said she has resorted to buying sewing and art supplies online. Quarantining in her dorm room has prompted her to start various other crafting projects, including book binding and embroidery. 
An excess of spare time in quarantine also led sophomore Ryan Rosenthal to take up new hobbies. Rosenthal used the extra time to teach himself music theory composition, an interest he's had for a while, to help improve melody and harmony techniques for musicians. 
Along with building on his music abilities, over the summer, Rosenthal and his dad started to play chess together as a way to cope with the dullness of quarantine. 
"We were very bored in the house and sort of looking for stuff to do," Rosenthal said. 
Rosenthal, who has continued to practice the game during the school year, said his chess skills have improved significantly since the summer. Since returning to campus, Rosenthal exclusively plays games online since he left his physical board at home.  
"I wanted to win so I started getting more into it," Rosenthal said. "It's my main procrastinating tool; it's so dangerous."  
Despite the inconvenience of the pandemic, it's clear that this extra time had its advantages.  With vaccinations being distributed across the country, it's unlikely that students would have had another chance to pursue their hobbies otherwise.