Summer construction builds up student spaces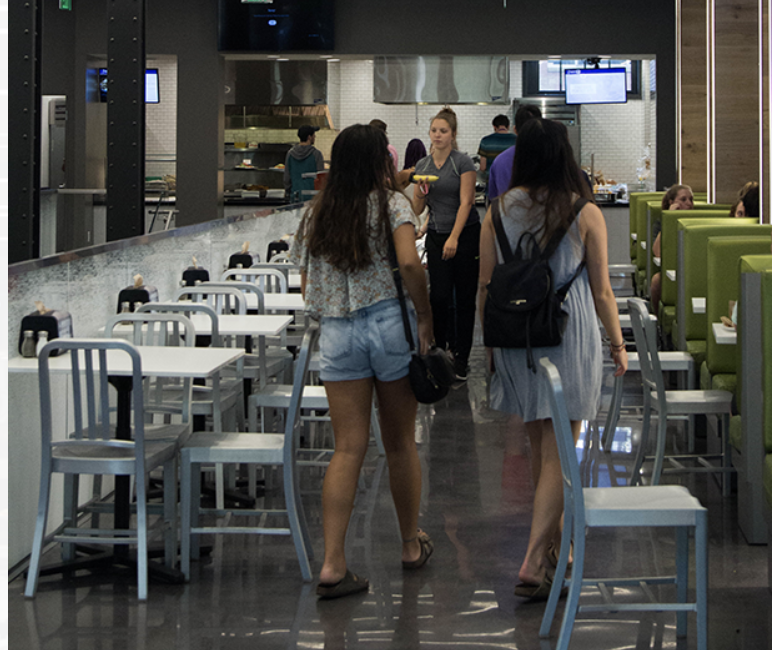 Emerson gained several new dining and social spaces as it lost the entirety of the Little Building to renovations this summer.
2 Boylston Place has 375 beds and 18 floors and features three common areas, a large kitchen space with electric stove tops and refrigerators, and a third-floor conference room. There is a terrace outside the fourteenth floor common room that will be open for events.
According to Assistant Vice President for Facilities and Campus Services Duncan Pollock, the new dining center can seat 540 students and is 18,800 square feet. He said the previous dining space was 8,800 square feet and could sit only around 300.
Pollock said the dining center has multiple stations meant to cater to certain dietary needs, including allergen free and vegan sections.
Adjacent to the dining center and accessible through the Walker Building elevator bay is Center Stage, a dining space that sells both fresh food prepared in a grill area and pre-made items.
The dining center serves as a replacement for the dining hall in the Little Building, which is currently inaccessible due to the renovation process. Senior Associate Vice President for Real Estate Arthur Mombourquette said that the old dining hall will not resume its previous role, and that the new use for the space is still undecided.
Construction began on the 2 Boylston Place residence hall in 2015. Work on the new dining center, which is part of the Walker Building, was announced in the spring of last year.
"I think the dining hall is amazing," said Navin Bose, a freshman visual and media arts major. "It's a nice community space. I think they use it very effectively."
Claire Carvounis, a sophomore visual and media arts major, said she used to live in the Little Building. Carvounis said she likes the dining center as a separate space because it encourages students to leave their residence halls.
"It makes sense to get people moving around," Carvounis said. "You meet more people that way."
The campus convenience store, once located in a space adjacent to the dining hall, was also relocated. The Max Cafe in Piano Row now acts as both a dining location and a convenience store.
On Monday, the cafe in the Boylston Place alley opened. According to Vice President and Dean for Campus Life James Hoppe, its name will be determined using a student poll.
Pollock said it is a retail space anyone can enter, similar to the old Emerson Cafe, and that the administration hopes to employ students there.
"It's got a really neat vibe to it," Pollock said.
The Beard Room, a meeting space that can be reserved through SpaceBook that was originally on the second floor of the Little Building, was also moved to the second floor of Piano Row.