Sustainable clothing swap event to be held April 2
To kick off Earth Month, a sustainable clothing swap event will be held Tuesday, April 2 from 3-6 p.m. at Emmanuel Church.
Sustainable Swaps is a non-Emerson affiliated organization led by sophomore marketing and communications major Mireya Zellner. Their mission is to build a community focused on reusing clothing and lowering people's environmental impact. 
"[The clothing swap] is a good way of giving [clothes] a second life before it goes to Goodwill because it may get a third life with Goodwill, but there's a chance that it may not and then it gets thrown away," Zellner said. "All of this textile waste is just going to the landfills."
According to the Environmental Protection Agency, textile waste accounts for 5.8 percent of landfill waste. Only 14.7 percent of that gets donated or recycled, while the remaining 85.3 percent goes to landfills.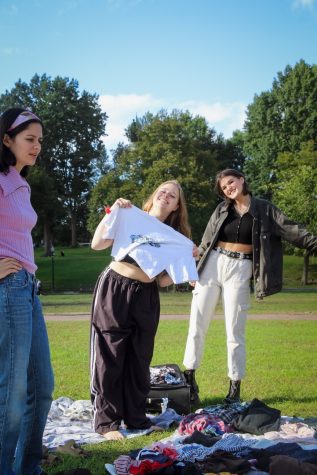 This will be the second event organized by Zellner thus far. The first was held in October 2021 in the Boston Common in which 15 people showed up. 
"When I originally thought of this idea, I didn't think that it would turn into something big, and I thought it was just going to be me and my friends doing a little swap of clothing," Zellner said. "It's turned into something that's really cool."
The clothing swap will have nine official vendors. Attendees are encouraged to bring in clothing or jewelry to sell or trade and have their own bed sheet or blanket to place the items on, but it is not required. The event is first come first serve, so Zellner encourages those who want a larger space to arrive earlier. Each vendor will have the option to trade or sell their items. Prices are determined by the individual vendor. Clothes left over after the event can either be donated or taken home by the vendor.
As many Emersonians, as well as people from surrounding colleges, have unique styles, Zellner said the event is a great opportunity for students to find new clothes sustainably and to potentially make money.
"Someone might hate the clothing that they have, but someone else might love it," Zellner said. 
For updates on the event, check out Sustainable Swaps socials:
Instagram: @sustainableswapss
TikTok: @sustainableswapss