The EVVYs recognize student achievement regardless of gender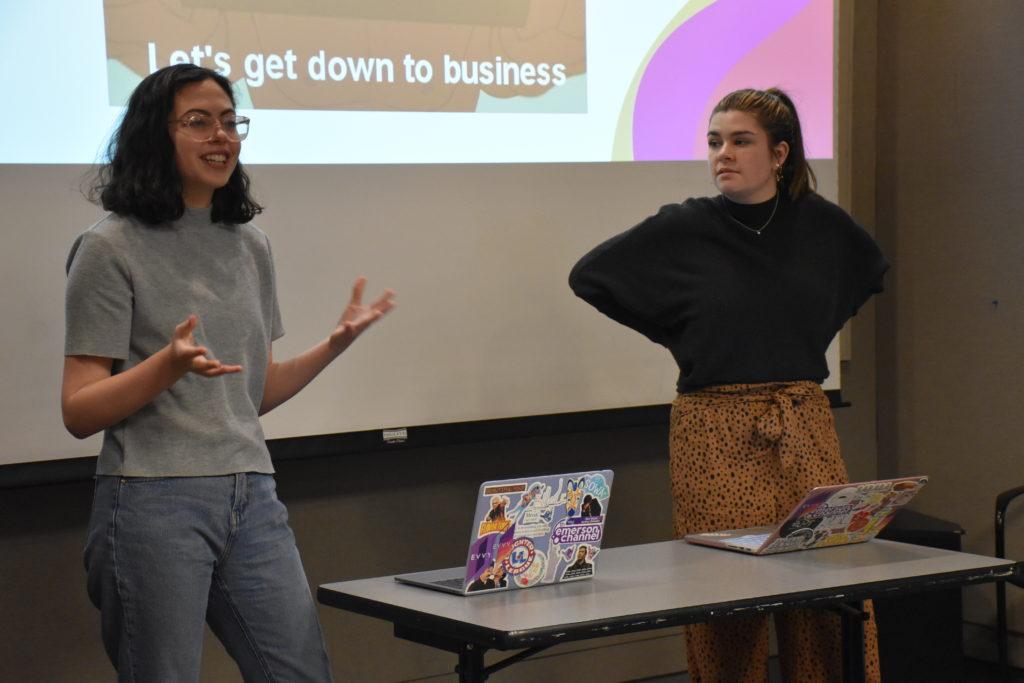 By May Blake
February 7, 2019
As The 38th annual EVVY Awards approach, the show will prioritize inclusivity by eliminating gendered awards and introducing non-binary categories, the executive producer said.  
"This year, we really want to emphasize accessibility," Executive Producer of The EVVYs Creative Content Division Madeleine Hoffman said. "We want to create a show that reaches as many people as possible, and this is taking us in the right direction."
According to Hoffman, a junior visual and media arts major, the theme for the show on May 10 is "Legacy" to convey the desire for creating a lasting impact.
The EVVYs is a student-run award show put on every year in the Cutler Majestic Theatre. The categories are designed to recognize student achievement in academics and co-curriculars.
Hoffman said The EVVYs have omitted gendered categories such as "Best Actor" and "Best Actress" and will now feature "Outstanding Performer for the Screen" and a new category, "Outstanding Supporting Performer for the Screen." Hoffman noted that these adjustments contribute to the show's pursuit of inclusivity while also maintaining the usual award quantity and run time of three hours.
We stand for community, fact-based journalism. What do you stand for?
Some things in life are essential; they touch us every single day. Good journalism is one of those things. It keeps us in the know as we hurry through our busy lives.
Hoffman said the award modifications were first suggested in an executive meeting at the beginning of the school year.
"As soon as it was said, everyone just knew it was the right direction to take the show in," Hoffman said. "It was a no-brainer."
To obtain a deeper understanding of the performing arts community's desires for The EVVYs, Hoffman said the staff reached out to the Performing Arts Department last fall. Most people suggested a differentiation between plays and musicals, so this year the stage awards are separated into "Outstanding Performer for a Play" and "Outstanding Performer for a Musical," rather than "Outstanding Lead Actor or Actress For Stage." 
Senior Nicole Cooper said she felt positive about the changes.
"I think it's really amazing that they're making the awards genderless," Cooper said. "Emerson is such a progressive place, and this is just another way our school is leading movements."
The show will also introduce new categories including "Outstanding Podcast" and "Outstanding Web Series" to replace the previous "Outstanding Video Blog" award. These categories were originally created to allow variety in the types of content that students can submit for awards.
Although The EVVYs are known for their recognition of stage and film awards, Hoffman hopes the entire Emerson community feels welcomed to submit material.
"We are striving toward becoming more inclusive as an organization and as an award show," Hoffman said. "We want people to know that we have awards for all majors, including marketing, communication studies, writing, and more."
Hoffman also noted that, this year, the live show will feature subtitles and that, for future shows, the staff will consider other ways to accommodate students with physical disabilities.
"In terms of staging, we've talked about including wheelchair ramps, or something that will make the show more accessible," Hoffman said. "We want everyone to be able to enjoy The EVVYs."
Despite the significance of these changes, the team posted the updated categories on Facebook in January without any official announcement. Hoffman said this was a decision made by The EVVYs staff to both normalize non-binary awards and avoid capitalizing on marginalized communities.
"We posted the new awards just so people know, but it's not something we're trying to benefit from," Hoffman said. "It's for the students."
Despite the lack of an official announcement, the new categories have already begun to circle around in the Emerson community.
Junior Ayo Xavier expressed optimism for the new categories, as she believes they speak to a greater societal change.
"Given the fact that our society's understanding of gender and identity is changing so much, it makes sense to leave genders out of the awards," Xavier said. "I think it'll help people feel more comfortable and relieve some anxiety or frustration for nominees who don't necessarily fit into their 'expected' gender."
Although The EVVYs have been historically modeled after major award shows such as the Oscars, Hoffman said the organization's focus has shifted toward creating a show that reflects the campus culture rather than the mainstream media.
"We want to create as many opportunities as possible to connect to the Emerson community and to show that we are here for them," Hoffman said.
Additionally, The EVVYs will sponsor its first blood drive with the American Red Cross on Feb. 13 in the Bill Bordy Theater in hopes to further extend their relationship with the student body.
"I'm really happy that more people feel recognized by The EVVYs," Hoffman said. "We're hoping to set this precedent that other shows will follow."
2/9/19: A previous version of this article included, "Hoffman said that, although the team will not achieve some of the goals they had for this year's show—such as installing wheelchair ramps—she hopes the changes will live up to the "Legacy" theme." The EVVYs are still working toward including wheelchair ramps but it is not yet confirmed. The article now reflects that.