The faces of the Boston Asian American Film Festival
By Ryan Yau, Assistant Living Arts Editor
November 2, 2022
The annual Boston Asian American Film Festival was held in the Paramount Theatre from Oct. 20 to Oct. 31. This year's program contained three narrative films, three documentaries, and various shorts from Asian American filmmakers, many of whom made appearances for post-screening Q&As.
BAAFF was one of the first external organizations to screen films in the Paramount Theatre—David Dower, former artistic director of ArtsEmerson, allowed the festival to use the theater as a primary venue in 2013. The organizations have been linked ever since.
The festival was established in 2008 by Susan Chinsen, who currently serves as director. Aside from her managerial duties, her role includes scouting films from other festivals to be included in the program and reaching out to filmmakers with a focus on contemporary issues.
"Our curation is rooted a lot in listening and trying to pay attention to what's important to the community here in Boston and across the country, especially for Asian Americans," Chinsen said. 
BAAFF is one of many Asian-American-centric film festivals that are part of an informal coalition. San Francisco's CAAMFest is the largest annually, and New York's Asian American International Film Festival is the longest-running. Other festivals are held in Vancouver, Houston, and Toronto.
The festivals contribute to a growing acknowledgment of Asian American culture in popular media by financially backing artists in the community and platforming their work. Recent mainstream movies like "Crazy Rich Asians" and "The Farewell" demonstrate a greater demand for Asian and Asian American stories.
"We're celebrating not that the stories are necessarily perfect, but the fact that they are being told," Chinsen said. "There needs to be more people telling those stories so that we have a diversity of it, so that we don't feel like we're resting everything on the shoulders of this one film or this one filmmaker." 
Through BAAFF, Chinsen hopes to raise important discussions about intersectional issues including the Asian American community, with stories that haven't received much time in the spotlight.
"It's a way to bring people into very difficult conversations," Chinsen said. "Through film, especially through an artist's voice, it's a lot easier because you can sort of put it out there and then use that as a point of reference to build a conversation from other Asian American-centric film festivals."
Jason Karman's feature directorial debut "Golden Delicious" was screened as the penultimate showing of the festival on Oct. 23. Based on writer Gorrman Lee's screenplay, the film centers Jake, an Chinese-Canadian teenager who is pressured to pursue basketball by his father. Intersectionally, he realizes he is gay as he falls for Aleks, the boy next door.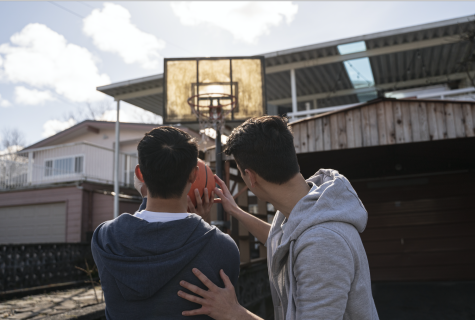 Though writer Gorrman Lee conceptualized the plot, the movie is an amalgam of Lee and Karman's experiences growing up as Asians in North America.
"Gorrman respected my point of view, so we regularly communicated," Karman said. "Jake's queer experiences were informed by my own queer experiences. What you see is the merging of two experiences into something that is original but also grounded."
The two experiences converge as Jake starts practicing basketball with Aleks, an activity that was miserable with his father. He fulfills his father's wishes by making the team, but is forced to grapple with his unacknowledged feelings.
Cardi Wong plays Jake and Chris Carson plays Aleks, alongside Parmiss Sehat, Ryan Mah, and Leeah Wong, among others—many of whom have not yet starred in feature films.
"Many of them have not had a chance to work on a feature film or be in a leading role," Karman said. "It was really gratifying to see them finally getting some recognition for their talent because they seem to [only] be cast as the supporting person or the best friend."
As a gay man coming out in the '90s, Karman turned to cinema for representation. In doing so, however, he noticed a distinct lack of movies with queer Asian characters.
"I was inspired by queer films because that gave me hope," Karman said. "But I was exposed to mainly white gay stories, I didn't see too many queer Asian stories. I didn't see a lot of myself, so I set out to change that."
Since its premiere at the 2022 Vancouver International Film Festival, "Golden Delicious" has been able to reach many audience members, some of which are queer and Asian.
"What's really nice about the film is it's connecting with a broad audience and it's inspiring queer agents specifically to speak up and share their stories," Karman said. "It means the film is empowering them, it's making them feel hopeful. They're not alone."
Due to the scarcity of queer Asian movies, and that LGBTQ movies historically have had tragic endings, it was imperative for Karman that the film would leave audiences optimistic.
"I specifically chose a happy ending for this film because I wanted to give hope to the younger generation that watches the film—I want them to feel like they can find a Prince Charming," Karman said. "Some people say that's unrealistic, but why not? Why does everything have to be miserable and unhappy? We already know how hard life is."
David Siev's debut documentary Bad Axe closed out the festival. The movie compiles footage Siev took of his family during the COVID-19 pandemic, documenting their struggles with running a family restaurant against racial tensions in the town of Bad Axe, MI.
Featured in the film are his Cambodian father Chun, his Mexican-American mother Rachel, his sisters Jacqueline and Raquel, and his in-laws.
Chun escaped the Khmer Rouge regime as a child and migrated to the U.S., where the family started a restaurant business—David knew his family had a unique story that needed to be told. The pandemic was a great opportunity to document them, since it was hard to film anything else.
Siev faced many trials in the production of the film. He launched a Kickstarter campaign in the early stages of the project. Because Bad Axe is such a small community, everyone was familiar with everyone—the Sievs were especially visible as the only Cambodian-Mexican-American family.
The movie focuses substantially on political polarization and racism within Bad Axe, which many community members were unhappy with.
"Some members of the community felt like it was showing all the worst parts of Bad Axe, which I don't think is true," he said. "People were leaving Facebook comments, were stopping my mom in Walmart telling her they weren't going to support the restaurant anymore."
As this was Siev's feature directorial debut, he found it difficult to finance the film. He secured some funding through writing grant essays, but had to take money out of his own pocket.
"A week before South by Southwest, I maxed out all my credit cards, I had $101.99 in my bank account, and I had no idea how I was going to pay rent that month," he said. "I went broke doing this film, and I was totally okay with that. For me, the investment was about telling our story, and having something I could share with my own kids one day."
The investment proved successful, earning various awards throughout its ongoing festival run. The movie is even anticipated to compete at next year's Oscars.
Before taking the film to festivals, Siev was determined to screen the documentary at the eponymous town. Most of the seats were reserved for donors, but 20 to 30 seats were left open, most of which were filled by initially-skeptical audience members.
Overwhelmingly, the movie swayed opinion.
"Pretty much every single one of those people came up to either me or my mom or my sister after the film, and they said sorry," Siev said. "That truly proved to me the power cinema has to start change in a community, because I was witnessing it firsthand."
"Golden Delicious" and "Bad Axe" both support BAAFF's mission of creating dialogue about intersectional issues. Through representing underseen communities, independent cinema has the ability to strengthen a community.
"I wanted to create a space where people felt they could be themselves and be connected watching film in a community," Chinsen said. "There's an unspoken language you can connect to. When you get reactions in the audience, it makes you feel like you're not alone. That there is a safe space here in Boston is a really important thing to let people feel seen."