The Junior Mintt Show brings Black, trans representation to late night
The Junior Mintt Show just taped its pilot episode on Nov. 3 at the The Bell House theater in New York City. The late-night talk show combines drag performances, comedy sketches, thoughtful interviews, interactive games and, as the show's website proclaims, "a whole lotta ass." 
The Junior Mintt Show is intensely community-based, cultivating a creative space for queer people of color with a specific focus on representing Black trans women. The show is written by an all Black and all LGBTQ writer's room, and hosted by celebrated drag artist, entrepreneur, and alumna Junior Mintt '17, a Black trans woman herself. 
Mintt brought on a slew of other Emerson alumni from her college days to collaborate on the show, including Lovingkindness '17, Ashley Dixon '17, Dominique Bañas '13, SRĐA '14, and Dondré Taylor-Stewart '15. 
This late-night rendezvous is covered in confetti and shrouded in rosy and indigo lights. The show's visual aesthetic is slightly retro, with lots of color and shine. Onstage, Junior Mintt guides the audience through a series of traditional late night segments (with a drag flair): interviews with fellow trans people, drag performances involving Mintt herself, sketches blending the comic with the controversial, and segments in which Mintt gives her hot takes on everything from heteronormativity to Beyoncé to America's inflation.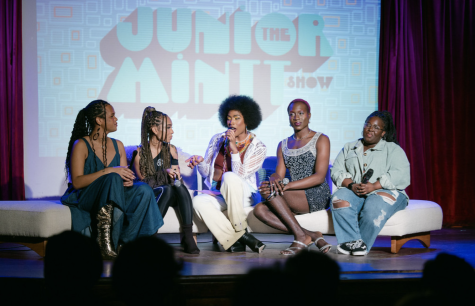 SRĐA is the show's co-creator and producer. SRĐA and Mintt met at Emerson when SRĐA was a senior and Mintt was a freshman. The two later worked together in New York queer and drag spaces. The Junior Mintt Show was conceived over a dinner conversation after the duo finished shooting a music video. They were discussing creative endeavors and ambitions.
"The conversation very quickly turned into the ideas behind The Junior Mintt Show. One of her first things that she said to me was, 'I want to have a space where I interview other Black trans people and show the fact that Black trans identity is not a monolith,'" SRƉA said. "She was really wanting to stand her ground and say, 'There are so many other voices here and so many other experiences in black transness that deserve to be celebrated and deserve to be represented.'" 
SRĐA, who majored in theater directing while at Emerson, explains the late night genre came about when Bañas—a fellow Emersonian and writer for The Late Night Show with Steven Colbert—joined the team as a producer. From the start, late night felt like the obvious—yet underrepresented—medium to create a queer, drag community. 
"Other than brunch, drag really lives in an environment that's post 9 p.m. That's where our community is. That's where our nightlife spaces are open to us," SRĐA said. "Late night just felt like a space where we could be a little more subversive in terms of the content. We could do edgier content, we could have drag performers and musical acts." 
A principle desire of the show is freeing Mintt and other Black trans women from the narratives that have been pushed onto them for so long. The show seeks to demonstrate that Black trans women are not all the same, nor are they tragic, endlessly-suffering figures, nor should they be commodified to reassure white people of their own progressivism and place in Black, queer circles. According to head writer Dondré Taylor-Stewart '15 the show's writers wanted to represent Mintt not as any of those things, but simply as her fun, dazzling, authentic self. 
"Often, people of color get the task of educating people or checking them, and that's just not who Junior is. Junior at her best is trolling and making jokes and has high humor and is joyful," Taylor-Stewart said. "We really wanted to convey Junior's joy. The big point of the show is how joyful she is and how that is infectious to people."
The writer's room wanted to not only reject mainstream narratives surrounding LGBTQ communities of color, but also to explore the complexity that exists in real life experiences of Black and queer people. For example, in a segment called Mintty Mail, the writers poke fun at the nuance of trying to champion one's identity and community while still rejecting the idea of being a monolith.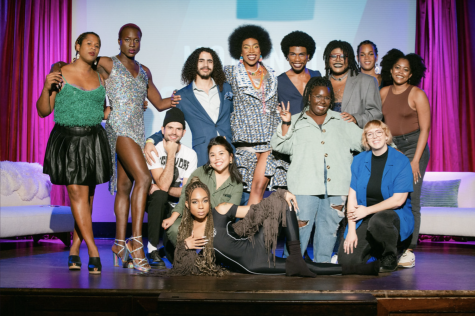 During the Mintty Mail segment, Junior receives letters from the audience, one of which asks her about the Black community's thoughts on onions in mac and cheese. Mintt chastises the audience member for thinking all Black people have the same opinion on this topic. She then turns the question over to the writer's room, only to discover they unanimously disapprove of onions in mac and cheese. 
"Having such a broad collection of writers and creatives working on the team that come from so many different backgrounds allows us to have a very balanced understanding of the nuances that go into every conversation," SRƉA said. "Queer people differ in their opinions. Trans people differ in their opinions. Black people differ in their opinions. That's the beauty of creating a show that's a late night talk show where we can talk about those things."
The writer's room crafted many more segments and sketches that similarly explore complex topics surrounding identity through a comedic lens. "Mind of a Catcaller" was a sketch in which the audience explores the mindset of the toxic men that live inside a catcaller's head. They all debate on how to interact with Mintt because while she's attractive, she's also trans. The sketch uses humor to explore Mintt's experience of being cat-called as a trans woman, in which being objectified also made her feel validated in her passing as feminine.
"After we did the sketch, Junior basically explained how the most gender-affirming experience she's ever had was being catcalled," Taylor-Stewart said. "It was like, 'Oh my god, I'm actually passing as a woman.' This is so affirming and even though that's kind of like 'Wow, it took someone catcalling you." 
Taylor-Stewart recalls another sketch in which Mintt acts as a fairy godmother to queer youth, giving them the queer sex education they'd always wished for. 
"Junior and I would always talk about in college, especially as a queer kid growing up, you had your traditional health class in high school, but none of it pertains to being gay," Taylor-Stewart said. "So it was really cool to create this space for Junior to be that Black, queer voice of reason who can guide you through your path." 
Having just taped the pilot episode, the team is now shopping the episode around to networks and studios to be picked up. According to the team, the audience responded positively. 
"The energy in the room was so alive… it was a really magical room to be a part of," SRĐA said. "It's a really beautiful thing, the community that Junior brings into any room, that we were able to create that space. I just hope that as we move it from this live space into a televised platform that we can take that same energy into people's living rooms." 
The show hopes to provide a space for Mintt—and other Black trans women who relate to her—to be genuinely themselves. It hopes to be the place where the queer POC community can be celebrated without pressures of political narratives or responsibilities being placed on them. With the show, they are free to explore the mess and the humor and the beauty that comes with their experiences in an authentic way.
"If you're gonna give something to an audience, it needs to challenge them," Taylor-Stewart said. "If anyone can say it, then we shouldn't say it. It needs to really be niche. And I know people really stray away from niche, but I think to be more culturally specific is your way of being universal. You shouldn't shy away from getting the specificities of your niche because that's what makes it so quirky and cool."