Surrounding Emerson's campus are a few noticeable establishments—a Dunkin Donuts, CVS, and a plethora of Chinatown restaurants where college students can experience authentic Asian cuisine. A few streets down, passing Tremont onto Newbury, you've entered upper-class central where high-end stores like Burberry, Patagonia, and Cartier practically radiate dollar signs. Looking for more affordable options? Head down to Downtown Crossing where inexpensive retail spots (Primark, TJ Maxx, Old Navy, etc.) are waiting to outfit your wardrobe with the latest trends.
Around our inner-city campus, there seems to be anything and everything a college student could need. Clothes? Head to Macy's. Hair products? Your local drugstore carries it all. Food? Take a five-minute walk, and there's Panera or Boloco. What else could you ask for?
The answer: Black culture. 
According to Emerson's website, Black students only make up four percent of the Emerson student body. That's an estimated 184 students out of the 4,582 enrolled in the 2019-2020 school year. These students are forced to comb through the depths of Boston to find Black hair stylists, beauty supply stores, and soul food or African American cuisine. 
"There [are] no places that I can go as a student that [is] local to get food that is run by African Americans," Demiah Crawford, a junior and Massachusetts native, said. "There [are] not a lot of hair stylists that are in Boston that cater to my hair and cater to my hair texture." 
To make Black students feel welcome, Emerson introduced the students of color pre-orientation in 2018, a free program that allows these students to build a community with each other before the start of the fall semester. This orientation lets new students meet returning students of color, engage with faculty of color, and learn about resources on campus like the Office of Student Success and Career Development Center.
But what this pre-orientation fails to do, junior Zeiana Andrade said, is give Black students the true resources they need to survive in Boston and at Emerson. This responsibility lies solely on cultural organizations such as Flawless, Power, and Emerson's Black Organization with Natural Interest, or EBONI for short. 
"I like how EBONI at the very beginning of the year gives out those flyers for salons and barbershops that do Black hair," Andrade said. "I think there needs to be more organizations and groups [for] Black students in Boston."
With very few staples of Black culture within walking distance on campus, Black students often feel alone. And while there are a few organizations such as EBONI and Flawless Brown, it can still be overwhelming and isolating to live in a predominantly white city. 
Adding to this feeling of loneliness, there is the "white narrative" that is advertised both across the city and on campus through tourism, said Crawford, meaning that Boston only has spaces for white people, making it harder for Black Bostonians to feel accepted. 
"Our city doesn't really promote having those types of businesses," she said. "It's definitely hard being in a city that is majority white, that is unfortunately known for being racist, and doesn't have a lot of opportunities for Black people."
While Boston might not be the best space for finding Black culture, there are other neighborhoods within Boston that offer solutions. Andrade and Crawford suggest venturing out of Emerson's bubble and into Roxbury and Dorchester, two communities populated predominantly by people of color.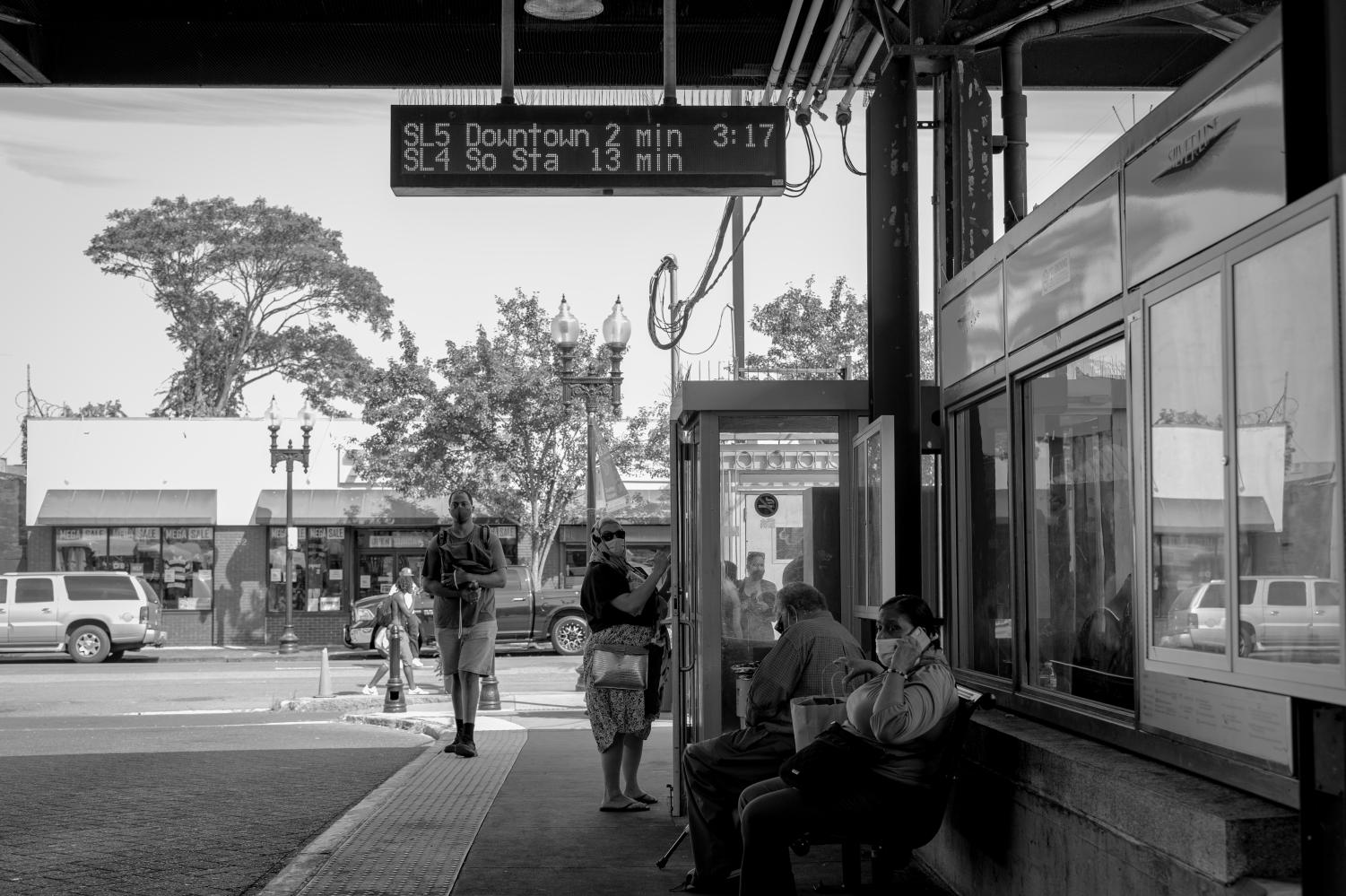 Commuters waiting at the Nubian Square bus station in Roxbury for the SL5 bus to Downtown Crossing. (Media: Jakob Menendez)