On Wednesday, Oct. 25, an estimated 2,000 people gathered at Copley Square to call for an end to the occupation of Palestine and for an end to U.S. aid to Israel. The march began at 6 p.m. and traveled up Boylston Street to the gazebo in the Boston Common.
The march came in response to Israel's continued bombardment of the Gaza Strip, a 25-mile strip inhabited by 2.2 million Palestinians. So far, the bombings have killed at least 8,000 Palestinians, most of them civilians, with at least 2,704 children listed among the dead, according to Gaza's Health Ministry.
Israel carried out these airstrikes after Hamas, the Palestinian militant group that governs Gaza, launched a coordinated attack across Gaza's border into Israel, killing more than 1,400 people and kidnapping hundreds more civilians. 
In 2022, the U.S. gave Israel $3.8 billion under the Memorandum of Understanding enacted under the Obama administration and set to expire in 2028. Apart from the memorandum, the U.S. is currently providing munitions to Israel as well as deploying two U.S. carrier strike groups on Israel's Mediterranean coast. The U.S. also committed $100 million in humanitarian aid to the people of Gaza as of Oct. 18. 
As of Oct. 31, a significant amount of humanitarian aid sent to Gaza by neighboring Arab countries has been bottlenecked at the Rafah Crossing with Egypt. According to Egypt's Prime Minister, the reason for the bottleneck is that all aid trucks entering Gaza are subject to inspections by Israeli authorities which bog the process down. On Oct. 29, 33 trucks carrying food, water, and medicine were let into the strip; critically short of what's needed on the ground according to the United Nations.
The devastating scenes coming out of Gaza have sparked several marches across the city for the past few weeks. Wednesday's march was organized by the Party for Socialism and Liberation (PSL). The organization, which was founded in 2004, also organized several of the marches that have occurred in the Boston area over the past several weeks. Amari Butler, PSL's media liaison, spoke in an interview with the Beacon about the march's intent.
"Ultimately, we want to see a free Palestine," Butler, 19, said. "That looks like the end of the occupation of Palestine, the return of all Palestinians to their homeland, and the end of all U.S. aid to the apartheid state of Israel."
Several people who attended the march were from college campuses in the city and greater Boston. The event began with speakers, writers, and poets from the Palestinian community and its allies. Students from colleges and universities across Boston, including Berklee College of Music, Boston University, and Emerson College, attended the rally.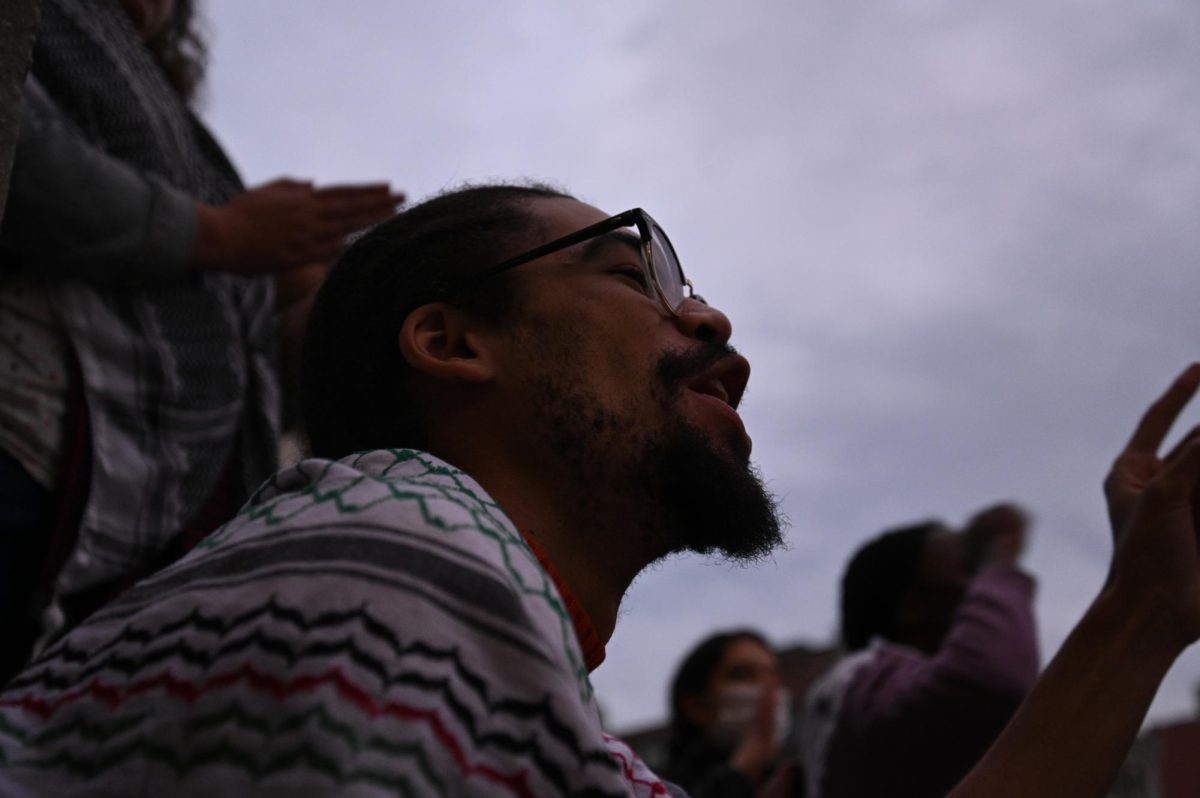 For Hudson Cole Stevens, a sophomore interdisciplinary major at Emerson, this was his third march. Stevens recently converted to Islam, and he said he wanted to support the Muslim community as much as possible. He hopes the marches will bring more awareness and education about the region.
"I feel a connection to the greater Muslim community, but I also have friends who are Muslim, friends who are Arab, and friends who are Palestinian,"  Stevens said. "If we look at Gaza in particular, they have been left with very few options to advocate for their existence and humanity."
At around 5:45 p.m., organizers began to present more speakers as more people came to the square for the march. Of these people who gathered to listen to the speakers was 70-year-old Nancy Gold from Cambridge. Gold said they grew up in a very pro-Israel household.
"I went to Israel for two months after I graduated high school and fully supported Israel until about 15 or so years ago," Gold said, "I read a piece in NPR that talked about the Israel Defense Force (IDF) and settlers bulldozing the olive trees of the Palestinians, and I was like, 'wait, what?' And I started looking into it and was horrified."
Gold had been a part of the movement for nearly 10 years and had attended several rallies in support of Palestinian liberation.
"I'm thrilled to see all the people that have been at the events because I've been so overwrought about what's going on," Gold said. "They are humans just like you or me. They have done nothing wrong, and they are suffering, and we need to call for an immediate ceasefire."
The march drew rally goers from across the world. One attendee was Hugo Lyannaz, from France, who was attending the march alongside Riley Hookway, from Rochester, New York. 
"I think If you look through history, how the creation of the state of Israel happened, look at the map of Israel in 1948 versus the map of Israel right now, Palestinians have had a lot of territories seized and I don't think it's fair for them, so it's important to be behind them," Lyannaz said.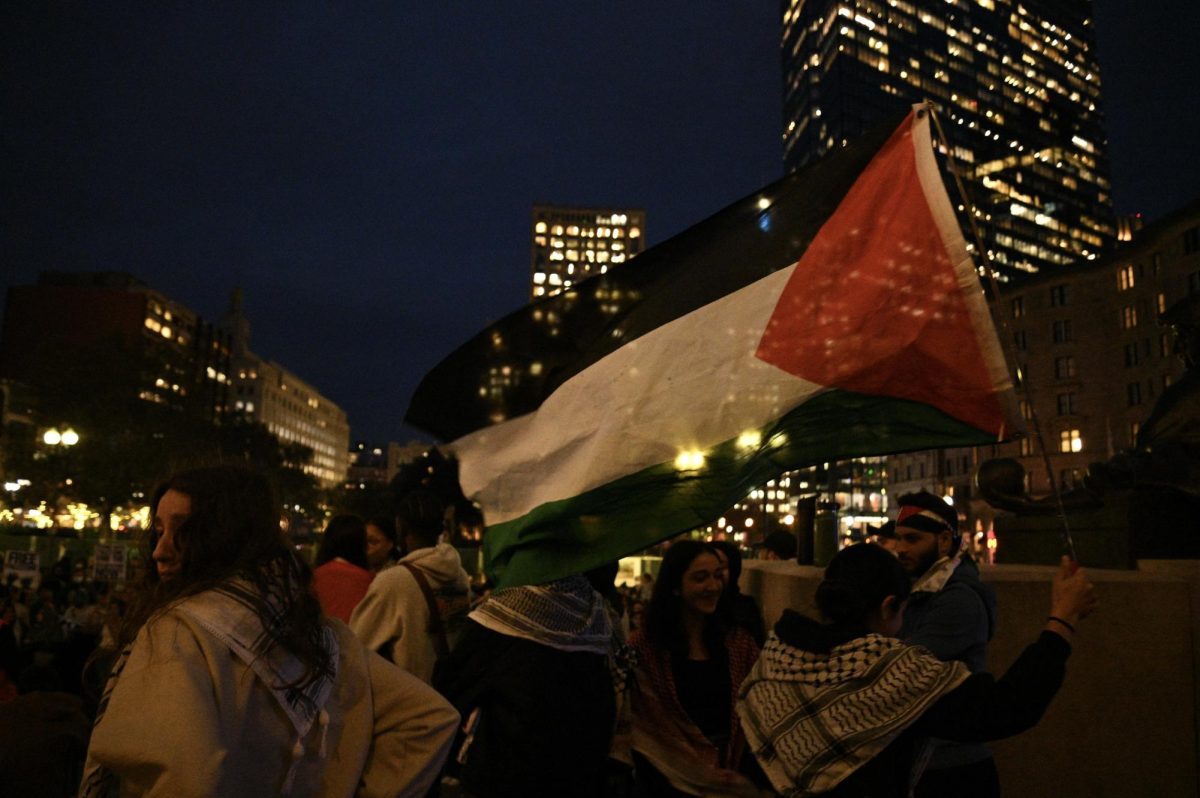 Several rally goers held signs and posters up high throughout the speech, many demanded the end of all U.S. aid to Israel. Rally goers and speakers said they were not pleased that taxes they pay the U.S. government go to Israel which help support what has been described by the Human Rights Watch as an apartheid regime.
"I don't want a fascist colonial power funded by our government," Hookway said. "I hope that the U.S. stops funding the Israeli war and that we stop our military funding. And that the war crimes that are happening are addressed in some sort of international way and that Palestinians get their land back and end their oppression."
Attendees then gathered at Copley Square. Amongst the crowd was Sanjana Ravindra, from India, who attended the rally for the first time. 
"I feel for the Palestinian people. "I'm from India, my country was colonized by the British so I understand their pain," Ravindra said. "I direct others to resources directly from the people in Gaza who are reporting all the violence that's been happening there. I've seen so many injured and dead men, women, and children over there. It's just horrible."
The march took the rally goers to the Boston Common, accompanied by marshals and Boston Police officers. Throughout the march, attendees chanted phrases such as, "From the river to the sea, Palestine will be free" and its Arabic counterpart, as well as "Free, Free Palestine." 
The march ended at the gazebo in the Boston Common, where speakers discussed the national March on Washington: Free Palestine event on Nov. 4 in D.C. where several thousand people are expected to gather in support of Palestine. They also spoke about other ways for people to get involved in their cause, including participating in local chapters and donating to various charities for aid. 
Muhammad, a speaker from the Massachusetts Institute of Technology who did not disclose his last name, said Palestine needs more than a ceasefire and humanitarian aid. 
"Those only bring us back to the status quo of the conditions that led us to the ongoing genocide," he said in his speech. "We need to call for a complete and unilateral end to the Israeli occupation."