"Truman and his human": unconditional love on campus
When Melanie Matson met Truman the Beagle-Dachshund seven-and-a-half years ago, she might have never predicted the impact they would make together. The two quickly became friends and family, and Matson discovered Truman's talent as a therapy dog—the beginning of one four-legged friend's mark on the Emerson community. 
The eight-year-old dog from Nashua, New Hampshire, has been working at Emerson in partnership with the Healing and Advocacy Collective since 2017, which is about the time he and Matson became a certified therapy dog team.
"Visiting with people, long walks, naps in the sun, sniffing for rabbits, and peanut butter treats" are Truman's listed "Likes" on his work profile. He has become a campus celebrity, with his own "fan club" and Instagram account boasting more than 950 followers.
The role of animals in assisting people in therapeutic ways is increasingly well-recognized. More than 50,000 therapy dogs provide complementary therapy and emotional support to adults and children in the United States, according to National Geographic. 
When senior visual and media art major Emma Engelson first met Truman in fall 2019, it seemed like her first year at Emerson had become just a little bit less overwhelming.
Engelson has been attending meetings and workshops with the Healing and Advocacy Collective since her freshman year. Four years with Truman, she said, helped her relax from stressful school work.
"He sat on the couch, on the chair next to me. It's next to me, side by side, and he slept in," said Engelsen, recalling the first time she met the college's most famous dog. "It was really nice." 
Due to the pandemic, he was unable to come to the campus for roughly three years.
"Truman Time" returned for weekly Friday sessions this semester, as Matson—the director of the college's Healing and Advocacy Collective who doubles as Truman's human—hoped to offer more time for people to connect with him. 
When asked about the decision to become a therapy dog duo, Matson explained that upon hearing about different positions, they believed both of them would be a good fit for the role. Matson, being a counselor, and Truman, being to people a "calming presence," made them a perfect match.
Becoming a certified therapy dog team required much effort in undergoing basic obedience training and specialized training together. Truman had to learn socialization, such as getting used to different environments, riding in elevators, and walking up and down stairs.
"There's ongoing testing to keep our certification," said Matson. "It was something that we take very seriously and also enjoy being part of that network of other people and their pets that are doing this." 
The four "Truman Time" sessions, with gatherings ranging from about five to more than forty people, have garnered a lot of interest from visitors who enjoy interacting with both dogs and humans. 
Maya Seri, a junior VMA major, said she instantly felt at ease when she saw Truman and petted him. 
"Being able to be here for an hour with Truman is a really nice way to feel better," she said. 
Seri said she has her dog Stevie back home, who also makes her feel better when they are together.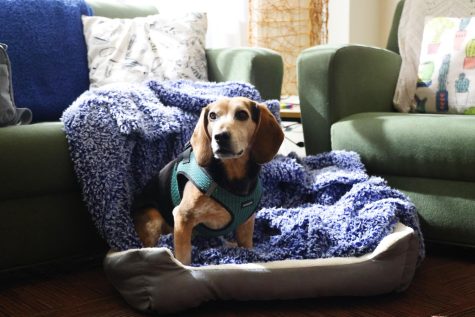 "Dogs have this sense," Seri said. "They know when humans aren't feeling very good. Being around an animal is so pure and sweet." 
In addition to interacting with Truman, Seri also found the intimate setting of interaction offers the opportunity to meet other people who like dogs.
Truman takes pleasure in connecting with people, Matson said. Having a calm presence is one of his strengths. 
"A lot of times, people might be looking to sit near him for that sense of calm, soothing, or relation," Matson said. 
According to Matson, there are various types of specifically trained service animals supporting people with "unmet needs," such as providing general support to people, which is precisely what the therapy dog team has been doing. 
"With a lot of people, they might be missing their own pets, so that can be useful to connect with, sometimes a therapy dog," Matson said. "Sometimes people do apply for an emotional support animal through Student Accessibility Services. Sometimes people go over to the Boston Common where a lot of dogs hang out."
Ariel Kuo, a first-year graduate majoring in strategic marketing communication, serves as the graduate assistant for the Healing and Advocacy Collective. She was frequently involved in the "Truman Time," and was also the designer of the event poster and souvenir buttons. Kuo felt the calmness of Truman's presence while working with him. 
"He's very calm, and at the same time, you can feel calm too," Kuo said. "He's very thoughtful, kind and gentle."
As a keen observer of the meetings, Kuo was impressed by how well Truman and Matson interacted with participants. She recognized the pressure that comes with contemporary living. "Truman Time" provided a space for people to unwind and temporarily relieve themselves of stress. 
"[A therapy dog] can absolutely help people, especially for some topics you don't want to tell someone," Kuo said. 
In events Emerson initiated in collaboration with Truman, Matson felt that there were certain moments that gave a sense of what their work meant and how it was meaningful.
"There can be times where people are in this space, and they've been harmed and are feeling maybe overwhelmed, say, angry, lonely," Matson said, feeling honored to witness the positive impact that interacting with Truman can bring to people. "It is pretty incredible to see just Truman's presence or them being able to pet Truman. Sure, doesn't change everything … But for that moment, it seems like he can be pretty impactful as having that soothing, calm presence." 
In their heartwarming connection, Truman and students like Engelsen have forged an unbreakable bond. This connection demonstrates the power of emotional support animals and highlights their crucial role in college communities.
"Animals are so intuitive—they know how you're feeling without you having to say it, and they don't judge you," said Engelsen. "They just love you, and they want to sit with you." 
"I'm very grateful that I've had that in my life because animals are so selfless," she added. "Even if they're stubborn and they don't want to be around you … that's alright."
Even though the last meeting of the spring semester ended on Friday at 2 p.m., anticipation for more events lingers on. 
"Truman will continue to be here to support folks that we connect with," said Matson. 
With the possibility of more "Truman Time" in the future, students can look forward to seeing Truman and Matson walking around campus at various school events.