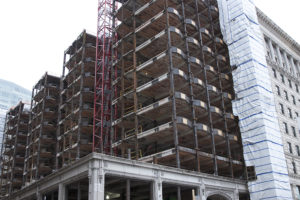 Students signed up for the Partnered Studio: Projections on a Large Scale course expecting to display public art on Little Building tarp. But after exhibiting their art there for two weeks, the tarp rapidly disappeared as the construction progressed.
After initial frustrations, students refocused their efforts to pioneer the college's first Festival of Light and Sound.
Professor Paul Turano said the festival, which was approved last week, will take place in the Boylston Place alleyway on Friday, April 20 and Saturday, April 21.
"What we'd like to do is use the 1 Boylston [Place] space as an immersive environment to do multiple projections, projection on sculpture, projection mapping, and sound pieces," Turano said.
Professor Paul Turano created four different projects for the class, but expected to display more than one of them onto the Little Building tarp. Although he knew the canvas would not be present for the entire semester, Turano said he heard different estimates of when it would be unavailable.
"It was really hard to get a clear picture of when it was going to come down and what the timeline was, which from a teacher's perspective is kind of frustrating," Turano said. "We got one module in before it got too small to be viable for what we want to do."
The class proposed a text-based module to project on the LB elevator shaft, Turano said, but administration rejected the proposal due to concerns over the text distracting drivers. As a result, Turano said the class decided to focus entirely on the final festival.
"The students have felt, and I agree, that given how much time we have left in the semester, all our resources should be put towards that ultimate exhibition," Turano said.
Turano said he sent the proposal to Rob Sabal, dean of the School of the Arts. He said he has also been working with Brooke Knight, chair of the department of the visual and media arts department, Margaret Ann Ings, vice president for government and community relations, and Joseph Ketner, curator of the Uncommon Project.
Turano said he has received support from administrators, but there is not a protocol in place to help students to display public art.
"As I'm learning about the system, I'm seeing that there are certain people that can do certain parts," Turano said. "But I'm not aware of one person who can just be like, 'Here's how we can get this to happen. Here's who you need to talk to.' It's more like learning as we go."
Turano said he wished Emerson hired a public art coordinator, or someone to create a protocol for engaging with the community through art.
"We're excited to be the first people to do [the festival], but we would like it to be a little easier, and for the path to be a little less vine-ridden," Turano said. "We're hacking away with machetes a little bit."  
Devan Brady, a marketing communication graduate student, wrote the proposal's cover letter. Brady said she took responsibility for logistics and communicating with administration, and drew on her experience as a film set production coordinator. She said her classmates have used their strengths to help make the festival a reality.
"If [students] have a passion or interest and they think that they can be beneficial to our process overall, they've tried to step up and be in those different areas for us," Brady said. "It's been very organic."
Jake Bridgman, a junior visual and media arts major in the class, said the course is teaching him about advocating for public art.
"We want to make public art. What are the hurdles we have to jump over to make that a reality?" Bridgman said. "So we're figuring that out as a process. A bit of a bubble version of the real world."
Brady said she hopes their work will pave the way for future endeavors.
"If we can get this done successfully and showcase everything it would be a great starting point for other classes and other students if they wanted to continue this festival year to year," she said.
Turano said his student's creativity and critical thinking abilities in the face of uncertainty impressed him.
"The course was designed for them to share their art with the community and I think they feel that everything is very abstract right now," Turano said. "And without any concrete ideas about what we're going to do, it's really hard to design projects when things are not clear."