Wapman remembered for loyalty and compassion
In the course of his research on the intersection of existential philosophy and experimental animation, Miles Wapman asked his professor for help finding existing resources on the topic, afraid that his studies had hit a wall.
"You can't find any [resources] because nobody else is writing it," Janeann Dill, an affiliated faculty member in the visual and media arts department, replied.
A blossoming pioneer in critical analysis of animation, Wapman had planned a series of three essays on the largely unexplored field.
Wapman died just before the completion of his second essay, on Jan. 25—4 days before his 22nd birthday.
After his father died in 2014, Wapman stepped up to support his family both emotionally and practically. He cleared out a room of their house so his mother could convert it into a bedroom and rent it out, a decision which she said helped her combat loneliness and build a community.
"[Miles] just had so much spirit," she said. "He and his father were something so beyond human."
Margee Wapman said her late son was loyal and compassionate, a sentiment echoed by his friends and professors.
"If someone was upset, he would find his way to them," his mother said. "And he would just be with them."
After his death, she received letters from people saying that Wapman saved their lives when they went through difficult times.
Jean Stawarz, an associate professor who taught Wapman screenwriting in a Global Pathways Program in Greece last summer, said that shortly before the students came to Greece, their host's son asked if any of the students could bring Urdu to English dictionaries for the country's large refugee population.
Wapman went out of his way to bring a number of dictionaries to Greece, and personally delivered them with one of the hosts to a refugee camp on the island of Kos, Stawarz said.
Junior visual and media arts major Haley Thompson, who studied in Greece with Wapman, said he was enigmatic, and his understanding of human nature led him to be blunt about his feelings.
"He was very rebellious, but in a very endearing way," she said. "He wears these jeans that are more holes than jeans."
Thompson said that in Greece, Wapman would spend all day sitting on a deck overlooking the ocean, writing his screenplay by hand.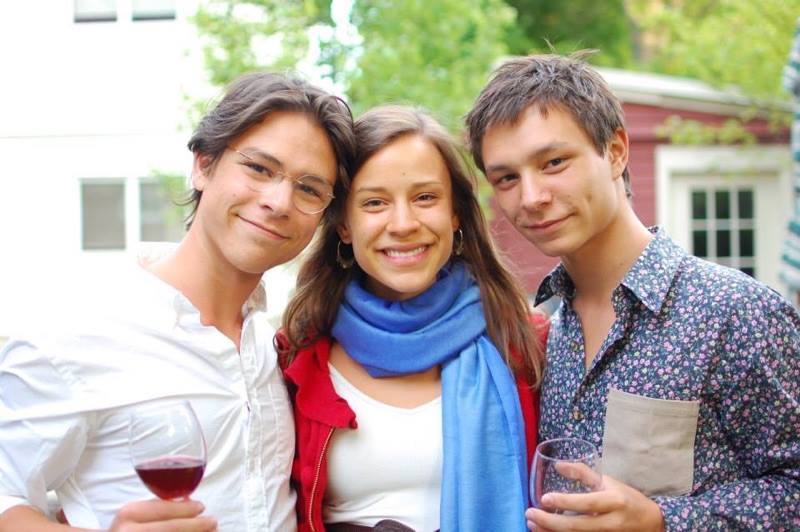 That commitment wasn't limited to his time in Greece. Marc Babcock, who lived with Wapman for their first three years of college, said Wapman would sit in his room all day for days at a time, working on screenplays, poetry, lyrics, and essays.
"He was the most dedicated writer I've ever met in my life," Babcock said.
Wapman took up playing guitar at 12 years old, and continued the pursuit until his passing. Friends recalled that he was always willing to debate the merits of various bands for hours on end.
"He was a better musician than he gave himself credit for," Babcock said.
Babcock, who graduated last fall, said his first memory of Wapman is seeing him drinking out of the water sprinklers in Boston Common.
Recent alumna Haley Spielberg met Wapman in the beginning of their sophomore years. She said their group of friends was tight-knit, like a family.
"He always wanted to know the deepest parts about you," she said. "He wasn't the kind of person to sit there and small talk."
Spielberg and Wapman regularly exchanged writing; she would send essays and he would send scripts.
His family, with the assistance of Dill, is establishing the Miles Wapman Scholarship Fund in memory of the senior visual and media arts major. The independent scholarship will be awarded to undergraduate students studying animation and philosophy.
"[The scholarship] is a wonderful gift," Dill said. "It's the gift of Miles. His work will continue to live because of that."
Wapman is remembered as someone who was not merely interested in studying philosophy, but in forging his own.
"He was more than just a student of film," Stawarz said. "He was a student of life."

Margee Wapman asked that anyone in possession of films in which Miles appeared or other projects in which he was involved share them with her. Please contact the writer for help getting in touch with the Wapman family for this purpose.