"Best Dog and Child Duo" winner Suzan Paik walked hand-in-hand with her two children through the center of the Doggone Pet Parade on Saturday. Her face lit up with an embarrassed smile as her family received thunderous applause from hundreds of spectators on Summer St. in Downtown Crossing. Proudly scurrying alongside them was Q-Tip, their family dog, who couldn't have weighed more than ten pounds but still stole the show.
They were known as the "sushi family," and their collective costume was a balanced meal with all of the sushi essentials. The two boys were dressed as bowls of rice topped with Ikura, or salmon fish eggs, and Q-Tip trotted next to them dressed as a little piece of salmon nigiri. Paik completed the group costume in a Kikkoman soy sauce t-shirt.
"It felt incredible to win," Paik said as her kids jumped up and down by her side in celebration. 
The family had spent the last three days coming up with the idea and constructing the costumes, which were mainly made up of styrofoam, yarn, cotton, and super glue.
"It was a really great experience and so much fun to do this as a family," she said.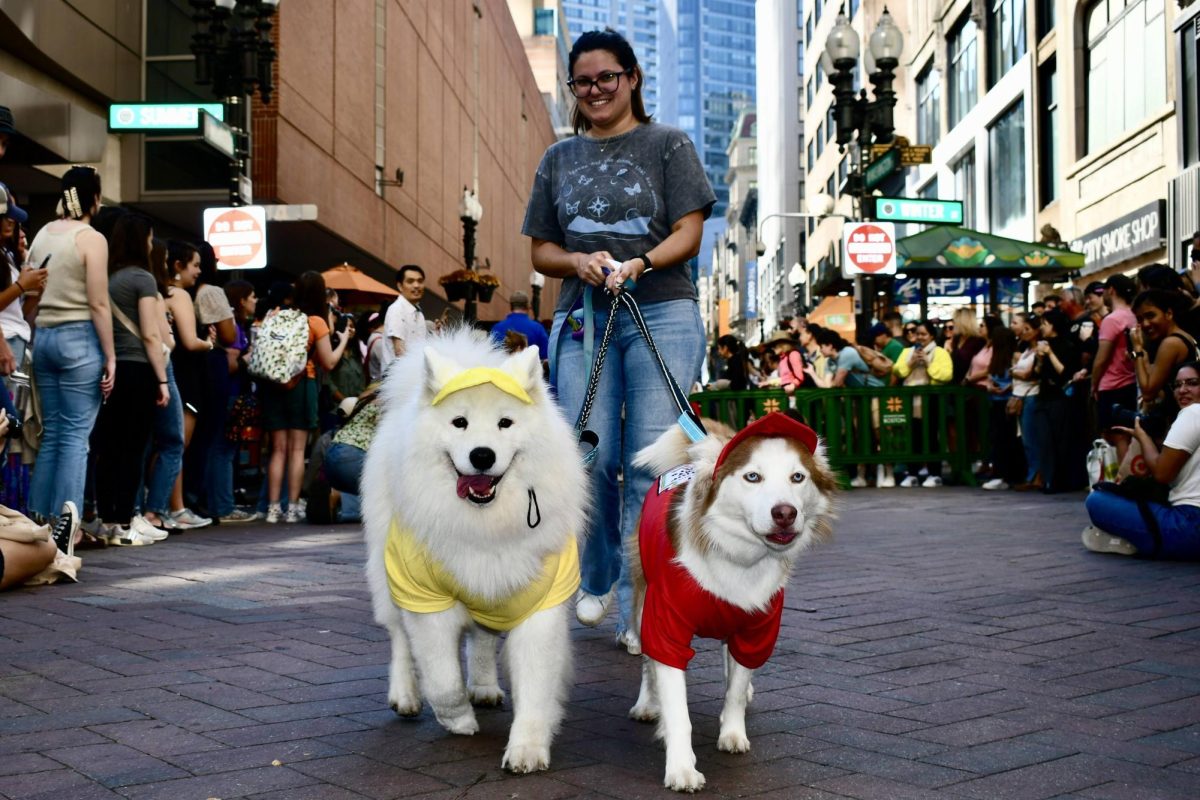 The event was free and open to the public and was designed to give people an opportunity to show off their beloved canines while educating the community about fostering and animal advocacy efforts in Boston.
The parade was judged in multiple categories, including best costume, scariest costume, cutest costume, best dog & human duo, and best dog & child duo. The winners were eligible for exciting prizes, including a night at The Ritz-Carlton or the Omni Parker House, tickets to the WNDR Museum, and loaded gift baskets. 
Over two hundred participants walked the parade with their dogs, each with their own unique costumes that ranged from Taylor Swift to Super Mario and Batman. 
Another fan-favorite family was the Priftis, who were decked out in Harry Potter apparel and featured a Welsh corgi named Bookie. He was dressed as the main character, even sporting the famous lightning bolt scar across his forehead. 
"We always want to do fun family events, and we always want to include him in it as well," said Bookie's owner, Valgan Prifti. 
His toddler, Ezzie, wore Gryffindor robes with a tie and waved around a little brown wand, presumably casting spells into the crowd. 
Valgan's wife, Han, was dressed as Hedwig, Harry's pet owl, and wore all white with a feathered skirt and mask. 
"With a toddler, this took over an hour just to put on this morning," she said.  
Outside the parade, Downtown Crossing was packed with pop-up tents of pet-related companies and organizations advertising to the crowds. 
Among these organizations was the Animal Rescue League (ARL) of Boston, which was there to promote its mission of helping animals in need. According to their website, ARL serves more than 16,700 animals every year through fostering, temporary pet housing, health programs, and pet education.
Jack Cahill, the director of volunteer engagement at ARL, was running the tent and handing out flyers for the organization. 
"Our mission is to keep animals safe and in homes and habitats, and we are here to raise awareness about our organization and our programs," he said. 
Cahill also explained that the Animal Rescue League was more than just a shelter. 
"Everyone assumes that we are a shelter for animals, and that's true," he said. "However, we also do more than that, including programs for the community that help people and animals stay together who might otherwise not be able to."

Standing just 20 feet away from the ARL tent was Kira Weaver, who was holding Mallory, her five-month-old foster dog, in her arms. She approached the ARL a few months prior, looking to become a foster parent.
Weaver explained that she did have to apply and do several training sessions to become a foster parent, but the process is fairly straightforward.
"I had to do two sets of training, but I was admitted pretty quickly," she said. "I think they need volunteers all the time."
She also explained that the program allows her to stay connected with her love for animals and dogs while living in a big city. 
"Living in the city by myself, it's tough to own a dog full time," she said. "Fostering is a really good alternative." 
For Emerson sophomore BCE major Kate Schembri, this parade was about more than just some wholesome Halloween fun for dog lovers.  
"It's a form of advocacy for animal rights, fostering, adoption, and rescue," she said.